35th Annual Kiwanis Club of Tuscaloosa "Pancake Day"!

Jan 24, 2012 05:34PM, Published by Brian O, Categories: Family, Community
---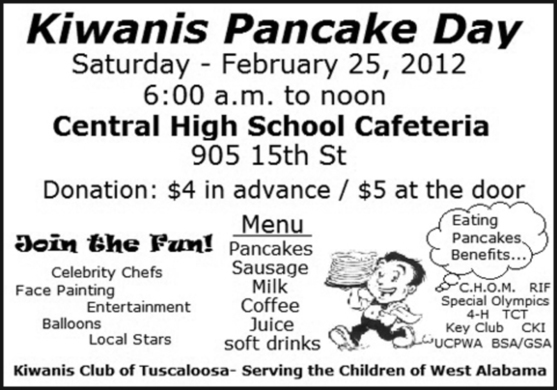 Pancakes for GOOD! Does it get any better than that?
---
---
Many people have either heard of Kiwanis Pancake Day or seen the big "K" logo, but what or who is Kiwanis? 
Kiwanis is a global organization made up entirely of volunteers with a Mission: "serve the children of the world". We are dedicated to changing the world one child and one community at a time. Our members develop youth as leaders, build playgrounds and raise funds to support Non Profit Organizations and pediatric research. We help shelter the homeless, feed the hungry, mentor the disadvantaged and care for the sick. Working together, members achieve what one person cannot accomplish alone. And along the way, club members share friendship and laughter.
Locally, the Kiwanis Club of Tuscaloosa is the oldest Kiwanis Club in Tuscaloosa. Chartered in 1921, the club has served the community through the great depression, supported U.S. War Bond efforts in World War II, and has continued to serve the community into the new Millennium.
Our club consists of men and women from the Tuscaloosa area with a desire to serve their community. We meet weekly on Monday's at noon at the Country Club of Tuscaloosa for a lunch meeting where we discuss club business, plan our events, and hear from informative speakers. Meeting programs range from local and state gov't officials, authors, coaches, world travelers, local charities, etc…
Pancake Day is our main Fundraiser each year where we serve pancakes, sausage, coffee and juice to more than 1,200 people. This is our 35th year to host our Annual Kiwanis Pancake Day and our goal is to make it bigger and better each year. We have Celebrity Chefs and Guest appearances, which in the past have included local government officials, Alabama Coaches & Athletes, and the Mayberry Gang. Sometimes we have special guests such as Sparky the Fire Dog and even Big Al. Entertainment is provided by local children's groups such as Tuscaloosa Children's Theatre and school bands. For extra fun we offer free face painting and balloons to all of the children. Pancake Day is truly a great community event where friends come together to enjoy a great breakfast and entertainment, while raising funds to support children's programs in the Tuscaloosa County area.
This year the 35th Annual Kiwanis Pancake Day will be held Saturday, February 25th (6 a.m. – noon) in the Central High School Cafeteria. Tickets are $4 in advance from any Kiwanis, Circle K, or Key Club member and $5 at the door.
Pancake Day is staffed by our Kiwanis Family Clubs, which include our own Kiwanis members, University of Alabama Circle K Members, and Key Club members from all over Tuscaloosa County. Without the help of youth volunteers Kiwanis Pancake Day would not be such a success. In addition, a big thank you to the Tuscaloosa City Schools Board of Education and Principal, Clarence Sutton at Central High School and his staff for opening up their school each year for this event
Thanks for your support of the Kiwanis Club of Tuscaloosa and our annual Kiwanis Pancake Day fundraiser. The Club would also like to thank the area businesses that have helped sponsor Pancake Day through their generous donations and their purchase of Pancake Day Banners, Brochure Sponsorships and Placemat Advertisements.
We encourage businesses and individuals to purchase tickets for employees, clients, customers, family, and friends or to sponsor complimentary tickets. Do you want to donate goods/services, sponsor a table, or advertise your business at Kiwanis Pancake Day? Do you have an idea or suggestion?
Contact Jason McNeil 205-507-9008 or email to kiwanistuscaloosa@gmail.com.
In addition to Pancake Day, the Kiwanis Club of Tuscaloosa has a year-round fundraiser; Kiwanis gumball machines are located throughout Tuscaloosa County at participating businesses so if you see one get the kids some gum and support the local youth.
The Kiwanis Club of Tuscaloosa will host two new fundraising programs this year. The first is the Kiwanis Charity Softball Classic which is a one day fastpitch softball tournament which will be held on Saturday, March 25th with proceeds going towards new playgrounds for Rosedale area which was hit by the April 27th tornado. The second is the Annual Flag Display Program where Kiwanis members will place a flag pole with a three foot by five foot American Flag in your yard for six holidays each year for $50. These dates include Presidents Day, Flag Day, Memorial Day, 4th of July, Labor Day, and Veteran's Day. If you would like to assist and be a part of either of these two events contact Donnie Grill at 205-454-9889.
The Kiwanis Club of Tuscaloosa raises funds for one reason. That is to serve the children of West Alabama in one capacity or another. First, Kiwanis supports the University of Alabama Circle K Club and five Key Clubs (Bryant, Central, Northridge, Tuscaloosa County, & Holy Spirit). Our Kiwanis advisors assist the clubs with planning their service and fundraising activities as needed and assist those members in attending the Alabama District Conventions and leadership training such as Key Leader (www.key-leader.org/). There are other projects we support such as providing meals to the participants and volunteers each April at the West Alabama Special Olympics, purchasing, distributing, and reading for "Reading is Fundamental" (RIF) for children three times a year in the Head Start Programs in Tuscaloosa, ring bells for the Salvation Army, and helping maintain the Nucor Community Park and the Kiwanis Pavilion located at United Cerebral Palsy of West Alabama. In some cases we donate funds to support children's programs such as C.H.O.M., Tuscaloosa Children's Theatre, 4-H, Camp Smile-a-Mile, Boy Scouts, and Girl Scouts.
To learn more about the Kiwanis Club of Tuscaloosa go to our website at www.tuscaloosakiwanis.org or email us at tuscaloosakiwanis@gmail.com
---
---
---