Hope for Hannah

Feb 03, 2012 02:07AM, Published by Just Site Admin, Categories: In Print
---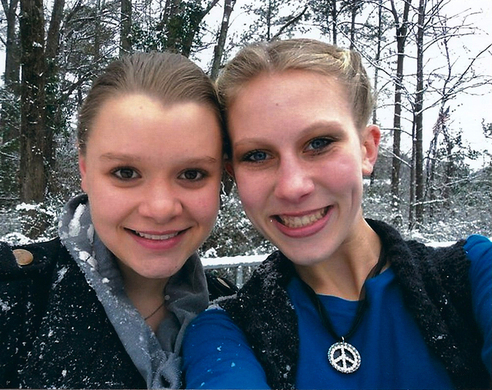 Kelsey and Hannah
---
Gallery: [1 Image] Click any image to expand.
---
---
<
by Kelsey Williams
"One loyal friend is worth ten thousandrelatives."  We allhave friends, may they be the best friend, the not-so-close friend or the oneswe just know from passing in the hallway. Whatever their label or rank may be,there's always thatone special friend in your life, the one that you choose to know everything about you, which wemay refer to as our "sister." Whether you and your "sister", have only known each other for a few years or like mycase, been best friends since K5, you realize that you truly have become likesisters, because that's how you treateach other. I would like to introduce you to my "sister", Hannah Goldsby, who truly is an amazing girl, with anamazing spirit and story.
    During the summer of 2011, with me at fifteen and Hannah two weeks from herfifteenth birthday, we were getting ready for one of our annual beach trips.Like anyone else would be, we were excited to go to the beach, and even moreexcited to go with each other. However, days before we were set to leave, myexcitement was turned into confusion and worry as I got a text messageexplaining that Hannah was in the hospital receiving blood. None of it madesense to me at the time, why would my friend need to be getting blood? We weresupposed to leave in less than a week, she can still go, right? After severaltests all of those questions were answered when I was told her diagnosis;Pediatric GIST.
    Pediatric Gastrointestinal Stoma Tumors (GIST) is considered to be a very rarestomach cancer. The rarity made sense, because none of us had ever heard of itbefore. With Hannah's diagnosis we were all in shock. We didn't know what we were dealing with or whatto do to help Hannah. With her condition, it requires a lot time traveling backand forth to the doctors in Birmingham, lots of tests, and sometimes hospitalvisits for units of blood, which means Hannah misses school and has her normalroutine interrupted. With all this happening you would expect a person to bedown in the dumps and not happy with life, but Hannah is truly one of thehappiest and most upbeat people you could ever meet. You would never know shehad such a serious condition by her attitude and the way she handles herself.Hannah and I love hanging out together and doing normal things that teenagersdo.  We have even found ways to make nights at the hospital fun. She hastruly become an inspiration to everyone who knows her.  You will never see a smile leave her face. She isn't letting anything slow her down and thatis a true blessing.
     Her immediate family, school family and friends have all been very supportive,and we try to help in anyway possible.  Several fundraisers to help withmedical expenses have been done, and TEAM HANNAH bracelets and t-shirts havebeen sold.  Our plan, as her family, is to continue to help and supportHannah in any way that we can.  If you would like to help the Goldsbyfamily, who truly has become like family to me, you can make a donation at anyCompass bank to the Hannah/Vicki Goldsby fund, and help make a difference inHannah's life.  If you would like to learn more about Pediatric GIST, you can visit www.pediatricgist.org, or to learn more about Hannah there is a"Pray for Hannah Goldsby," facebook page, where you can sendencouraging comments and get updates about Hannah's condition. 
    "The LORD your God is with you. He ismighty enough to save you. He will take delight in you. The quietness of hislove will calm you down. He will sing with joy because of you." Zephaniah 3:17.
---
---
---