Blended Family Reflections - "Impossible Love"

Feb 03, 2012 09:40PM, Published by Kitty, Categories: In Print, Family
---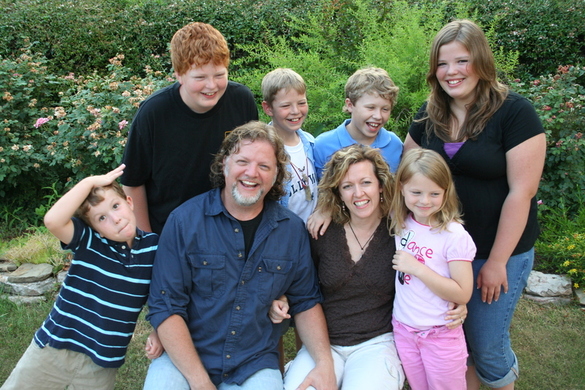 Jody with her husband, Greg, and their children
---
---
<
"I love everybody!" Parker, my youngestson, exclaimed. Somehow his comment poured grace and forgiveness over a dividethat had caused a split in our family. Emma smiled and nudged her dad as if tosay, "I'm with Parker." Hunter and Seth shuffled in their seats, a bituncomfortable, but knowing that what he had said mirrored their deepestsentiments. I looked at Elijah and his quiet face couldn't hide the sparkle ofjoy in his eyes. He understood the depth of what Parker had said. Sophiegrinned and nodded her head in agreement. Greg and I felt the tension ease and we knew we were seeing the angrywords and hurt feelings get washed away by love.
It was a random day or night orsometime in between when all eight of us came together to talk about somethings that had been said or done that caused hurt feelings, created sides, anddivided our family of eight. The source of the conflict doesn't reallymatter.  We have had these meetingsa few times before as we attempt to take on what society and statistics saywon't last, won't make it, and won't be anything one would desire. We've beentold only strife and struggle is what will come from this blend. Compassion,understanding, and most of all, love will rarely thrive.
A   typical, so-called "normal" family already has itschallenges. Single parents often feel the responsibility of being both a motherand a father to their children. In a blended family, a person cannot draw froma long history of being together. Memories and traditions must be made andsometimes that can be hard. It can feel like being with a group of people whoknow an inside joke and the others are asking, "what's so funny"?
When Greg and I started dating, weknew that more than our hearts were at stake. Our six amazing children who haddreams and desires of their own were taking risks to get to know and lovestrangers.  We knew they heldmemories that were special to them and we always wanted to respect thoseconnections. However, we also knew that opportunities abounded for them toenjoy each other and make memories together. We knew that, even if they weren't"blood" related, they were becoming a family. Since they were in a blendedfamily, they had the chance to show that the word "family" meant there are noorphans, steps, or halves. Instead, they are children of God, a family of God.
"I love everybody," echoed in mymind as I snarled at the person who cut in front of me. I grumbled a bit tooharshly at that tardy student who came into my classroom. I snapped at theperson on the other end of the phone who was just doing their job, trying tosell termite bonds or insurance.  "Ilove everybody" screams the loudest when people choose to say and do thingsthat are hurtful, especially when it is directed at my children—all six of themwho live in my home and all 96 of them in my classroom. "I love everybody"haunts me when I choose hate over love, when I select strife over peace, when Ihang on to bitterness instead of forgiveness.
Loving everyone seems impossible.In fact, I don't think it is humanly feasible. Fortunately, God operates in theimpossible.  He tells a couple whoare almost 100 years old that they will have a baby (Abraham and Sarah). Hepromises He'll protect three faithful followers as they step into the fire(Shadrach, Meshach, and Abednego). He prepares a young shepherd (David) for the fight of his life with onlya few stones and a slingshot to take down a giant bully (Goliath). He placesthe Son of Man in a manger, the Hope of the world, and saves us all. He does itall out of love.
"I love you, Momma," Parker saidthe other day. I was making a cake and that may have prompted his sweetcomment.
"I love you, too, Parker," I said.He wrapped his arms around me and gave me a big kiss and hug.
I continued making the cake, eachingredient separate and necessary to the recipe. Then I began stirring andblending the items. They changed shape and formed a sweet batter. As the liquidturned into a solid through the high heat in the oven, I could smell the sweetsmell of a lovely chocolate cake.
I thought about Parker's words, "Ilove everybody." Our family will blend. It will change. It will develop intosomething incredibly sweet and desirable as long as we choose to love eachother.  I hope that aroma of lovein our family fills the air wherever we go and reminds everyone that God is theGod of the Impossible and He LOVES EVERYONE!
---
---
---