History of Tuscaloosa Told Through Photographs

Feb 04, 2012 11:19AM, Published by Kitty, Categories: Community
---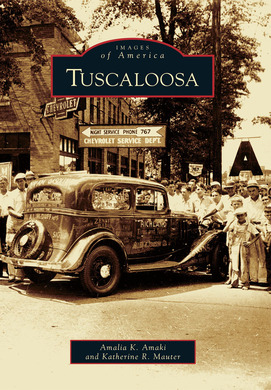 Tuscaloosa by Amalia K. Amaki and Katherine R. Mauter
---
---
Come Meet the Local Authors!    
The newest addition to Arcadia Publishing's popular Images ofAmerica series is Tuscaloosa from local authors Amalia K. Amaki andKatherine R. Mauter. The book boasts more than 200 vintage images and memoriesof days gone by.
Tuscaloosa (Choctaw for "black warrior") is one of the oldestcities in West Alabama. It shares its name with a chief who fought Spanishconquistador Hernando de Soto in 1540 and a river that stretches from theAppalachian foothills in the north-central region to the floodplain andlowlands of the south.
Called "The DruidCity" since the 1800s, when large water oaks lined its main streets, Tuscaloosaremains a center of industry, commerce, health care, education, and culturallife, with the university being its dominant source. The former capital (from1826 to 1846) is affiliated with the Alabama Crimson Tide, catfish, Dreamland,the Black Warrior River, a strong folk and craft tradition, and Gov. GeorgeWallace's 1963 "stand at the schoolhouse door."
Images from diverse sources form this visual narrative. Thepictures not only provide historical scenes of Tuscaloosa's physical charm, thedefining role of the river, and the advancement of higher learning institutionsand medical facilities but also address the cultural and social conflictcontributing to the rich and distinct Southern legacy.
Join Us For a Book Signing!
When:
February18, 2012
2:00 pm
Where: Barnes& Noble
Tuscaloosa, Alabama
Available at area bookstores, independentretailers, and online retailers, or through Arcadia Publishing at www.arcadiapublishing.com or 888-313-2665.  
---
---
---