Seven Dwarfs, and a Baker's Dozen, Dance Into the Bama

Feb 19, 2012 09:07PM, Published by Anonymous, Categories: Family, Community
---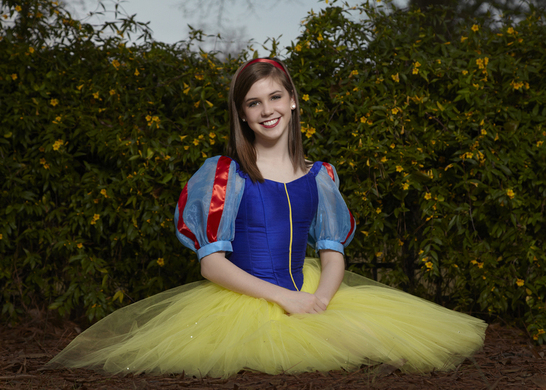 Alden Phillips appearing as Snow White. www.michaeljmoorephotography.com
---
Gallery: The Dwarfs [1 Image] Click any image to expand.
---
---
What: Snow White, presented by Tuscaloosa Community Dancers
Les Sylphides, presented by University of Alabama Dance Dept.
Twyla Tharp's Baker's Dozen, presented by Alabama Ballet
Where: Bama Theatre, Tuscaloosa
When: Friday, March 2: 7 pm
Saturday, March 3: 2 pm (Snow White only)
Saturday, March 3: 7 pm
Sunday, March 4: 2 pm
Tickets: $21 (adults), $17 (seniors 60+), $12 (students and children)
Call (205) 752-4220, or go to www.tuscaloosacommunitydancers.com
Something for everyone is on the tri-fold, white-clad dance card at the annual
Spring Performances presented by Tuscaloosa Community Dancers, appearing at
Tuscaloosa's Bama Theatre on March 2-4.
First, TCD will again present the Alabama Ballet, the State's only professional
dance company, which will perform Twyla Tharp's "Baker's Dozen." Tharp's work
is just right for the person in your family – probably a football fanatic – who claims
he doesn't like dance. "Baker's Dozen" is an elegantly comic jazz ballroom fantasy to music by Willie (The Lion) Smith. It features 12 dancers, dressed in all-white social-dance attire (with heeled shoes), who frequently need to send powerful ripples up and down their bodies in a not-so-ballet-like manner. It's fun, and most certainly not what you're expecting in a ballet performance.
We in Alabama are truly fortunate to have an organization the caliber of
Alabama Ballet. Its Artistic Director is Tracey Alvey, a former principal dancer with
London City Ballet, and its Ballet Master is Roger Van Fleteren, former principal at
American Ballet Theatre in New York and London City.
Second, the University of Alabama Department of Theatre and Dance will
present "Les Sylphides," a dreamwork ballet set to music originally penned by
Frederic Chopin. Like "Baker's Dozen," the dancers in "Les Sylphides" are clad in all-white, but this piece is more of a traditional ballet. UA Faculty member Qianping Guo has staged this production. Rita Snyder, Professor of Dance at UA, serves as the Collaboration Coordinator between UA's Dance Department and TCD.
Third, TCD will present Snow White and the Seven Dwarfs, set to
choreography by Alabama Ballet's Van Fleteren and re-staged by Alabama Ballet
principal dancers Kathryn Gebler Spitzer and Jenna McKerrow Wilson. The music
is an original composition by Thomas Helm, which premiered here in Tuscaloosa
in 2006.
Appearing as Snow White will be Alden Phillips, Tuscaloosa's reigning
Distinguished Young Woman (formerly Junior Miss). The part of Snow White was
originally set on Jennifer Lauren Quarles, a Tuscaloosa native who is now a soloist
dancer with Miami City Ballet. Harriett Poellnitz will dance the role of the Evil
Queen. The dwarfs will be danced by Ali Marshall (Happy), Natalie Moore (Sneezy), Avery Anderson (Sleepy), Mayci Hartley (Doc), Alexandria Stachera (Bashful), Tyler Salekin (Grumpy), and Grace Ann Fikes (Dopey).
---
---
Snow White Alabama Ballet University of Alabama Department of Theatre and Dance TCD
---