Dragon Boat Races comes to Tuscaloosa

Mar 06, 2012 08:33AM, Published by Kitty, Categories: In Print, Family, Community
---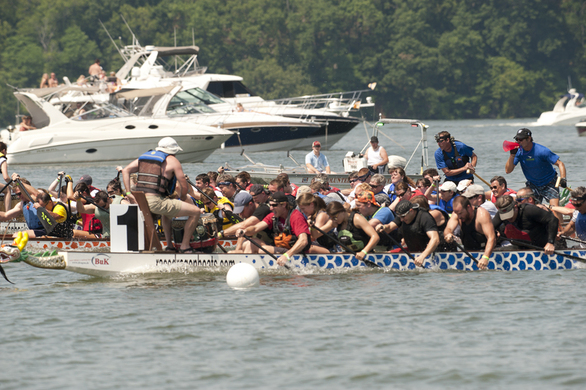 The Jr. League of Tuscaloosa Dragon Boat Races
---
Gallery: Dragon Boat Races [2 Images] Click any image to expand.
---
---
<
Once you hear aboutdragon boat racing and become involved in this world of sport, community andfun, there is no turning back from it. There is much more to it than a great dayon the water. There are different and interesting ways to experience the sportfor both team members and spectators. Whether you've paddled in a festival orregatta, or you paddle regularly in a dragon boat, you feel connected to it.That's the beauty of it – from the moment you pick up a paddle, you'll lovedragon boat racing!
Hong Kong style dragonboats are 46-feet long, with 10 seats and 20 people. A drum seat arranged abovethe first two paddlers (seated beside each other) holds a drummer – you wantthe smallest, loudest, most rhythmic person you can find. A provided steererguides the boat with the steering oar in back. These 22 people make up a dragonboat team. The stroke is unlike any other (the most similar is outrigger canoe)and taught in practice.
With originsdating back 2,300 years, dragon boat racing is the most fun, unique culturalevent featuring adrenaline-pumping action. Teams race in authentic 46-foot longHong Kong style dragon boats. They rave about the excitement, friendly competitionand community spirit surrounding the sport. All ages, skill levels andphysiques perfect their stroke and timing for the ultimate teamwork experience!
Every paddlerplays a specific role. They sit next to each other, and against the gunnel tobalance the boat as they paddle. The strokers occupy the front three seats ofthe boat, while the fourth seat is a transition place where, ideally, thepaddlers have rhythm and power. Then, seats four, five, and six consist of the "engineroom," where the largest and strongest team members sit. The last four rows ofa dragon boat are filled with strong paddlers who are also typically shorterand able to paddle faster. Paddlers at this location in the dragon boat areconsidered "rockets," because the water is moving faster to them, from thefirst 14 seats since they're scooping water back. The paddlers are taught towatch up the middle of the boat and two seats across – when that paddler hashis or her paddle up in the air, ready to engage the water, it's the cue forthe person watching to get his or her paddle up, as well. While the drummerplays keeps the rhythm for most of the boat, it can be difficult to hear onrace day. It's also a very visual sport, and if everyone is watching the rightperson, magic absolutely can happen in a dragon boat. Teams have to follow thestrategy, and then execute: the team members in the front must paddler inperfect timing as an example for the back half of the boat. When the power fromthe middle is mixed with the speed and capabilities of the athletes in theback, a dragon boat can glide quickly through the water like a bullet.
Teams feel aconnection to the racing. They bond to each other. They feel connected to theexperience.
Registration for TheJunior League of Tuscaloosa Dragon Boat Races is open. The event will be heldSaturday, April 28, 2012, at Cypress Inn on the Black Warrior River. Topprizes will be awarded, but the real winners are the beneficiaries – thecommunity programs supported by the Junior League of Tuscaloosa.
Participantsmust be 15 or older but all levels and physiques can participate, making it theultimate teambuilding sport, requiring synchronicity and finesse -- more thanpower to win. The Junior League of Tuscaloosa Dragon Boat Races features localand regional community and corporate teams racing for title of Grand Champion.Off the water, team members also compete to raise the most pledges for TheJunior League of Tuscaloosa.
This event is the ultimate fun combinedwith an unforgettable fundraising experience. Each team will get an on-water practice session with a trained coachprior to race day and compete in at least two heats on Saturday, April 28, 2012.
For moreinformation about dragon boat racing, visit www.racedragonboats.com. More information about The JuniorLeague of Tuscaloosa Dragon Boat Races is online at www.jltuscaloosa.org, by email tuscaloosadragonboats@gmail.com.
---
---
---