CHOM's 6th Annual Duck Derby

Mar 20, 2012 08:21PM, Published by Kitty, Categories: In Print
---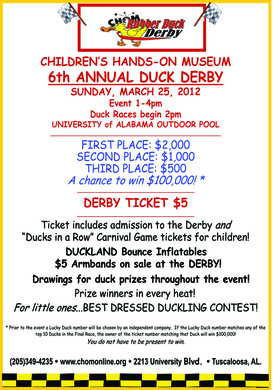 CHOM's 6th Annual Duck Derby
---
---
This Sunday, March 25th, is CHOM's 6th Annual Duck Derby.  Join them at the University of Alabama's outdoor pool for a fun filled family event. The activities begin at 1:00PM. The Duck Races begin at 2:00 PM.  Buy a $5 ticket for a chance to win BIG money in the Derby, plus, get admission to some of the best family entertainment around!
Your Derby ticket includes game tickets for children to our Ducks in a Row Carnival.  Tickets will be on sale the day of the Derby from 11:30 until 1:30 PM at the UA pool. 
CHOM will kick off the Derby activities this Friday Night with the Duck Waddle Dance and DJ Chuckie during Friday Fun Night, where CHOM is open until 8:30.
For more information call Children's Hands-On Museum at 205-349-4235 or visit them online at www.chomonline.org.
---
---
---