Healthier Easter Baskets

Mar 23, 2012 07:02AM, Published by Kitty, Categories: Health+Wellness, Family
---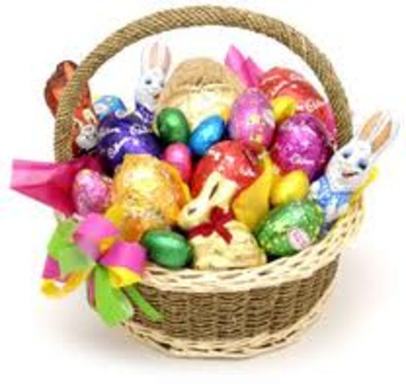 ---
---
A bunny with temper tantrums?  An  irritable, over-active rabbit who could not concentrate long enough to sort  Easter baskets?
"That's  what the Easter Bunny would be like if he ate the brightly colored candies  he brings children every spring," said Jane Hersey, National Director of the  Feingold Association (www.feingold.org), a  charity that helps children with learning and behavior problems.  
"Most parents would be shocked to learn that  these candies' vibrant colors come from petroleum-based dyes linked with  hyperactivity, inattention, and other problems" said Hersey, whose own  daughter's behavior was helped by eliminating these  additives.
"With a little imagination, parents can prepare a  beautiful Easter basket with healthier treats, as well as non-food items  that can help take the emphasis off sweets," said Hersey.  She suggests  that parents follow these simple tips:
Avoid candies  containing the synthetic dyes Blue #1, Blue #2, Yellow #5, Yellow #6, Red  #3, Red #40, Green #3 and Orange B.
Buy natural versions of delicious candies like  jelly beans, chocolate bunnies, and peanut butter kisses.  (Many of  these treats are listed in the Feingold Association's Mail Order  Guide and Foodlist & Shopping Guide.)
Include packages of heirloom flower or vegetable  seeds, which the children can plant to emphasize the spirit of rebirth or  renewal.
Choose smaller treats because, where candy is  concerned, smaller is usually better.
Add some art supplies, such as crayons, brushes,  and watercolors, in order to encourage creativity.
Put packages of dried pineapples, figs, raisins,  dates, 100% fruit roll-ups, or homemade trail mix in the  basket.
Include a new toy or book and top off the basket  with a stuffed bunny or chick.
Be sure to feed your children a nourishing meal  before they dig into their Easter treats, and consider planning an Easter  egg hunt, so that they can get some exercise while having fun with the  family.
"If you follow these suggestions, your kids will  have a healthier Easter, and you will never have to fear the Easter Bunny  again!" said Hersey.
Jane Hersey is National Director of the Feingold  Association and author of Why Can't My Child Behave?
---
---
---