UA Arboretum Plant Sale and Festival

Mar 27, 2012 10:00PM, Published by Kitty, Categories: Community
---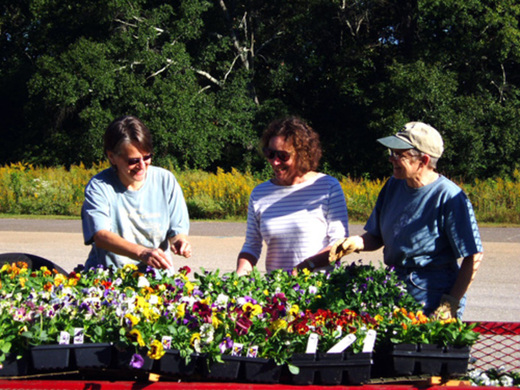 Fall Plant Sale photo by Betty Hardee
---
---
<
The Friends of The University of AlabamaArboretum will hold their annual Plant Sale and Festival on Sunday, April 15,2012 from 12 noon until 4 p.m. This year's event will feature expanded venues.In addition to a full selection of plants for vegetable and flower gardeners,acoustic music will be provided by Berteal and Rob Alley, artist and vendorbooths featuring locally-producedand hand-crafted goods and artwork, andseveral free garden workshops will be offered.
Workshops offered during the eventinclude: 
1:30 – 2:00 pm
Topic: Free Plants! A Guide to PlantPropagation
Presented by: Adelaide Drennen, GardenDesigner
Learn how to get more "bang" for thebuck.  A demonstration on thesimple steps to propagating plants.
2:00 – 2:30 pm
Topic: Using Color and Texture in theGarden
Presented by: Adelaide Drennen, Garden  Designer
Using plant textures and color to create amagical garden that is sure to delight all! 
2:30 – 3:00 pm
Topic: Surprise Container Gardens
Presented by: Pam Tucker and Judith Rivers,Master Gardeners
Creating beautiful containers gardens is aseasy as A,B, C!  Easy tips forusing different container sizes, shapes and plants. 
3:00 – 3:30 pm
Topic: Snip Your Way to aBetter Garden
Presented by: Jesse Piraquive, ISACertified Arborist
Pruning techniques demonstrated by acertified arborist.  Come learnwhen to prune, how to prune and the best tools for pruning.
3: 30 – 4:00 pm
Topic: Worms, Eat My Veggie Scraps …Please!
Presented by: John Goetz and Katherine Lee,Worm Owners
A discussion and demonstration on:  caring for worms, recycling veggiescraps to nourish  the garden.  Warning:  worms will be present but will be kept on a leash.
The Plant Sale will include plants for bothbeds and containers including annuals, perennials, biennials, natives,vegetables, tree, shrubs, and herbs. A large selection of hard-to-find tomatoesand unique peppers -including heirloom varieties- will be offered. All theplants are chosen for their color, vigor, and potential for presentation in theSouthern garden setting. Knowledgeable volunteers will be available for greatgardening advice.  Members of theFriends organization will be admitted to the plant sale at 12 noon along withthose gardeners who wish to join the organization at that time. The Festivaland Plant Sale will take place in the parking lot of the former UA Golf Course,located at the intersection of Veteran's Memorial Parkway and Loop Road.
 All proceeds will benefit The University of AlabamaArboretum. For more information, call 205-553-3278, visit arboretum.ua.edu, or follow theevent on Facebook at https://www.facebook.com/events/167574053361648/.
The Universityof Alabama Arboretum maintains plant collections for botanical education andappreciation. The Arboretum features walking trails through a native woodlandsection, a wildflower garden, a collection of ornamental plants, anexperimental garden, and a children's garden.
---
---
---