Tuscaloosa Children's Theatre presents "Willy Wonka"

Mar 29, 2012 01:58PM, Published by Kitty, Categories: In Print, Community
---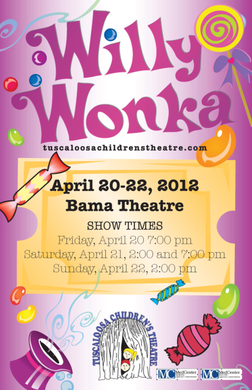 ---
---
<
"Come with me and you'll be in a world of pure imagination!"  So begins the magical story of WillyWonka, the famous chocolatier and his quest to find an heir for his candyempire.  The story, based uponRoald Dahl's Charlie and the Chocolate Factory has been adapted twice for the silver screen, capturing the hearts andimaginations of multiple generations.
Tuscaloosa Children's Theatre will present the stageadaptation, Willy Wonka April 20 – 22 atthe historic Bama Theatre.  Theproduction combines elements from both the 1971 and the 2005 film versionswhile striving to bring something new to the classic story, delightingaudiences once again.
 Willy Wonka, ready to retire, creates a contest to find hissuccessor.  He places five goldentickets in candy bars to be sold around the world.  The five lucky children who find the bars win a tour of thefactory and a lifetime supply of the delicious confection.  As each ticket is found, the audiencemeets some real characters – Augustus Gloop, the gluttonous boy who only wantsto "Eat more!"; Veruca Salt, the bratty rich girl who always gets what shewants; Violet Beauregarde, the gum-chewing girl who terrorizes her mother; andMike Teavee, a kid who is plugged in to his technology constantly.  All the while, audiences are rootingfor Charlie Bucket, the humble, family-loving boy who wants desperately to wina golden ticket…and he finally does, scoring the fifth and final golden ticketthrough a magical series of coincidences. His grandfather, Grandpa Joe – a formeremployee of Wonka, serves as his chaperone on the tour and offers Charliewisdom about life and chocolate along the way.  Once on the tour, temptation gets the better of each child,as one by one, they fall victim to their own character flaws.  Assisted by his trusted Oompa Loompas,Wonka reveals his grand plan, when one child rises to the top…literally! 
This magical adventure features over 100 local performers,boasting some of the best talent Tuscaloosa has to offer, all less thantwenty-five years of age!  Veteranaudience members will recognize some familiar faces, as well as meet severalamazing newcomers.  From Squirrels,to Cooks, to Candy Man Kids, the ensemble provides the backbone of this amazingcast that also features the caring Bucket family, the hilarious parents of theGolden Ticket winners, and of course, the Oompa Loompas.  Be on the lookout for some amazingsolos and standout performances! This cast has it all. 
Under the musical direction of Mr. Benny Russell, the voiceswill wow you with their beautiful harmonies and sheer talent.  Kelley Brown Davis returns aschoreographer, making us all want to tap our toes, jump up, and join in on thefun! 
The set, designed by Harrison Chambers will transportaudiences to the magical world of Wonka's candy factory, full of secrets andsurprises.  Chambers' creation willleave audiences mystified, while Judy Holland's costumes will dazzle the eye –and maybe even make your tummy rumble! 
One truly magical thing about this production is how TCT hasbounced back after losing nearly thirty years worth of sets, tools, and propsto the April 27th Tuscaloosa tornado.  The resilience of this organization can be seen in thegenerosity of its members and supporters who continue to contribute to our rebuildingefforts.  Not only is TCT involvedin rebuilding what it lost as an organization, but we TCT members, alums, andsupporters have reached outward to others in need within our community –partnering with organizations like Habitat for Humanity, collecting food andclothing, and putting in hours and hours of work to help strengthenTuscaloosa.  Together, Tuscaloosa canrebuild; from homes, to businesses, to ourstrong cultural influences like TCT.
If the story of Charlie Bucket teaches us anything, it is to"Think Positive!"  I hope you willjoin us at the historic Bama Theatre as Tuscaloosa Children's Theatre presents WillyWonka!  You are guaranteed to have a scrumdidilyumptious time!
The Cast!
Abbey Alexander
Alex Freeman
Alexandra Smith
Allie Cooley
AndrewLivingston
Anna Grace Haley
Anna LeighBreedlove
AnnLey Anders
Austin Ward
Autumn Fuller
Avery Jones
Ballard Henson
Bert McLelland
Briley Glisson
Brock Renicks
Brody Southern
Brooks Breedlove
Brooksie Suttles
Campbell Hamner
Caroline Bentley
CarolineBreedlove
Caroline Ferry
Caroline Holder
Carrye AnnRainer
Cason Cooke
Cassidy Redding
ChandlerBreedlove
ChandlerTurnipseed
Ciara EmaniDuggins
Cole Cabiness
Courtney Cooke
Dani Pierce
Darcy GraceDurden
Destiny Hoggle
DestinySchatzline
DJ Redding
Dustin Gomez
Emma ClairePatton
Emma KatherineFisher
Esther Miller
Eva Miller
Farris Turner
Gigi Webber
Grace Prisoc
Gracie Avery
Hannah Heinrich
Hannah Sampson
Harper Glisson
Harper Roberts
Henderson Jones
IsabellaMarshall
Isabelle Nolan
Jake Williams
Jasmine Aycock
John Overstreet
Jordan Suttles
Josie GraceParham
Julia Marshall
Kai Miller
Katelyn Lipscomb
Katherine Gray
Kayla Bradley
Kenleigh Benoit
Khristian Smiley
Kynnedi M.Porter
LamanaStringfellow
Landon Turner
Larissa Chillous
Lindsey Williams
Lorelle Moore
Madi BrookeHarvey
Maggie Jones
Margaret Crowe
Mary GraceGerkin
Mary Kate McCray
Matthew Dunkin
Meghan Skinner
Melody Mills
Meredith Hutto
Meredith Parr
Meredith Vaughn
NatalieUnderwood
Nathan Blake
Olivia LeComte
Payton Brown
Preston Glisson
Samantha Criss
Sarah Dickey
Sarah MasonAvery
Seth Evans
Sophia Webber
Taryn Johnson
Tayler Herring
Thomas ElliotFerry
Tiffany M. Sloup
Tripp Glisson
Will Flowers
Will McLelland
Wy Dasha Brown
Yara Akl
Zac Bronson
---
---
---