May/June 2012 Issue

May 01, 2012 09:35PM, Published by Kitty, Categories: In Print, Today
---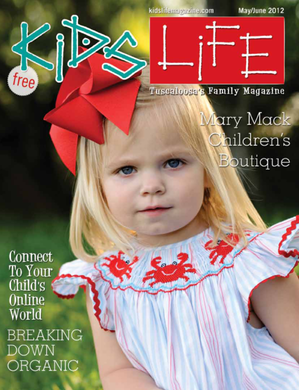 May/June 2012 issue of Kids Life Magazine
---
Gallery: [3 Images] Click any image to expand.
---
---
View the May/June 2012 issue Digitally!
Mary Mack Children'sBoutique
By Leah Farley & HaleyPennington
BrandiGlover Hall, owner of Mary Mack Children's Boutique, has always adored childrenand had an eye for style. Her shabby chic, clean, crisp style has always beenapparent in her closet, home, and personality. Over the past ten years, Brandihas managed to bring together two of her favorite passions and turn thiscollaboration into a great love.
Anative of Tuscaloosa, Brandi graduated from Hillcrest High School in 2002, thenattended The University of Alabama. During her childhood, it was obvious to Brandi'sparents that she would one day want to work with children, but she also lovedfashion and accessories.  Hermother, Belinda, said that Brandi could often be found wearing one of her "unique"outfits while carrying her favorite baby doll on her hip.  Brandi always had an independentfashion style growing up, and as she got older, she could always find classic,but trendy finds in any store, making a thrifty top go with great boutiqueaccessories.  Although she knew shewould major in Early Childhood Development in the College of HumanEnvironmental Sciences, Brandi continued her love for fashion by stayingcurrent with the latest styles and trends.  
Aftergraduating from college with her Early Childhood Development Degree, Brandimarried her high school sweet heart, Rusty.  She started to work immediately with the Child DevelopmentCenter at Alabama and then moved to University Church of Christ Preschool. Theitch for children began early for Brandi and Rusty. Brandi would always be intopic with friends over the names of precious children whom she taught inclass; but there was never a question what the baby names would be for the Hallchildren: Mary Russell and James McDaniel, both family names. When Brandi andRusty became pregnant and discovered they would be having a girl, Mary Russellit would be.
Withmany blessings with her family of three, the opportunity to collaborate her twopassions of children and style would meet. God's timing was perfect for Brandito begin the next chapter. Once the decision had been made to open a children'sstore, a name was essential to create the start of this journey. At lunch withher dearest friends in Orange Beach, AL, the name Mary Mack, her two children'sfamily names, was " voted" the winner! 
Immediately,Brandi began to collaborate her ideas, thoughts and interests with successfulbusiness owners in and out of Tuscaloosa. She discussed her next chapter withthose she loved and respected most. One of her favorite times in preparing forthe store was with her closest friends imagining the vision and direction ofMary Mack.  She wanted all of her "favorites"at one place, appealing to the mommies of both girls and boys. Brandi knew thelook she wanted to convey- crisp, clean and classic. She wanted to bring toTuscaloosa mommies a new, innovative look to children's clothing with anenjoyable, convenient shopping experience. Whether shopping for a children'sbirthday happy, a Christening gift, seasonal attire, or a treat for mom, MaryMack has become a one stop shopping experience.
AsBrandi comes upon her one year Anniversary of Mary Mack this October, she isthankful. Thankful for her customers. Thankful for the success Mary Mack hashad and the years to come. But above all, thankful that two of her favoritepassions were able to come together to create something she gets to enjoy everyday!
---
---
---