Unexpected Sorrow

May 02, 2012 08:41AM, Published by Kitty, Categories: In Print, Family, Today
---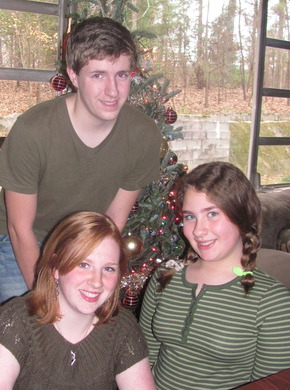 ---
Gallery: [2 Images] Click any image to expand.
---
---
by Melissa Strahan
I becamea widow a little over 7 months ago. My husband's death was very unexpected.  He was 45.  Hedied from a heart attack in a car going down interstate 69.  It was that quick and thatunexpected.  He was my very bestfriend.  We had just eaten lunchtogether around 2 hours before he passed away.  We usually ate lunch together out somewhere.  He had taken some Benadryl for somepoison ivy he had gotten into over the weekend and that had made him tired,because he normally didn't take medicine. When I met him for lunch, he was feeling a little funny, but we thoughtit was the symptoms of the medicine and the fact he worked outside in 104degree weather. He told me over and over again that he was fine. After lunch,he went to his friend's office to rest in the AC before going out in the sunagain.  It was late August and veryhot.  He decided to ride with hisfriend to an appointment.  Wetalked several times on the phone, where he assured me he was fine.  I googled Benadryl side effects when Igot back to work and he had just about everyone listed, so we thought that'swhat was going on.  I even calledmy pharmacist to ask his advice and he thought the Benadryl was also the causeof his symptoms and for him to just get somewhere cool and sip on Gatorade. 
            WhenI got the phone call to go to the hospital, I was concerned, but not overly,thinking maybe he was fatigued or dehydrated and just there to get fluids.  He was a landscaper/designer, so hestayed outside all day.  I leftwork and rushed to the ER.  That'swhere my world fell apart.
            Iremember very little about the funeral service, but everything about thehospital.  You are in such shockand in such a daze that things are happening all around you that you have noclue about.  At that point, you'rein too much of a shock to even cry or fully comprehend what has reallyhappened.  Everything seems to bein slow motion and it seems like you're looking through a window, not right atthe center of it all. Those around you (especially professionally), take yourpain in stride.  They see iteveryday.  In a way they're immuneto it.  It hurts because you thinkthey're so insensitive, but it's not that.  They just have to deal with that reality every day.  It's their job.  Others haven't been where you're at anddon't really know what to do or say. They care, but feel helpless. Down the road you can see this, but at the time, it makes you want toscream and say, "hey, look at what has happened to my family.  Cut me some slack and help me deal withthis without falling apart." 
            Ourcommunity has been so wonderful. Through all of this, from every corner of ourlives, we have had help and prayers and support.  My children's' school; the staff, families and coaches, ourdoctor, counselor, dentists, church members, neighbors, my husband's clients,lawyers, advisors, accountants, and friends, etc. have all loved us and blessedus through this.  I can't thankthem enough.  Their kindnesses andlove have been overwhelming. Monetary support has helped greatly, but so have the prayers and cardsand kind words.           
            Mychildren are going through their own pain.  They're hurting too. They slash out at each other and get angry with me, their siblings andeven themselves.  This is not a dayby day process, but a moment by moment one right now. I was put on anxietymedicine and I don't take medicine. Without it, I would probably have been locked up somewhere.  I can say that it has gotten betterwith time and healing, but waking up each morning is still a task.  It's just something I have to do likeeverything else on my list.  I wantmy joy back again.  Everyone tellsme it takes time.  I understandthis.  I have met wonderful, happypeople who have lost their spouses. They moved on; they've kept going and seem content, even though theirlives took on an unexpected turn. The fact is, whether we want to accept it or not, is that "it is what itis" now.  As blunt as thatstatement is, it is still the truth. We have to keep going, for our children and for ourselves.  Our spouses would want us too.  And we really don't have a choice.
            Italked to everyone I could think of to help me get a definitive answer as towhy;  the medical examiner,doctors, counselors, paramedics, firemen, preachers, friends, even strangers.  I was obsessed with making peace withthe whys and what ifs; if this could have been prevented, if I'd made him go tothe doctor, etc.  But their answersleft me more confused, because they had different answers and reasons.  Everyone told me not to think about thewhys- we'll never know God's plans on this Earth and it will drive you crazytrying to figure it out.  It is andthey are right.  I am trying tofinally let go of my guilt and questions and to realize that no matter what theanswer is, the bottom line is still the same.  My husband is not coming back.  As hard and painful as that is to accept, accept it I mustto keep the sanity I have left.  Iam still in a daze some days and feel overwhelmed.  Without the help of friends right now, I am on my own.  Selling of our home, of the vehicles,business and the everyday bills and management of kids' school and activitiescan try to get the best of me some days. I would probably be under the covers somewhere if it wasn't for thesupport of my best friends, Martha and Barry right now.  They can handle what I can't and I canbe what I need to be with them. Support is so important.  Icannot stress that enough.  Youfeel so alone when something like this happens and you're not fully there inmind and body.  You just have torely on others you trust to help you through everything. Here are some thingsthat I think will help those wanting to reach out and help others who have losta loved one, but they're not sure how:
Don't:
- Tellus our spouses are in a better place. We really do know that, but right now, we don't care, because they'renot with us.
- Nottalk about our loved one.  Ithurts, but in a way, it's a good hurt, because it reaffirms how great wethought our loved one was and helps us to smile through the pain and tears atthe memories.
- Tellus they're not in pain anymore.  Weknow that too, but not now.  We canonly think about the fact that we're in pain because they're not with usanymore.
- Tellus it will get better.  We knowthat in reality it has to, but again, not now.  We can only think about the "right now" and our memories.
- Don'ttake offense if we don't call you back or write you a thank you note.  We are so grateful for your prayers andsupport, but it's just too hard to sit down and write about it or talk about itsometimes.  We're still soemotional and in shock and it takes a while to slowly face the real world andour new reality again.
Do:
- Prayfor us.  Because sometimes we justcan't pray for ourselves.  I know Ijust couldn't, but I knew others were and I could feel it.
- Justbe there.  Make us get out.  Come see us.  Even if we don't say much, it's just nice to know thatothers care.
- Callor text just to check on us.  Evenif we don't call back, it helps just to know we're not going through thisalone.  Do come over, invite us tolunch, or for coffee.  It's justnice to get out with a friend and be able to be yourself.  Push us to go if you have too.  It's really hard at first to be aroundothers, especially happy couples and busy places.
- Doinvite my kids places. Though we're all grieving, it's good to get away fromeach other and this new reality, and just have fun with someone else.  I want my kids to just be kids too; notworrying about me or their heartache. I want them to know it's ok to laugh and play and enjoy life still.  I want them to keep their joy.  Their dad would want that too.  And they just might open up to someoneelse about how they're really feeling about things.
            Iwas told something that's kind of stuck with me: You never get over it, but youdo get through it.  I'm clinging tothat right now.  When my ears startringing, my heart area starts to hurt, my insides turn queasy, my body clammyand face tingly, I just have to pull my thoughts away from the whys and ifs andask God for his peace that truly passes all understanding.  I also cling to the promise that thisnew life does indeed get better.
---
---
---