Are We There Yet? WaterColor Inn and Resort

May 09, 2012 08:33PM, Published by Kitty, Categories: In Print, Travel, Today
---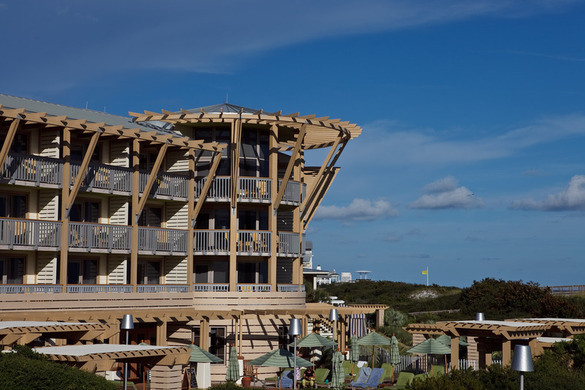 ---
---
<
By: Linda Holloway
Photography: wwwlarryhollowayphotography.com
WaterColor Inn & Resort - Santa Rosa Beach, Florida
As Gunnar, our grandson, turns into a "tween," I am remindedwe have been privileged to share in his childhood. The saying, "You only borrowchildren for a few years," is true. Summer vacations become even more importantwhen you realize from the time your children are born until they are sporting acap and gown is short. Watching your baby girl take her first steps in the sand, while realizing she will some day walk down the aisle is thought provoking.We found the perfect location to create those important vacation traditions forour family—a beach oasis tagged WaterColor Inn & Resort.
Architecture and ocean blend the first hues of family timeat the WaterColor Inn, a boutique hotel located in Northwest Florida. The FourDiamond AAA rated retreat  has along list of awards and was selected in 2012 as Conde' Nast "Gold List" recipient along with the 2011 awards fora "Top 20 Family Resort" in Andrew Harper's Hideaway Report.  Here, you will find beach front Innrooms with balconies overlooking the world's most beautiful beaches. You canalso choose from more than 140 vacation homes with 1-6 bedrooms as well astownhomes on property. Many of the homes are roomy enough for extended familiesto vacation together complete with gourmet kitchens. Porches and balconies forfamily time are also a prime amenity.
We lodged in one of the 60 casual chic Inn rooms—decoratedwith splashes of color enhancing the decor. Notice the room's innovative viewof the ocean that extends through a window in the dual-shower enclosure.  The bedding is luxurious and there iseven a comfy sofa bed—perfect for children. The best part… the ocean is juststeps away! We enjoyed hours of fun in the sun lounging at the privateBeachClub and pool while Gunnar met new friends. Kids can join the staff duringthe week for arts & crafts and the BeachClub becomes the "in spot" every Saturdayfor a fun filled day of activities and pool contest. Gunnar enjoyed hula-hoopcontests and pool games such as Biggest Splash and Best Belly Flop. A favoriteevent is "Bonfires on the Beach," with live entertainment and s'mores while"Movie Nights" are saved for Thursday night. For me, the repetitive pounding ofwaves crashing on shore was pure relaxation—a true audio feast for the soul.
Be sure and ask about the lodging package that includesbreakfast at the resort's award-winning restaurant, Fish Out of Water. You willalso want to dine here for dinner where you will find the renown, "Shrimp &Grits" as well as the freshest seafood anywhere.  Situated directly overlooking the Gulf, this is the bestspot to watch the sun melt into the ocean to close another day ofutopia—WaterColor style. You will also find Sushi at the Gathering Spot and theBeachClub Grille is great for light fare.
The complimentary bikes were our most popular mode oftransportation—ideal for weaving through trails and visiting the nearby town ofSeaside. We stopped to explore WaterColor's Town Center shops along the way.Other amenities included complimentary canoes and kayaks perfect formaneuvering on Western Lake. There also seems to be a swimming pool aroundevery corner, or you may want to engage in an invigorating game of tennis. Itdoesn't take long to surmise vacationing at WaterColor is a relaxingalternative to the hectic pace of the average high stress vacation. Life ismuch simpler here and you will never feel like you need a vacation torecuperate from your vacation.
YOLO Boarding
Gunnar is still talking about his number one favoriteactitivity at WaterColor…YOLO Boarding. Set out on a new adventure atWaterColor Marina along Western Lake where you will find Tom Losee at theBoathouse teaching the sport of stand up paddle boarding. Tom's board brand,YOLO (you only live once), offers high quality craftsmanship using a techniquethat is unique to each board's purpose. The technology translates into the mostfun an 11 year old can have in one day! Tom notes children need a wider boardfor learning, and it is especially helpful if you have participated in canoeingor kayaking. Gunnar's agility from baseball training also proved helpful.Private lessons for Gunnar started with Ella, Tom's daughter, demonstratingtechniques inside the Marina. Ella was Gunnar's age, and the pint size beautywas already a YOLO pro.  After Tomselected the appropriate board for Gunnar, it was time to leave the dock.
 "Always lookstraight ahead," Ella instructed. The pair began in a kneeling position whereElla immediately stood up, Gunnar followed suit, and they paddled around thelake for at least 30 minutes. The duo did not fall one time, and the activitywas an unforgettable experience. Afterwards, Larry, my husband, and Gunnarpurchased bait and fished in the lake. For novice fishermen, the staff at OldFlorida Outfitters offers lessons in fly-fishing and light tackle.
Camp WaterColor
For the most fun your kids can have on vacation, enroll themin Camp WaterColor. The camp is nationally acclaimed where children arewelcomed by an energetic staff dedicated to the entertainment of the youngerset.  The camp activities includerecreation, lunch, movies, and arts and crafts. The camp offers morning,afternoon or full day sessions (reservations required). This was the first timeGunnar had experienced a resort camp that included an off site trip for the8-12 year old group. Camp WaterColor, a fee based program, offers trips by vanto locations such as Big Kahunas Water Park, Shipwreck Island, Wonderworks andRipley's Believe It or Not. The low child to counselor ratio made us at easewhile knowing Gunnar was having a blast.
Beach time at camp is exciting for the 4-7 year old kids,where sandcastle building, volcano projects and scavenging for beach crittersis always intriguing. There is also fishing and kayaking, and splashing in thepool is part of the fun. Depending on the day of the week, other activitiessuch as flag football, crafts and hand-on with turtles, parrots and otheranimals are kid-pleasers. We stayed long enough to watch the younger kidshaving their faces painted to become instant pirates. Your children won't missyou while you are shopping, relaxing at the spa or playing a round of golf atthree courses available to guests: Camp Creek, Shark's Tooth & Origins."Kids Night Out," is an evening program providing themed programs for kids andallowing parents "couple time" for leisurely dining complete with adultconversation. I repeat…adult conversation.
South Walton
If have you noticed bumper stickers with simply "30-A"stamped on them, you can smile because these people have experienced a 19 milestrip that runs alongside the Gulf in South Walton. The 15 beach communities,including WaterColor, in this Florida vacation paradise hold the secret torecreation and relaxation. Here you can enjoy five state parks as well as 17fresh and saltwater lakes and the Choctawhatchee Bay—choice sites for bothfreshwater and saltwater fishing year-round. You will want to picnic at EdenState Gardens—something that we have done with our family for over threedecades. Ask the concierge at WaterColor to arrange deep-sea fishing excursionsand other day trips in South Walton.
Visit Sandestin Golf and Beach Resort's, The Village ofBaytowne Wharf. Here, at this pedestrian village you will find shopping, diningand nightlife. This summer enjoy Boomin' Tuesdays fireworks, Concert SeriesWednesdays, and Sunset Cinema Thursdays. If you are planning a weekend getawayto South Walton May 11-13, 2012, stop by the annual ArtsQuest Fine Arts andMusic Festival at Seaside and shop for fine art. There are also kids'activities and art demonstrations as well. A great place for a family lunch isSmiling Fish west of WaterColor in Gulf Place where we dined outdoors on ourfavorite seafood—fried shrimp.
Leaving WaterColor Inn & Resort with 500 digital imagesin our camera and Gunnar napping in the back seat, I thought about BarbraStreisand's lyrics of "The Way We Were." Streisand sings "Light the corners ofmy mind, misty watercolor memories of the way we were." Instead of sadmemories, I reached over and touched Larry's hand—it was all good memories offamily fun in a special place called WaterColor Inn & Resort.
Reservations: 866-426-2656, www.watercolorresort.com
For Tourist Information: 800-822-6877, www.visitsouthwalton.com
---
---
Linda Holloway Beach WaterColor
---