Summertime Fun at Six Flags and Atlanta

May 21, 2012 09:44AM, Published by Kitty, Categories: Travel, Today
---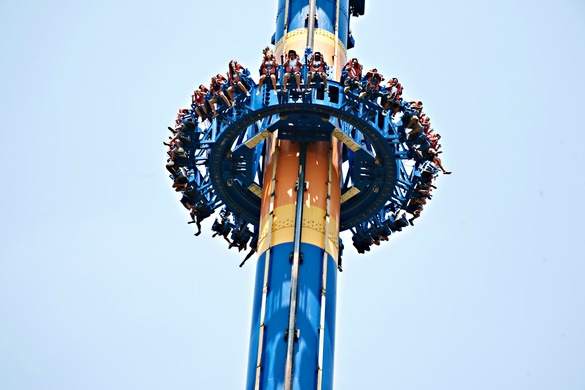 ---
---
Are We There Yet?
by Linda Holloway
Recognizing that many Tuscaloosa families will be frugal intheir vacation choices this summer, we explored the perfect city—Atlanta,Georgia. Atlanta is a great weekend destination or you can find enoughattractions to stay a week. Begin with the new thrill ride at Six Flags OverGeorgia, and then travel 11 miles to downtown Atlanta's premier hotel, Omni atCNN Center, where top attractions are in walking distance. Highlight your tripwith an evening of watching the Braves "play ball."
Six Flags Over Georgia Features New Coaster
The quote, "Often imitated but never duplicated" can easilyapply to Six Flags Over Georgia. Since the late 1960's, Six Flags has boastedthemed areas, entertainment and rides for toddlers to adults. The theme parkhas also grabbed the attention of thrill seekers featuring breathtaking ridesand specializing in thriller roller coasters.
After numerous trips to Six Flags Over Georgia, this was ourfirst visit with our grandson, Gunnar Sellers, and his friend, Cody Bohannan,ages 10 and 11 respectively. The duo quickly realized that finally reaching thecorrect height for the "big boy" rides could prove to be a daunting experience.From noon to almost dark, they explored the daring water rides and the thrillof some of the most exciting coasters anywhere. Our experience consisted ofwalking them to the entrance and waiting for them at the exit—safely sitting ona bench nearby waiting for an enthusiastic report.
In May 2011, Six Flags Over Georgia introduced the latestdaring coaster that features a "Beyond Vertical Drop." The park's eleventhroller coaster is appropriately named, Dare Devil Dive and sends riders over a 10—story vertical lift at aspine-tingling
 95degrees:  beyond vertical.  Riders travel in the world's first"v-shape" trains fitted with lap bar restraints and stadium seating, payinghomage to World War II era stunt planes. The ride soars at a blistering 52miles per hour as it makes its way through 2,090 feet of twisted steel track.
Bret Luedke, chief test pilot for Lockheed Martin's F-22program was one of the first to try the new coaster. "Dare Devil Dive is asexciting as flying a modern day fighter jet," said Luedke. Dare Devil Diveboasts three inversions, zero-gravity hills and high-speed turns. Ride it ifyou dare!
For nostalgia sake, we insisted that Cody and Gunnar rideMonster Mansion (formally Monster Plantation) where you will find friendlymonsters.  Also, a visit would notbe complete without a ride on the Riverview Park Carousel, a national historiclandmark saved from Riverview Park in Chicago and Bugs Bunny World, is amust-do for children.  Grab a hugand picture with some of your favorite Looney Tunes characters including BugsBunny, Daffy Duck, and Sylvester throughout the day.
My advice for the popular rides, Thunder River (a ridethrough rapids and waterfalls) and Log Jamboree:  know you are going to get wet. Wear appropriate shoes andclothing that will dry quickly. For entertainment, try Looney Tunes Dance Off,Mr. Six Dance Party, ShenaniGuns! Comedy Wild West Show, and the Lab Wagon. Besure to check the schedule for the Six Flags Starburst Summer Concert Series.On July 31, 2011, Mike Posner will be in concert. Posner will be performing hishit single, "Cooler Than Me." 
Skull Island is open for the summer at Six Flags, and thisis the perfect spot for cooling off. Here, you will find three giantwater-dumping towers, six water slides and hundreds of interactive waterelements. Changing facilities are provided, so bring your swim suit andtowel.  Gunnar and Cody alsoenjoyed checking out the Batmobile in front of the exciting Batman: The Ride.Here, you can soar over Gotham City at the speed of 50 mph. Both boys sat outthe ride, Acrophobia, where you take a plunge from a 20 story tower whilestanding straight up during the 16 story-drop. There were too many terrifying screamscoming from that area for me! After the coaster rides (naturally), we enjoyed alate lunch at Johnny Rockets—best milkshakes anywhere.
For information call 770-948-9290 or visit www.sixflags.com/overGeorgia.
The Omni Hotel at CNN Center & Downtown Attractions
After a day of fun at Six Flags, choose the Omni Hotel atCNN Center for family base camp to explore Atlanta attractions.  The 1,070 room hotel is located lessthan two blocks from the Georgia Aquarium, connected to the Georgia WorldCongress Center, and across from Centennial Olympic Park, a 30-acre parkcommemorating the 1996 Summer Olympics. The World of Coke is only two blocksaway also. The best part—the hotel is just minutes from Turner Field, home ofthe Atlanta Brave
Make sure you ask for a room or suite in the North Tower fora breathtaking view of the Atlanta skyline and the Centennial Olympic Park.Warning, the hotel has been known to spoil your kids! Omni Sensational Kidsprogram caters to young guests. Upon check-in, children receive a goodie bagcontaining sensory trinkets. Included in the mix is a flashlight, a flip drum,twizzlers, a disk launcher, canteen, and a scented "plant-able" bookmark. Kidsalso receive milk and cookies delivered to their guest room on the first night andcan request to borrow a rolling backpack full of toys, books and games.
Don't forget fun in the water! The hotel's pool is theperfect spot for the entire family. If the pool is not enough water fun, takethe family across the street to the park where the Fountain of Rings show isentertaining. Children can also spend hours splashing around the Olympic ringstrying to guess where the next gush of water is coming from.
Begin each day with the Omni's Prime Meridian restaurantwhere the breakfast buffet is great for families with picky eaters. Kids givethe pancakes rave reviews while I can vouch for the made-to-order omelets. Besure to inquire about the hotel's various cost cutting packages that includedeluxe accommodations and tickets. Ask about the "Splash" and "Big Splash"packages for the Georgia Aquarium, the "125th Anniversary Package"celebrating Coca-Cola's 125th anniversary, and Inside CNN Package. A tote bagis provided with each package complete with mementoes. For more informationcall 800-843-6664 (404-659-0000) or visit www.omnihotels.com.
Downtown Family Attractions
Georgia Aquarium Features New Show
The much-anticipated AT&T Dolphin Tales gallery at theGeorgia Aquarium is now open. The 84,000-square-foot AT&T Dolphin Talesexhibit uses entertainment to educate audiences with performances by a liveactor, trainers and dolphins and effects utilizing light, water, video, soundand dramatic costuming, all set to the storyline of a professionally orchestratedsoundtrack. Gunnar and Cody enjoyed the spectacular 25 minute show, narrated bythe lead character, the StarSpinner. The AT&T Dolphin Tales ticket is required in order to see the liveshow, but the Dolphin Tales gallery (see the dolphins) is included with ageneral admission ticket. For information call
404-581-4000 or visit www.georgiaaquarium.org.
The World of Coke 
With the celebration of Coca-Cola's 125thanniversary, now is a great time to visit World of Coca-Cola, located adjacentto Centennial Olympic Park.  Thecelebration will feature activities such as a six-hole miniature golf courseand an all new animated musical film, Happyfication. Children will enjoy meeting and greeting the popular Polar Bear andadults appreciate the Milestones for Refreshment gallery which features prizedpossessions including circa 1880's soda fountain and an original circa 1939Chevrolet delivery truck from Argentina. The tasting room is a favorite foreveryone. Here, you will find five stations to sample 60 beverages from aroundthe world, and the sixth is dedicated to Coca-Cola. For more information call800-676-2653 or visit www.worldofcoca-cola.com.
Inside CNN Tour and Atlanta Braves.
Explore the global headquarters of CNN Worldwide news with aguided Inside CNN Tour. This is a great tour for older kids and teens. Aspiringnews anchors will enjoy a close up look at technology used at CNN everyday.Visitors get to view a replica of a CNN control room, learn about a greenscreen that meteorologists use, and the best
Part - the CNN Overlook offers a bird's eye view of anewsroom in action.  We visited at9:00 a.m. and viewed a live broadcast from the overlook. You may see yourfavorite anchor delivering the news. For information call 404-827-2300, or visitwww.cnn.com/tour/atlanta.
You cannot leave town without visiting Turner Field for anAtlanta Braves game. Come early and visit the Ivan Allen Jr. Braves Museum& Hall of Fame. For ticket information call Ticketmaster:  800 745-3000 or visit www.braves.com/tickets.
For Atlanta area tourist information call 1- 800-atlantaor visit www.atlanta.net.
Gunnar and Cody's Top Picks for Six Flags
Older Age Group
Goliath
BATMAN: The Ride
SUPERMAN: Ultimate Flight
Thunder River
Mind Bender
For the Younger Crowd
Log Jamboree
Dahlonega Mine Train
Wile E. Coyote's Canyon Blaster
GOTHAM CITY Crime Wave
Best Food
Johnny Rockets
Primo's Pizzeria           
---
---
---