Car Seat Safety

Jun 10, 2012 08:55PM, Published by Kitty, Categories: Health+Wellness, Family, Today
---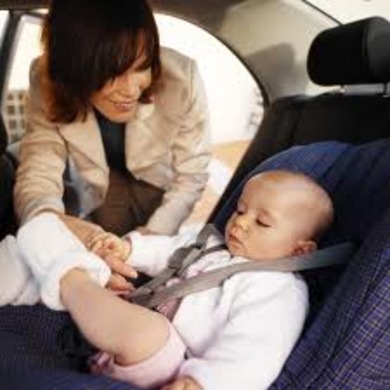 ---
---
<
Shanone Medlock, MPH CHES
Choosing the safest way foryour children to travel in a vehicle can be a daunting task. What is the bestinfant seat? How long should they ride rear facing? Do I need to use a boosterseat or a seat belt? What are the requirements by law? What do pediatriciansrecommend?
The American Academy ofPediatrics (AAP) and the National Highway Traffic Safety Administration (NHTSA)have advised that children ride in a rear-facing car seat until they reach themaximum weight and height recommendations provided by their car seatmanufacturer. This means, children will ride rear facing at least a year longerthan previously recommended. A rear facing child seat best supports the head,neck, and spine of an infant or toddler. During a crash, the car seat absorbsand distributes the force of the collision over the entire body. In 2007, thejournal Injury Preventionhighlighted a study that showed children under the age of 2 are 75% less likelyto be severely injured or die in a crash if they are riding rear facing. Importantly,never place a rear facing car seat in front of an active airbag.
Once children move to a frontfacing seat they need to remain in this seat until they reach the weight andheight recommendations provided by their car seat manufacturer. Some may feelthat their child is then ready for a seat belt. A seat belt is designed to fitan adult's body. To fit properly a seat belt must securely fit over the hipbones and shoulder. Using a seat belt alone, on a small child can increaseinjuries sustained in an accident. The lap belt rides up on their abdomens andcan potentially cause internal injuries. The shoulder belt can ride up on theirneck and cause additional injuries as well. This is why pediatricians andsafety experts recommend the use booster seats until children are 4'9" and theyare between 8 and 12 years old. The booster seat "boosts" the child into aposition for the seat belt to fit properly.
In some cases, the guidelinesare more stringent than state law requires. For more information, please contactthe Alabama Department of Public Health at 1-800-252-1818 or visit www.adph.org/injuryprevention.  
According to a 2004 reportfrom NHTSA, 83% of parents had their infant and rear-facing convertible carseats installed incorrectly. If you would like to have your car seat inspectedcontact www.cpsalabama.org to find a certified child passenger safety technicianor to read about the 2006 Alabama child restraint law.
The back seat is thesafest place for a child to travel. Every passenger should buckle up on everytrip, every time.
---
---
---