More Energy? Yes, Please!

Jun 19, 2012 09:54PM, Published by Kitty, Categories: Health+Wellness, In Print, Today
---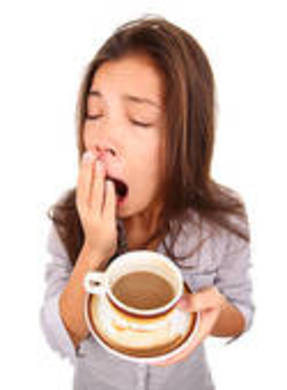 ---
---
By: Mallory Cargile, PFT,BCI, FNC
A lot of really amazing womenhire me on a monthly basis to help whip them into shape with some fun,challenging, and invigorating workouts.   It doesn't take long for these women to realize thatwhat they eat not only plays such a huge role in their endurance during ourworkouts but also how they feel the rest of the day.  One of the biggest reasons people want to work with me isthey are tired of feeling yucky, mentally and physically.  Even more than the desire to loseweight, what I hear more than anything else is, "Mallory, I just want to feelbetter."  I have certainly heard,"I am sick and tired of being sick and tired." 
One of the reasons people feelso sluggish and yucky is because, well, what they eat is yucky.  It may not taste yucky, but your bodysees it as yucky.  How many timesdid I just say yucky?  And yourbody will get you back with some sweet revenge.  Here are some foods that will zap you of the energy neededto get through your day without feeling like you need a big ol' nap. 
Refined sugars – Candies,pastries, soft drinks, and quick convenience store-type foods.  Refined sugars quickly turn intoglucose, which may give you a temporary energy boost.  We know those don't last long, and then you crash.  Refined sugars can also interrupthealthy sleep patterns, which of course just add to your low energy level. 
Refined flours – White bread,white pasta, fast food, doughnuts, desserts, and so many types ofcrackers.  These are typically madefrom grains that have been heavily processed.  They start out as complex carbohydrates (the good kind) andget turned into simple carbohydrates (the not-so-good kind), which just likerefined sugars, turns into glucose. These are much harder for your body to process, compared to wholegrains.  Your body has to workharder, depleting you of even more energy.
Saturated fats – Found in a tonof products including pork, dark meat chicken and turkey, beef, eggs, and dairyproducts.  There are many reasonsyou should keep these fats to a minimum, and one is that your body has todivert blood flow from other areas in order to process it.  This depletes your energy.  See a trend here?
People think that somethingfrom the vending machine or a diet coke is going to help them get through thatafternoon sluggish feeling.  Iwould love to hear from one person who does this and then just feels fantasticafterward.  If it doesn't reallywork for you, then why do you keep doing it?  It's a habit. Break it.
To increase your energy, firsttry increasing your water consumption. Yes, water is boring.  Butwhen did we start drinking beverages for entertainment purposes?  Consistent water drinkers don't drinkit because it's a really good time. We drink it because our body needs it.  Among the long list of benefits of drinking water, helpingwith your energy level is one of them. So get to drinking!  Taketwo weeks and commit yourself to drinking it every day.  After that, it will become the norm foryou.  Take half your body weightand try to drink that in ounces every day.  Ditch the sodas, and it isn't that hard to do.  Create the habit!
Other foods that do wonders foryour energy are fruits, vegetables, nuts, whole grains, and rolled oats.  So replace your candy bar and 5-hourenergy drink in the afternoon with a tall glass of water and your favoritefruit and nuts.  Make this your newhealthy habit and then stop to take notice.  I bet you will feel a big difference. 
I am always trying to come upwith ways for my clients to want to eat healthy.   WANT is the key word.  I can send them all the recipes in the world.  I can give nutrition tips until I amblue in the face.  What I have cometo realize is that although they may appreciate my efforts, they still may nottake me up on it.  No matter howmuch we are told we need to do something, we are not going to do it unless wereally want it.  The same goes forhow we eat.  Until someone reallygets to that mental place where they want to replace bad habits with good ones,there is nothing I can do but hold out hope for them.  The truth is that most do come around….on their time clock,not mine.  They are always gladthey did, and they wonder what took them so long to get there.
I am trying something new withmy clients, family, and friends that will already be complete by the time youread this.  It is a 10-day detoxplan that was designed by a dietitian where we cut out all processed foods,meat, caffeine, alcohol, and anything artificial, including soft drinks andartificial sweeteners.  So what dowe eat?  Like God intended, that'show.  The way they used to eat along time ago before processed foods became the norm and the McGriddle was amenu item. We will be eating tons of fruits, vegetables, nuts, beans, proteinshakes with no synthetics, and tons of water.  Everyone will also take a good multivitamin and a liverdetox supplement.  Your liver isactually where all of the toxins and chemicals from processed foods getfiltered.
Apparently, a lot of people arefeeling yucky because once I announced I was doing this, I had so much responsefrom people wanting to jump on board.   What I am hoping is that people will begin to realizehow much better they feel, mentally and physically, when they eat whole, cleanfoods.  The way God made them.  I am also hoping it will be a greatjumpstart for people to kick some old habits to the curb.  So stay tuned in the next issue withupdates on how it made us feel!  Iam not looking forward to giving up my morning coffee for 10 days….but I can doanything for 10 days.  I ampredicting that I will realize I don't really need that second cup of coffeeevery morning. It…is….a….habit! 
Please remember to not embarkon anything like this without proper direction from a professional.
What habits do you have thatyou have been meaning to break? What are you waiting for? Life doesn't stop to wait on us to get our act together.  We get one life.  So let's live it right. 
Mallory Cargile is the ownerof Tuscaloosa Adventure Boot Camp for Women and the co-founder of www.healthtotheknow.com.  She is a certified personal trainer,group fitness instructor, and fitness nutrition coach. You can contact Malloryat 391-8588 or visit www.tuscaloosabootcamp.comor www.mallorycargile.myshaklee.com.
---
---
---