Party of Five: Crescent City Bound

Jun 25, 2012 10:42AM, Published by Kitty, Categories: In Print, Travel, Today
---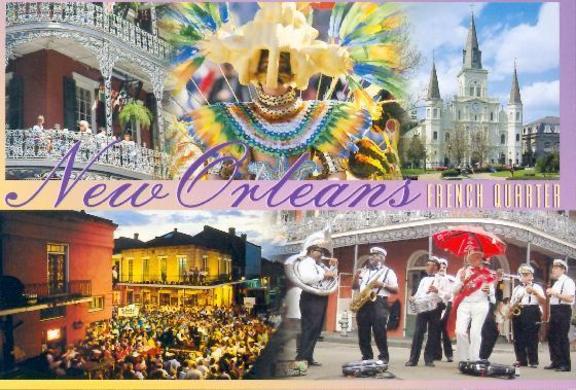 ---
---
By Angela Poston-Kornegay
Before children came along, my husband and I shared a loveof travel that included such cities as Paris, Lucerne, Venice, and otherromantic spots on the globe. This love for traveling to exotic locales wassomewhat slowed with the arrival of our three sons: Will (11), Sam (9), and Ben(5). We have discovered that we can travel by squeezing in long weekend tripswithin a few hours drive from our home in Tuscaloosa on weekends vacant ofbaseball or birthday parties. Subsequently, we have found the adventure hasbecome watching our children learn so much from our travel experiences as afamily.
In August of 2005, I watched with the rest of world thedevastation occurring in the Crescent City by Hurricane Katrina. Myperspective: lying in a hospital bed at DCH awaiting the arrival of our thirdson, Ben. Then, in June 2010 I had a meeting in New Orleans, so we added a fewdays to make it a family trip and introduced the charming city to our three boysfor the first time.
We were able to locate a rental condo in the WarehouseDistrict of New Orleans within a short walk to many of our desired locationsand free on-street parking on www.vrbo.com.  July and August are the hottest monthsin New Orleans and the best hotel deals can be found, but the parking rates forthe city lots remain the same year-round and can add up to a hefty sum ifstaying more than a few days. My recommendation: the streetcars of NOLA are a landmarkin themselves and "Jazzy Passes" can be purchased for a variety of days thatwill surely accommodate your needs. Prices, schedules, and maps can be found onwww.norta.com, but tickets range in pricefrom $1.25 per ticket to $20 for five-day adult passes and children under twoare free. The St. Charles, Canal, and Riverfront lines can carry you to many ofyour desired locations in the French Quarter and Garden District.
We were able to easily catch the streetcar from the RiverWalk by the convention center down to the French Quarter for the wonderfulcuisine and sightseeing at Jackson Square, with daily breaks at Café du Mondefor our fix of beignets – a new family favorite, but a long-time indulgence forNew Orleans natives.
While on the St. Charles line, make sure to ride it all theway to the end past the beautiful antebellum mansions and stop at the CamelliaGrille, which opened in 1946 in the Garden District. The Camellia Grille wasone of our children's favorite places to eat, not only because of the menuchoices, but the thrill of being able to sit at the old-fashioned lunchcounter. The Camellia Grille contained an eclectic mix of locals, tourists, andstudents from nearby Tulane University, not to mention being very affordable.It also possesses some of the most cordial servers we've ever encountered.
A trip to New Orleans with children wouldn't be completewithout visiting the Aquarium of the Americas and the Audubon Zoo. For an addedadventure, be sure to take in the Insectarium and the IMAX. The best value isthe combo package which gets you all four of these for one low price. (http://www.auduboninstitute.org)
Our eleven-year-old is somewhat of a history buff and wealways let him plan a historical element for our trips. The National World WarII Museum (Sam's favorite) and the Civil War Museum (Will's favorite) are bothwell-worth the visit for the wide variety of artifacts alone. An addedhistorical element was a visit to vigil Mass at St. Louis Cathedral and theadjacent Cabildo that not only houses the Death Mask of Napoleon, but it is thesite of official transfer of Louisiana from Spain to France and then itspurchase by the United States. (http://lsm.crt.state.la.us/cabildo)
If possible, arrange for a babysitter for at least one "datenight" in New Orleans. On our "date night" we were able to celebrate our recentanniversary by dining alone at Emeril's original flagship restaurant onTchoupitoulas, then strolled down the famous Rue de Bourbon and to the famousPat O'Brien's. Word to the wise, be careful strolling down Bourbon Street withyoung children. I would definitely rate it PG-13 or higher given the time ofday you visit.
On the Fourth of July, we stuffed ourselves on muffalettas(everywhere was delicious so take your pick) and a small bag of pralines fordessert, we embarked on the ferry across the mighty Mississippi and back. Thefare is free for pedestrians and the entire trip over and back took less thanan hour. About dusk we parked ourselves on the riverbank and listened to thevarious jazz groups strolling and playing along the river bank while we waitedfor one of the best fireworks shows we've seen. The fireworks were launchedfrom "dueling barges" on the river and lasted almost an hour, and the best partof all: they were free, so we treated ourselves at Café Du Monde again beforeheading home for the night.
The grand finale of our trip was the Cajun Encounters SwampTour (http://www.cajunencounters.com/).The tour lasts about two hours and is narrated by your boat captain who takesyou up close and personal with swamp wildlife, yes—alligators, so be sure totake your camera. Reservations are needed because the tours book quickly. "When are wegoing back to New Orleans?" has become a frequent question from our boys.  I cannot give them a good reason for usnot to go multiple times a year. It is an excellent way of submerging childreninto regional cultural diversity through experiencing food, music, andarchitecture in one of our greatest southern cities.
---
---
---