July/August 2012 Issue

Jul 01, 2012 12:18PM, Published by Kitty, Categories: In Print, Family, Today, Community
---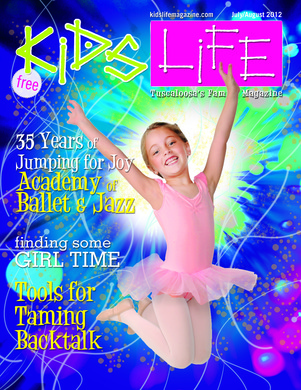 ---
Gallery: Academy of Ballet and Jazz [3 Images] Click any image to expand.
---
---
<
View the Kids Life Magazine July/August 2012 Issue Digitally!
35 Years of Jumping for Joy at Academy of Ballet & Jazz
The art of dance is an ever-changing form of creativeexpression, one that requires the ability to adapt with contemporary styles andtechniques. When Academy of Ballet & Jazz opened its doors in 1977, thefacility was little more than a home turned into a dance studio and its 75students had the option of taking ballet, jazz or tumbling. Now in her 35thanniversary season as owner and artistic director, Susu Hale Prout has led theway in making the Academy of Ballet & Jazz a second home for thousands ofdancers.
 To meet theneeds of today's dancer, ABJ has expanded its class offerings each year toincorporate hip hop, contemporary, modern, musical theater and tap. The studiooffers dance instruction for students as young as 18 months and provides aprogressive program to nurture and develop dancers to their full potential.Academy of Ballet & Jazz views its preschool program as the foundation thatallows dancers to strengthen their minds and bodies as they grow to love theart of dance. In her tenth year with ABJ, Assistant Artistic Director TessaZimomra Hicks has helped develop and implement this program that has become thecornerstone of ABJ's curriculum.
The preschool program begins with the Mommy & Me class,designed to introduce dance fundamentals and musicality to young girls and boyswith their parent or caregiver in the classroom. From the ages of 18 months upto three years, dancers and their parents are provided the opportunity to danceand grow together before enrolling in the Creative Movement level.
Many beginner dancers from two to four years of age enrollin the Creative Movement level and experience dance independently for the firsttime in their young lives. Professional instructors encourage creativity whileusing games and other activities to teach flexibility, coordination and basicmotor skills. For children ages four to six, Academy of Ballet & Jazzoffers its Pre-Combination class. Dancers begin to integrate foundationalmovements with new dance steps and combinations as they explore even morestyles of dance as well as tumbling. Each level of the preschool program aidsin preparing dancers to enter the Elementary and Junior levels at ABJ, whereseparate classes are dedicated to each dance style that has been introduced.
Both the Elementary and Junior levels offer a variety ofclasses including ballet, jazz, hip hop, tap, and contemporary. This past year,Academy of Ballet & Jazz introduced its all-boys hip hop class and hasrecently added a "Hippity Hop" class for beginners aged five to seven. The Teen/Senior division has classes for the mostexperienced dancers, as well as those who are new to dance. A Teen/Senior "Leaps& Turns" class was recently added to the schedule to enhance the skillslearned in technique classes.
In addition to the classroom experience, Academy of Ballet& Jazz provides performance opportunities for all dancers. Six uniqueperformances are held each May at the historical Bama Theatre in downtownTuscaloosa. Academy of Ballet & Jazz wrapped up its 34thanniversary season with a musical ballet performance of "Mary Poppins" and heldits first ever Specialty Showcase, which featured solo, duo and trioperformances by ABJ dancers. Many preschool dancers hit the big stage in fullcostume for the first time in the Creative Dance Recitals, and students inStars of Tomorrow and the Jazz Concert performed hip hop, jazz, tap andcontemporary numbers in front of parents, grandparents, relatives and friends.The Spring Recitals give dancers the chance to showcase their talents andinspire the Tuscaloosa dance community.
While there is a place for everyone at Academy of Ballet& Jazz, the studio offers a place for advanced dancers to explore theirtalents and experience the world of dance competition and conventions. TheEnergy is an invitation-only dance company that attends one dance conventionand one competition during the dance season. The Force is an audition-basedcompany that attends three dance conventions and one dance competition eachyear. Company dancers have the opportunity to take high-level classes fromnationally renowned teachers, participate in unique dances and be a part of apassionate and committed group of elite dancers.
During early June, the studio held it first ever DanceXplosion, a week-long dance intensive with well-known and celebrated teachersJudy Rice, Barry Youngblood, Gregg Russell and Gina Starbuck. Dance Xplosionprovided a fun, yet challenging set of classes for dancers aged six through 18years old. The intensive helped to motivate and inspire ABJ dancers to continuetheir growth throughout the summer dance season.
Academy of Ballet & Jazz is currently in the middle ofits summer session and there is still space available for dancers of all ages.A four week preschool session begins on July 9th for dancers from 18months to six years old. The ABJ Pop Princess Camp takes place August 6thto 10th and there are still spots available for three to six yearold dancers. Campers explore several styles of dance, learn arts and crafts andmuch more. Elementary, Junior and Teen/Senior dancers each have a diverseschedule of classes including ballet, jazz, strength and stretch and hip hop.
Preparations for the 2012/2013 dance season are alreadyunderway at Academy of Ballet and Jazz - Northport, AL . The first day of class takes place onTuesday, September 4th. Fall registration begins Monday, July 16thand the studio holds its Open House on Saturday, August 11thfrom 11:00 am until 2:00 pm.  Allare welcome to visit the studio to meet the faculty, tour the studio andregister for classes. Academy of Ballet & Jazz plans to offer more than 60classes this fall, however, it is important to register early to reserve a spotin class. For more information, visit www.danceabj.com or call the studio at205-752-5124.
---
---
---