Finding Some Girl Time at Riverview Camp for Girls

Jul 01, 2012 12:49PM, Published by Kitty, Categories: In Print, Travel, Today
---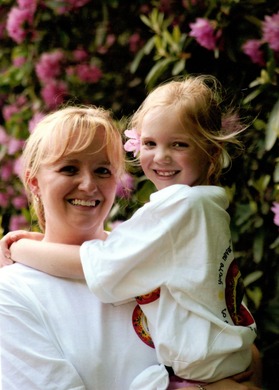 ---
Gallery: Riverview Camp for Girls [2 Images] Click any image to expand.
---
---
by Christy Albea
Thedays pass too quickly.  Like allparents, I feel (and know) I don't spend enough time with my daughterAllie.  Morning rides to school,reviewing homework, and reading bedtime stories are all brief moments to catchup on Allie's day but not enough time to dig deep into her mind and learn herlikes and dislikes, attempt to answer those tough life questions, or hear abouther hopes and dreams.  The weekendsallow us more time together, but sometimes the best intentions of "quality time"together become catching up on laundry, working in the garden, or knocking outthat list of errands.  I knew Allieand I needed an escape – some "girl time" to grow closer and build that strongrelationship I wanted with my daughter. Mother-Daughter Weekend at Riverview Camp for Girls gave us that escapeand a tradition we'll continue for many years.
                  RiverviewCamp of Girls is located in beautiful Mentone, Alabama.  The camp is for girls ages 6-16 yearsold.  It's about 2 ½ hours fromTuscaloosa near Fort Payne.  A fewmiles after you exit off the interstate you'll find yourself on winding roadswith trees towering all around you. Susan Hooks and her husband Larry have served as camp directors since1983 and have owned Riverview since 1997. Susan along with her assistant director Donna Bares were waiting for uswith warm smiles that drizzly Friday evening Allie and I arrived atRiverview.  For Mother-DaughterWeekend, campers are given the option to arrive Friday evening, thoughactivities don't begin until Saturday morning.  Arriving early gave Allie and me a chance to settle into ourcabin and explore the grounds before a busy weekend.  After planning our weekend activities, we returned to ourcabin to get plenty of rest for the next day.
                  Theactivities at Riverview are endless. Canoeing, horseback riding, swimming, archery,riflery, arts and crafts, and ropes course are just a few adventures mothersand daughters will experience together. The staff does a wonderful job helping mother-daughter pairs scheduletheir activities so nothing is too crowded during time slots.  Each activity is staffed by experiencedcamp counselors, so with a little guidance it didn't take long for Allie and meto become pretty good with the bow and arrow or learn to make a canoe go in theright direction.  Of course,mother-daughter weekend is ultimately about spending quality time together, notsticking to a rigid schedule.  Ididn't mind at all when Allie opted to skip a late afternoon activity to sit ona swing and talk with me instead.
                  Livingarrangements are more of a concern for adults than children at camp.  Know that Riverview offers comfortablecabins and fantastic food.  Thecabins are rustic (don't look for the air conditioner) but offer comfortable bunkbeds and spacious, private bathrooms. The food is adult and kid friendly.  For example, we enjoyed spaghetti, a shrimp boil, and evenhomemade donuts during our weekend.
                  Allieand I enjoyed lots of "moments" at camp that reminded me I had made the rightchoice to attend mother-daughter weekend. The most memorable was an activity called the V-swing.  It was a portion of the ropes coursethat involved climbing  up a tree,walking across a wire, and then jumping off a log and falling (to what I waspretty sure was certain death). She and I were both terrified but agreed to try and concur ourfears.  I made my way through thecourse first, and as I was walking across a wire suspended in the air Irealized if I'm this scared Allie must be on the ground in tears.  As I looked over my shoulder, Allie wasbehind me walking on that wire too. That's when "it" hit me like never before – I'm always beingwatched.  Allie was walking thatwire because she saw her mom try something even though she was afraid.
Mother-Daughter Weekend takes placetwice a year.  The next weekendwill be September 8-9, 2012 and you can sign up online at www.riverviewcamp.comor call (800)882-0722 for more information.  If you attend camp with friends you may request to share acabin.  Allie and I went on ourweekend adventure not knowing anyone but that wasn't the case by Saturdayafternoon – we both had lots of new friends.  Campers travel from all over the southeast formother-daughter weekend.  I metpeople from Georgia, Florida, Mississippi, Tennessee, and Louisiana.  The distance that mothers were willingto travel for this experience with their daughters year after year spokevolumes about how quickly these weekend camps become a valuable, bondingexperience.  Allie and I alreadytalk about our return trip in September.
SIDEBAR:
FOR MORE INFORMATION ABOUTRIVERVIEW CAMP FOR GIRLS, EMAIL TUSCALOOSA'S LOCAL REPRESENTATIVE, JENNIFERFISHER, AT ent3@comcast.net.
---
---
---