Super Readers to the Rescue!

Jul 07, 2012 03:01PM, Published by Kitty, Categories: In Print, Family
---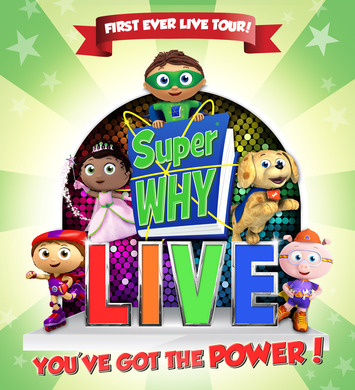 ---
---
SuperWHY Live: You've Got the Power! is on the way to Birminghmam!  For many preschoolers, this excitingnew show based on the hit, reading-powered series from Out of the BlueEnterprises on PBS KIDS will be among their very first live entertainmentexperiences.  To help ensure itwill be an adventure you'll both treasure, here are some tips from Out of theBlue's Angela C. Santomero, mom of two and creator of Super WHY and Blue's Clues, on how to make it a "super" special time for thewhole family:
·       Know the Score – Listen to the music from Super WHY Live: You've Got the Power! together, so children will already be familiar withit before the show – while moms and dads get a special kick out of knowing thatthe show features new music from Jack Antonoff of the chart-topping indie band "fun."! 


·       Dress Rehearsal – Have your kids come dressed up as their favorite Super Reader!  It's a great way to get them into thespirit of Super WHY and to makethem feel like they're a part of the show!


·       You've Got the Power! – Let your kids know this high-flying new show isall about having fun!  Like thepopular Super WHY TV series, SuperWHY Live: You've Got the Power!encourages its young audience to shout-out their responses to the charactersand dance and sing along with all the engaging action.  No need for "inside voices" during thisinteractive production; part of the fun is learning as they play along!


·       Super Readers! – Turn the experience into a super reading expedition!  Show children the letters and numberson their tickets before arriving and have them help identify the section, aisleand seat where you'll be sitting. Play an "I Spy" spelling game until the show begins with familiarelements all around the theater (lights, curtains, seats, etc.).

·      Curtain Call – Arrive early so preschoolers can take a "mini tour"of the venue – and don't forget to visit the potty before the openingcurtain!  Snacks and naps ahead oftime also are a "super" help for making a happy audience!
Visit www.superwhylive.com for more information and to purchase tickets and
VIP "Meet & Greet" packages.
---
---
---