STOP THE SABOTAGE!

Jul 25, 2012 08:29PM, Published by Kitty, Categories: Health+Wellness, Today
---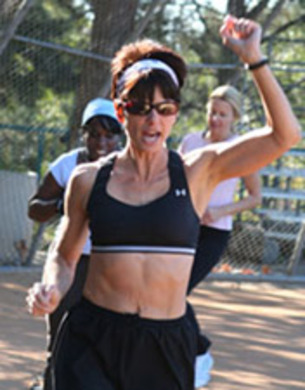 ---
---
Have you ever exercised really hard one day and then toldyourself that after all of your hard work, you deserve that piece of cheesecake?  Have you ever lost a few pounds, gotten a little tooconfident, and then blew it out all weekend and gained it all back?  You know you have done thisbefore.  We ALL have!
The official definition of sabotage is "an undermining of a cause; the deliberate obstructionof or damage to any cause, movement, activity, or effort."  Deliberate is the key word here.  We know that we don't deservethat piece of cake.  We just wantto eat it so we do.  When we reallywant to do something, we find a way. Any ol' excuse will do.  Weworked out really hard.  We had along day.  We are stressedout.  We have said them all. 
The question is WHY do we sabotage our efforts?  I see this sometimes with myclients.  Women who give it theirall in their workouts, and they do it consistently.  They amaze me and inspire me every day with how hard theywork and how far they have come. They love all of the other benefits of exercise.  Better sleep, lower blood pressure,less stress, clothes are looser, they feel stronger, you name it.  But some of them still have problemswith their waistline.  They holdtheir stomach and ask me what exercises will "get this off".  The problem isn't the exercise.  They have that part covered.  In fact, I bet they have very strongand attractive core muscles.  Theproblem is that when they leave camp and go about their daily lives, they arenot making the right eating choices. They can't see all of their effort in the mirror because what and howthey eat is keeping that layer of fat on there.  They tell me that they know they need to eat right but theyjust aren't doing it.  I can hearthe frustration in their voice. They are mad at themselves. I can't help but think to myself, Where would they be if they justmade a few small changes to their diet? They work SO HARD with me, and they deserve the world!  So why aren't they letting themselveshave it?
There are a lot of myths out there about healthyeating.  I often hear that healthyfood is too expensive.  No…it'sreally not.  I buy tons of healthyfood and spend no more than someone buying processed junk.  And I rarely use coupons.  Where I save money is that I don't buychips, crackers, or rarely any snacks in a bag or a box.  There are bags of chips and boxes ofcrackers that cost about $4.  Youcan replace that with fruit and spend the same amount.  You can buy a big container of nonfatGreek yogurt (which I use to replace sour cream in a ton of recipes) and itcosts $3.39.  Less than that bigbag of chips, and it lasts at least a week!  You can buy frozen veggies when available to savemoney.  Also, think of all themoney you will save by not buying fast food and eating out constantly.  HUGE!
I also hear that healthy food doesn't taste as good.   Not true.  You may not like some healthy food butI bet there are unhealthy foods you don't like as well.  It all comes down to personalpreference and finding what you do like. Some brands of whole wheat pasta, I will never buy again.  But some brands, I will always buybecause they are delicious and so good for my family.  I just experimented with what my family likes.  Think about a big cheeseburger withblue cheese crumbles compared to a turkey burger on a whole wheat bun with redonions, avocado slices, and creamy greek yogurt.  They both taste good. Which one do you think will make you feel better afterward? 
I also hear "I don't have time to prepare healthymeals.  I am always on thego."  This one can be a challenge,and I get it.  I am really busy,too.  But I have gotten really goodat making meals for my family that take less time than it would take me to sitin line in the McDonald's drive-thru. It's not that hard, you just have to put forth that initial effort tolearn some recipes and then go for it!
What are you doing to sabotage your efforts?  If you are exercising and not seeingthe results you desire, what small changes could you make to get that waistsmaller?  To get those last fewpounds off? 
Here are some tips on how to STOP THE SABOTAGE!
1)  Find a buddythat is also struggling.  I bet youknow at least one or two.  Holdeach other accountable.  Exercisetogether and share healthy recipes. Doing these things with a friend is more motivating than going italone.  A good support systemthrough family and friends is key.
2)  Takeadvantage of your resources.  Ioffer a grocery shopping tour at Publix once per month, and it's only $20 forone hour in the grocery store to answer all of those confusing questions aboutproducts.  What to buy and what toavoid and why!  The internet isalso a great resource for quick, easy, healthy meals.
3)  Write downyour goals, whatever they are. This should also be applied to other areas of your life.  I know for me, it makes a bigdifference to actually have that written down and have it in a place where Isee it often and can remind myself how much closer I am to my goal.  No better feeling.
4)  Remember toindulge….occasionally.  Once youget to where you want to be and you are maintaining, you can indulge a littlemore.  If you are still in thephase where you are trying to lose weight or trying to fit into your old jeans,you do have to be more strict.  Tryto do this where you are still happy and satisfied.  So plan one meal a week (Friday night dinner out, forexample) where you can eat whatever you want.  You will not feel deprived, and you will be more willing tostick to your plan.  The only trickto this is that you get right back on track the next day! 
A quote I recently found is the best one I have read in along time.  "The person whoreally wants to do something finds a way; the other person makes anexcuse." 
Say NO to the sabotage (since it clearly doesn't get youwhere you want to go) and begin to say YES to a healthier, stronger you.  You can have it all!
Mallory Cargile is the owner of Tuscaloosa Adventure BootCamp for Women.  She is certifiedin boot camp training, group fitness, personal training, and fitnessnutrition.  She is also the co-founderof  HealthToTheKnow.com, a website dedicated to health andwellness.  You can reach Mallory at391-8588 or www.TuscaloosaBootCamp.com.
---
---
Exercise Health Fitness Mallory Cargile
---