What Our Schools are Getting RIGHT!

Jul 30, 2012 11:22AM, Published by Kitty, Categories: In Print, Today, Community
---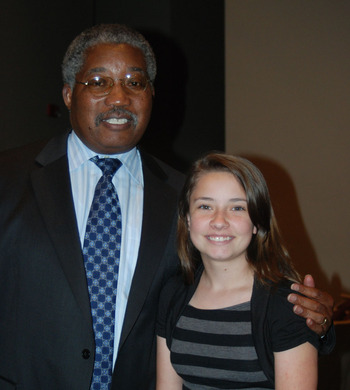 Dr. Paul McKendrick, Tuscaloosa City Superintendent, and Natalie Jacks at a community meeting for Alberta Elementary School
---
Gallery: What Our Schools are Getting RIGHT [1 Image] Click any image to expand.
---
---
Education is a hot topic today.  Whether you're a parent or a politician, the current situation in schools is one of concern.  But is it all bad?  As schools and school systems struggle under low funding and increased requirements, what are teachers, administrators, and parents doing to help make sure that the needs of children are being met consistently?
                  When I started this piece, I intended it to be a nice "shot in the arm" of encouragement for parents and teachers alike.  What I found was just too much for one article, so it became a two-part series.  Stay tuned in the next Kids Life issue for "…the rest of the story" as the late, great PaulHarvey would say!
The Power of Technology
                  Not only are there many new and exciting advances in technology that serve schools, but there are also online groups and social media outlets devoted to helping teachers and parents find fun ways to help children learn and WANT to learn.
                  For one area teacher, a short conversation with a friend on a social media site after the April 27th tornado ended with 15,000 books being sent to Tuscaloosa from all over the country. 
Alicia Jenne', teacher at Rock Quarry Elementary, was asked by a sorority sister "how can we help?"  "I told her – send books because everyone will send school supplies," says Jenne'.  That was all it took for this friend to put the word out and for books to start piling into Jenne's classroom.
At one point, so many books were being delivered that they had to be brought in by fork lift so that Jenne' and her students couldsort them into grade levels for delivery to teachers at University Place, Holt,and Alberta schools.  "We had somany that we were also able to donate to the city schools' program 'Backpacksand Books' when they ran out."
Teachers are also going above and beyond their responsibilities by writing grant proposals and finding other ways to get funds in order to put technology like nooks, kindles, and iPads in the hands of their students.
One teacher at UPES applied for a grant and won$100,000 from Target and The Ellen DeGeneres Show which the school used to purchase technology for their students. "Our teachers are what make the atmosphere and our school so great,"says Dr. Deron Cameron, principal at UPES.
"Sharpening the Saw"
                  Research has shown for years that teaching children to internalize responsibility fort heir behavior and education is one of the best ways to ensure a child's success in school and in life. Many schools this summer have followed the example of University Place Elementary and Middle Schools by training in the Franklin Covey program "The Leader in Me." 
Using "The 7 Habits of Happy Kids" by Sean Covey (a kid-friendly version of award-winning "The 7 Habits of Highly Effective People"), the program works on the foundational principle that"Students take ownership of their behavior and their education."   The Program's statistics in school improvement are impressive, just visit the official website atwww.theleaderinme.org.
                  At the end of the 2011-12 school year, UPES learned that they had been named a Franklin Covey "Lighthouse School" because of their implementation of "The Leader in Me" program.  One of only27 schools in the entire world to achieve this recognition, UPES has raised the bar for Tuscaloosa-area schools…and administrators have listened.
                  Many area schools scheduled professional development over the summer so that their faculties can begin implementation of the 7 Habits in August.  If you hear your child talking about "begin with the end in mind" or "think win-win," you'll know that the 7 Habits language will be a part of your life!
April 27, 2011 – devastation becomes opportunity
                  Near the one year anniversary of the tornado that ripped through Tuscaloosa, each of the affected schools marked the time with honor and remembrance.  Holt hosted a festival to celebrate the community.  Debbie Crawford, Holt Elementary principal, reminded teachers and students daily in the weeks leading up to the event.
                  The City Schools hosted a remembrance ceremony that featured original works by a child from each of the three schools affected in their system – Alberta Elementary, University Place Elementary and Middle Schools.  The ceremony was used to introduce an art display outside the Superintendent's office as well.  Created by city school students, the pieces showed their artistic response to the tornadoes.
                  The city board also hosted a series of community meetings in April and May to find out what parents and community members want to see in the University Place and Alberta schools when they are rebuilt. "We want the public's input," said Dr. Paul McKendrick, City School Superintendent at one Alberta community meeting.  "We are not in a rush to throw up a building.  We want to do this right and not have regrets later about what we 'should' have done."
                  Being environmentally responsible with the building materials used, working with the Druid City Garden Project and the Tuscaloosa Public Library, and asking what community members like/don't like about the schools are just a few of the ways that Dr. McKendrick and the school system are looking to serve the students inthese schools AND educate future leaders.
                  All in all – while funding and other issues cloud the overall state of education in Alabama – teachers, administrators, and parents continue to work together for the betterment of children.  One of my favorite quotes is by William Butler Yeats – "Education is not the filling of a pail but the lighting of a fire." Fortunately for each of us, teachers in our area are lighting fires every single day!
Kristy Jacks lives with her family and teaches in the Tuscaloosa area.  She can be reached at kbjacks@crimson.ua.edu.
---
---
---