Druid City Garden Project Hosts Local Foods Fair: "The Garden Party;" & Screening of Eating Alabama

Aug 17, 2012 07:57AM, Published by Kitty, Categories: Community
---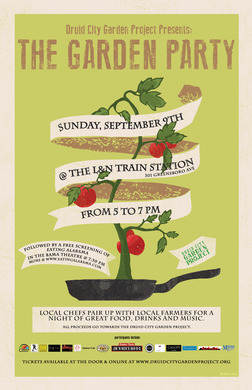 ---
---
The Druid City Garden Project (DCGP), a non-profit school garden education program, will hold the first annual "The Garden Party" on Sunday, September 9th from 5-7pm followed by Tuscaloosa's premier screening of Eating Alabama, a documentary film made by resident Andrew Grace.
The Garden Party will be held at the L&N train station. Tuscaloosa restaurants will be paired with local farmers and feature dishes made with farm-fresh produce. Birmingham's Red Mountain White Trash old-time string band will provide music. Good People Brewing Company will supply beer and Spirits, Carpe Vino and Rush Wines will provide wine for the VIP section. This event is family friendly. Information on the farmers will be displayed at the event.
Jim'n'Nicks is the title sponsor. Other participating restaurants include Chuck's Fish, Carmello Cafe, Epiphany Cafe, Mary's Cakes and Manna. Carpe Vino will host a wine tasting of Alabama's Ozan Vineyard for the VIP section and Spirits will also provide wine for the VIPs.
Featured farmers include Katy Farms, Mockingbird Farm, the Druid City Garden Project, Berkshire Pork, McEwen and Sons, the Druid City Garden Project and others.
Proceeds will benefit the Druid City Garden Project (DCGP), a non-profit in Tuscaloosa, AL whose mission is to educate and empower adults and children to make healthy, smart and sustainable food choices. DCGP does this by providing low-income communities of Alabama with the knowledge of and access to sustainably grown food within a thriving local foods economy which is accessible to all. Currently DCGP operates school gardens at University Place and Stillman Heights Elementary schools where biweekly lessons are taught, augmenting classroom knowledge of science and math with added components of nutrition. Using the garden, students help grow the vegetables which they then help sell at an on-site, subsidized Farm Stand.
 General Admission tickets to the fundraiser are $35 ($40 at the door); VIP entry is $50 ($55 at the door) and includes access to a private lounge seating area, separate cash bar and a wine tasting of Alabama's Ozan Vineyard in addition to roped off seating at the Eating Alabama screening.  VIP is reserved for those 21 and older. Student tickets are $25 with a valid ID. Tickets can be purchased online at www.druidcitygardenproject.org or at the door.
Following The Garden Party, the Bama Theatre will screen the documentary Eating Alabama, made by UA Telecommunications and Film professor Andrew Grace. This film tells the story of Grace and his wife's year of eating food grown only in Alabama. A thoughtful and often funny essay on community, the South and sustainability, Eating Alabama is a story about why food matters.
Eating Alabama is a free and open to the public. Donations will be accepted to benefit the Druid City Garden Project. A panel discussion will follow the film. More information at www.eatingalabama.com.
---
---
Druid City Garden Party Eating Alabama
---