Visit the Zoo this Labor Day Weekend and Say Goodbye to the Lion Cubs!

Aug 25, 2012 01:29PM, Published by Kitty, Categories: Family
---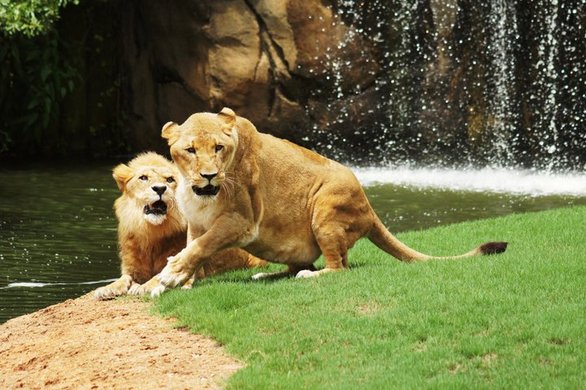 ---
---
The Birmingham Zoo invites the entire community to come say goodbye to the five African lion cubs during Labor Day weekend. During the weekend, there will be special send-off Predator Zones at 11:30am and 3:30pm for the cubs. At the recommendation of the Association of Zoos and Aquariums (AZA) Species Survival Plan (SSP), the two male cubs, Baron and Vulcan, will be going to the Montgomery Zoo and the three female cubs, Asha, Kimba and Lily, will go to Africam Safari in Puebla, Mexico.
Both the Montgomery Zoo and Africam Safari are AZA accredited institutions. The cubs' father, Kwanza, age 7, and mother, Akili, age 6, will remain at the Birmingham Zoo. In the wild, lion cubs typically do not stay together as a mixed- gender group; males disperse from their pride, and females often venture out on their own as well. The goal is for Asha, Kimba and Lily to ultimately breed with Africam Safari's male lions, and Baron and Vulcan will stay together at the Montgomery Zoo until they receive breeding recommendations from the SSP. The female cubs will have a large area to roam at Africam Safari, as their exhibit consists of approximately ten acres. The lion exhibit at the Montgomery Zoo is positioned so that the lions can see giraffes, gazelles and other African hoofstock. It highlights a water feature and a viewing glass where guests can get close to where the lions lounge.

In addition to bidding the lion cubs farewell, guests are also invited to take advantage of all the Zoo has to offer this Labor Day weekend. Guests can experience giraffe feedings at the Kiwanis Giraffe Encounter, up-close elephant interactions with the Boma Encounter in Trails of Africa and animal demonstrations at the Wildlife Show.

Guests can see how much Nairi, the baby girl orangutan, has grown and watch as the orangutans explore their recently renovated exhibit which features new mesh over the roof opening and allows them to better experience the natural changes in the weather. Visitors can also watch as the African elephants graze in the Zoo's signature exhibit, Trails of Africa. The Zoo now boasts a herd of four African bull elephants which are rotated in the Main Yard and Boma Yard. In addition, visitors can cool off in the Children's Zoo fountains and Foam Zone, enjoy the Sea Lion Splash Show, feed the lorikeets, watch an alligator and pelican feeding and much more.
For more information about the Birmingham Zoo, please visit www.birminghamzoo.com.
---
---
---