Blended Family Reflections - Love Hidden in the Clouds

Sep 03, 2012 07:59PM, Published by Kitty, Categories: Family, Today
---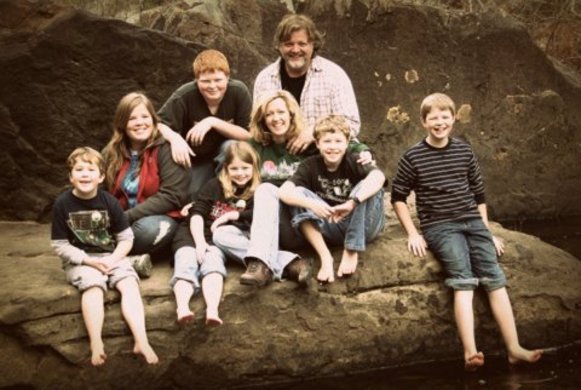 ---
---
by Jody L. Evans
Sometimes gray clouds roll in like gusts of sadness hiding the bright blue sky behind it. I glanced at the clouds as I drove to pick up my kids from school and thought about how these cotton candy puffs hide powerful things like the sun, moon, and stars. They can change shape, remain darkened with rain droplets, and often hover gloomily over everyone.
Words from this morning's getting-ready-for school chaos billowed like the heavy clouds in the sky.
"That's not fair," Parker snarled.
"He keeps bothering me," Sophie snapped.
"That's mine," Seth scowled.
"No, it's not." Hunter barked.
"Stop it, Elijah," Emma warned.
Elijah said nothing, but gave a glance that spoke volumes.
A dark cloud seemed to cover each child as streams of tears from hurt feelings were brushed away and hidden. Greg and I stood there wondering what happened to cause this gloom that encircled everyone.  In the mad haste of the morning, doors slammed, feet stomped, and faces pouted.
Time had passed throughout the day, but my mood was one of confusion. I was covered by this cloud of how-do-we-handle-this-and-what-do-we-do-now.  Then I began pondering how everyone would react when they were brought back together. I had talked to Greg, talked to my friends, and finally talked to God. In all this talking and praying, I did most of the talking and only a little bit of the listening.  I was rarely still, simply turning the situation over and over again in my mind. Finally, after I exhausted every effort on my own to figure out what to do, I simply stopped.  It was maddening and I knew I couldn't control people anymore than I could control the clouds in the sky.
As I sat in my car looking at the clouds, I noticed how the clouds could not completely block out the light of the sun. I realized that these moments can not completely block out the love that comes from each child towards each other.  It was just a matter of what I wanted to focus on. I could analyze the moments of irritation and frustration that comes from living in a fallen world or I could seek the Light that redeems, rescues, and restores the world.  Each child has a spirit of life that cuts through the clouds of despair. I began thinking about the light that pervades from each child and how they truly love each other.
I thought about how Emma and Elijah share jokes and experiences from youth group. I remembered how Seth and Hunter often create an obstacle course in their bedroom jumping from bed to bed. I smiled as I recalled how Sophie and Parker had a "mouse party" with their stuffed toy mice and made posters and invitations for everyone to attend. I thought about how they all piled out on the trampoline in the pouring rain and bounced while getting completely soaked. I remembered how they all came together to pray and encourage Seth as he was at Children's Hospital in Birmingham, how they cheered for Emma at her band performances, how they searched for Parker's treasured toy Mousey when lost, how they consoled each other through tears and pointed out if someone was doing something wrong.  I thought about how each one shares their hopes and dreams with each other by sharing their gifts and interests with one another. I heard their voices as I reflected on the life that flows from our home.
"Hey, have you heard this song?" Emma asked as she began playing her bassoon.
"Smell this herb," Elijah said. "I can make some tea for you."
"Look at me, Momma!" Hunter said, as he bounced like Tigger on the trampoline. "I can do a flip!"
"You want to see a magic trick?" Seth asked as he shuffled his cards.
"Let's do that singing thing we did in church," Sophie said, as she proceeded to sing "Jesus Paid It All."
"Look what Mousey can do!" Parker bragged as his toy mouse took a flip on a motorcycle.
As I sat there gazing at the sky, I noticed the clouds had changed. Although the clouds can be overwhelmingly dark and ominous and arguments can appear to divide and separate, the blue sky is still there. The sun, moon, and stars will appear again. Love cannot be stopped. That Love comes from the Creator of the Universe, the one who thought up the idea of clouds.
As I got out of my car, I pulled my jacket a little closer as the sharp wind blew. I glanced at the low lying gray clouds. They were moving, but they looked a little different than most clouds seen in Tuscaloosa. They held a slight promise. I smiled. They looked like snow clouds. Sometimes clouds are not so bad.
Genesis: 9:13 & 14
I have set My rainbow in the clouds, and it will be the sign of the covenant between Me and the earth.
Whenever I bring clouds over the earth and the rainbow appears in the clouds, I will remember my covenant between Me and you and all living creatures of every kind.
---
---
---