Sept/Oct 2012 Issue - A FUN FAIR FOR ALL!

Sep 06, 2012 07:46AM, Published by Kitty, Categories: In Print, Today, Community
---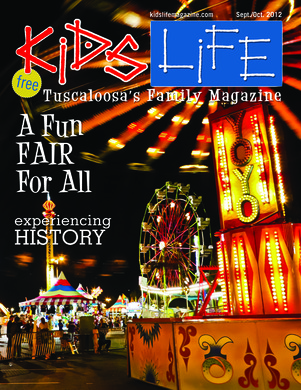 ---
Gallery: West Alabama State Fair [5 Images] Click any image to expand.
---
---
View the September/October 2012 issue of Kids Life  digitally!
On Our Cover: A FUN FAIR FOR ALL
By Brenda S. Ewart, Development Director
United Cerebral Palsy of West AL., Inc.
The best word to describe the 2012 West Alabama State Fair is NEW! This year United Cerebral Palsy of West Alabama is bringing Tuscaloosa County an all NEW fair. The fair will feature a new ride company, new rides, new vendors and new entertainment! This year marks the fourth year since the fair has re-emerged in a new home at Sokol Park in the Ray Jenkins horse arena in Northport, AL. In the years since UCP of West Alabama has revitalized the fair, it has experienced growing pains but has consistently provided a fun and safe environment for families to enjoy all the fun a fair brings to the community.
In 2012 UCPWA brings on board Kissel Entertainment as their new ride provider. Kissel Entertainment was built on 70 plus years and 4 generations in the Carnival industry and is based out of Clanton, AL. Kissel Entertainment brings over 30 clean, safe rides, 25 Midway games of skill and food concessions with Health Department approval.
The 2012 West Alabama State Fair will also feature middle school and high school cheerleading competitions with cash prizes, the West Alabama Fair Queen Pageant, many local & out of town bands performing onstage, a circus provided by Kissel Entertainment and a rodeo on November 2nd & 3rd produced by 3R Rodeo based in Jemison, AL. The 3R Rodeo was founded in 1992 by Dale and Gene Ray and have been apart of the P.C.A for the past 16 years. This rodeo will feature a two time World Champion bull rider and eight exciting main events.
UCP of West Alabama serves 16 counties in Alabama and provides services to individuals with intellectual and physical disabilities. The range of services are from birth through adulthood, provided by early intervention and preschool programs, afternoon and summer programs, therapeutic services, transition services, and adult day habilitation services. The West Alabama State Fair is our signature fundraising event and makes it possible for our agency to provide quality care to the West Alabama community.
UCPWA utilizes over 200 community volunteers to make this event a success and is very thankful to have PARA and TPD as partners in our efforts to bring the community a great event. We are also very proud to offer the opportunity for many other organizations in our area to benefit from the fair by extending an invitation to other Non-Profit groups to park cars and providing free space to disseminate information on their agencies. Remember when you attend the West Alabama State Fair, you are also helping others have a better quality of life!
 
Please see below for valuable information to have as the fair approaches!
 
Fair dates: November 1st-11th, 2012
Location: Ray Jenkins Horse Arena @ Sokol Park
Parking: $5 per car & Entrance is off Ol Colony Dr.
Admission: $5 per person age 5yrs. & Up ( Nov. 9th&10th $8 per person on Rodeo Nights)
Fair Queen info call 752-7161 (Glenda Daffron)
Free Admission on Nov. 4th & 11th from 5pm-7pm with canned food item
Info on band scheduling: Amy Watkins 662-419-8711
Any questions regarding the West Alabama State Fair contact Brenda Ewart at 205-292-3992 or email brendaucp@yahoo.com

Facebook: The West Alabama State Fair
---
---
---