Back To School With Success Through the Tiger Rock Advantage!

Sep 10, 2012 07:46PM, Published by Kitty, Categories: In Print, Family, Today, Community
---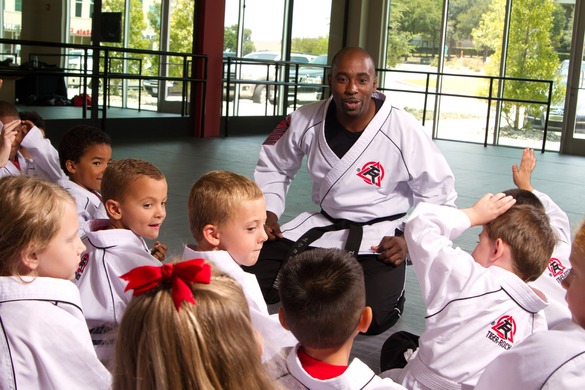 ---
Gallery: Tiger Rock Martial Arts! [2 Images] Click any image to expand.
---
---
By: Michael Holt, Bailey's Tiger Rock Martial Arts
What do you consider success?  Many people define success differently based on life experience and life goals.  No matter what your definition of success may be, one thing that all parents have in common is the desire for their children to experience physical and mental growth.  As school has now begun, parents and teachers alike are consistently looking for ways to help students realize their highest potential in school.  Bailey's Tiger Rock Martial arts offers a Back To School Success Seminar each Fall that is FREE to the public designed to help students in developing good strategies to be successful in school.
The key to any successful goal reaching strategy is SELF-DISCIPLINE, whether it be weight loss, education, or spiritual.  So as we outline these strategies for students, we emphasize that self-discipline is really the key.  Here is an abbreviated look at our Back to School Success Seminar and a few points we make in each area.  We would love to work with you and your child on building the self-confidence and self-discipline needed for successful educational and social experiences.
3 Goals:
1)    Realize My Highest Potential in my Grades
- not every student is an A+ student, but every student should live up to his or her highest potential in school!  Here are a few steps to help that potential be reached!
a.     Get a good night's sleep (minimum of 9 to 11 hours)….UNPLUG!
b.     Eat For The Journey and Exercise!  Learn how to fuel your body and mind!
c.     USE the 3 Rules of Concentration!  Focus Your Eyes, Focus Your Mind, and Focus Your Body!  Look at who is speaking, listen to what they are saying, and sit still in a good position to breathe while listening!
d.     Ask Questions in class (don't be afraid of what others will think)…the most successful people in life are those who are willing and able to ask others for information!
e.     Put first things first, once you get home from school!  Homework, then play!
2)    Realize My Highest Potential in my relationships with others at school (Don't bully, Don't be bullied)
a.     Understand how to greet others with a Polite Greeting!
b.     Be friendly with everyone, not just with your close friends
c.     Walk and Talk with confidence (don't look down and appear to already be a victim)
d.     Deflect Negative comments
e.     At a minimum, know basic self-defense moves so that you are able to protect yourself!  No classmate ever has the right to touch you!
3)    Realize My Highest Potential in my ability to be respectful to my teacher/parents
a.     Be prepared for school
b.     USE the 3 Rules of concentration listed in point # 1
c.     Always use your courtesy by saying Yes "Ma'am" and No "Ma'am" (Sir!)
d.     Use your integrity always!  Do the right thing even if no one is watching!
e.     Understand Authority!  Mom's Way, Dad's Way, Teacher's Way…Right Away!
When it comes to properly dealing with a bully in your life.  Whether it be at school, church, your neighborhood, or your home, we always encourage our students to remember the following:
1)    Stand up straight and say: Leave Me Alone!
2)    Hold your hand out and say: Stop It!
3)    Move away to a crowded area.
4)    Talk to a teacher, parent, or friend.
5)    Stay Calm and Speak Friendly!
While these things are not easy, they are a great start in dealing with difficult people in the life of a child/youth.  The points listed above are just a glimpse of what is discussed in the Back-to- School Success Seminars each year.  These are all points that we try to cover each day with our students in our Tiger Rock Martial Arts classes.  We call it the Tiger Rock Advantage!!  Our Martial Arts classes are not only a great physical activity, but they also instill much more.  In addition to developing physical strength, stamina, coordination, and agility training, our martial arts classes also empower our students with confidence and a set of skills that help them focus better in school.  Again, not all students are A+ students, but our goal is to help empower our students with the ability and SELF-DISCIPLINE to realize their highest potential in school and in life.
If you would like more information about our TIGER ROCK ADVANTAGE, please visit our website at www.BaileysTKD.com or call one of our THREE convenient locations.  Our location in Tuscaloosa is now rebuilt and open after the April 27 tornado.  Same location…same great people.  They can be reached at 759-4711.  Our Northport location is on Hwy 69 N.  They can be reached at 339-7071.  Our Hillcrest location is on Patriot Parkway near Hillcrest High School.  They can be reached at 343-6449.  We look forward to sharing the TIGER ROCK ADVANTAGE with you!
---
---
---