"It's All Good- Hurricane Creek Reclaimed Wood Art"

Sep 12, 2012 11:57AM, Published by Kitty, Categories: Today, Community
---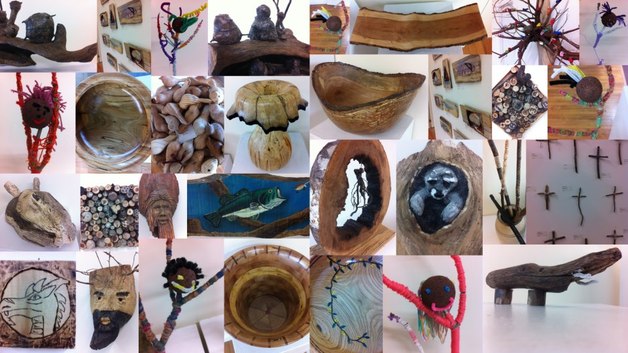 ---
---
Friends of Hurricane Creek, Habitat for Humanity, Kentuck Arts Center, and Local Artists Join to Celebrate the "It's All Good- Hurricane Creek Reclaimed Wood Art" Exhibit.
The Georgine Clark Gallery at the Kentuck Arts Center will host the "It's All Good- Hurricane Creek Reclaimed Wood Art" Exhibit through September 27th. Community members are encouraged to attend this free art exhibit to see how local artists, students, and residents used tornado-tumbled timber from Watson's Bend at Hurricane Creek to inspire hope and beauty.
Since the Watson's Bend Campground along Hurricane Creek was decimated by the 2011  Tuscaloosa tornado, the Friends of Hurricane Creek and Hurricane Creekkeeper have been working to find uses for all the fallen timber so it doesn't end up in a local landfill, like much of the other wood debris. The Creekkeeper has been milling and selling lumber to local nonprofits and individuals for their use, but a more comprehensive, community-based strategy was needed to spread the word about reusing fallen wood debris.
"Artists and educators think outside the box for a living. We hoped to channel their creative energy into doing something good with all the creek wood. In the process, something unexpected and wonderful happened- the Friends of Hurricane Creek learned more about sustainable disaster recovery and forged new ties with local teachers and artists. The generosity of Jimmy Watson in donating his wood to us created a challenge and opportunity that only community participation could resolve. We are unbelievably grateful to all the artists and woodworkers- some coming from as far as North Alabama- who crafted 'objects of hope', like comfort birds, to donate to tornado victims who lost their homes. As Tuscaloosa continues to rebuild and tiny trees begin to repopulate the landscape, the value of timber and trees as an economic and cultural resource provides a reminder and lesson to us for the future."
Participants have the opportunity to donate their entries to local families who lost their homes in the tornado. Tuscaloosa Habitat for Humanity will coordinate and manage the distribution to these families as "house-warming gifts" for their new homes.
Tricia Schuster, an art teacher at Holy Spirit Catholic School, distinguished herself and her school as creative contributors to this exhibit. You can see the ingenious and skilled use to which Holy Spirit students put this wood with the encouragement of a dedicated teacher who is a model in civic engagement.
In addition to the Exhibit, there will also be a Contest formally judged by a team of seven local artists. Contest winners will be announced and awarded prizes at Friends of Hurricane Creek Creekstravaganza in the Kentuck Courtyard on September 27th. Judges will judge wood art based on its creativity and its potential for use in a local government building or community center as a memorial to the tornado. Entries will be judged in separate categories divided into Young Artists (16 and under) and Adult Artists.
Join us in discovering what happens when "trash" wood is used for good which reflects the natural beauty of nature in addition to the talent of local artists and visionaries. The Clark Gallery is open on weekdays from 9 am to 5 pm and on Saturdays from 9 am to 12 pm. To schedule a field trip to this exhibit, please contact the Kentuck Arts Center by phone  at 758-1257.
---
---
art hurricane creek kentuck holy spirit
---