Tailgating for Fun, Not Fat

Sep 17, 2012 12:32PM, Published by Kitty, Categories: Health+Wellness, In Print, Today
---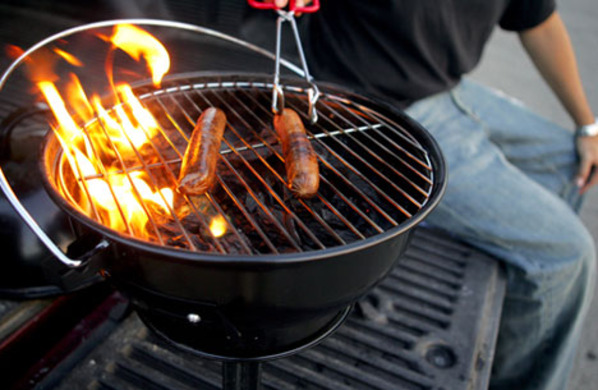 ---
---
By Mallory Cargile, Personal Trainer and Best-Selling Author of The Wellness Code
Hallelujah, Fall is here!  Some people get excited about leaves changing, cooler weather, mums, and pumpkin spice lattes.  Around here, though, there's only one thing that really matters…football season has arrived!  Even if you don't have tickets to the big game, sometimes it's even more fun to spend the entire day on the quad catching up with friends new and old, showing support for your team, and making memories.  Unfortunately, the downside is we are having so much fun that we often don't pay attention to how many calories we are consuming.  I would say it's just as easy to gain weight during football season as it is over the holidays.  These games happen every weekend, and we are there for hours on end.  Even on away game weekends, we often gather at friends' homes where food is everywhere.  Here are some tips on how to have a blast tailgating without the zipper on your Houndstooth dress popping off by November. 
1)  This one's obvious.  Contribute a healthy option.  There are tons of easy recipes that people will absolutely love.  We're not talking tofu sticks and kale chips but true tailgate food.  I encourage you to visit my health and wellness blog at www.healthtotheknow.com.  There are a lot of healthy tailgating recipes including dips, salsas, easy homemade chips, and other finger foods that look and taste amazing.  Try them out, and you may also inspire someone else to do the same.
2)  There is typically no big meal at a tailgate.  We just graze….all day long.  So before we know it, we have grabbed 8 fried cheese balls and 67 chips.  When we are grazing all day, we never really feel full like we do after a meal so it's easy to overdo it.  Try to really pay attention to this.  Do not sit right by the food.  Walk around to different tailgates and focus more on socializing and less on food. 
3)  One of the worst things you can do is arrive at a tailgate really hungry.  Try to eat a good dose of protein before you head out there.  Lean protein takes about twice as long to digest as carbohydrates so you will feel satisfied longer.  If you sit down at a tailgate surrounded by yummy food, and you haven't eaten anything all day, you are setting yourself up for calorie overdrive.
4)  Get really focused on the other six days.  You can splurge more on game days if you kick it up a notch during the week.  Try to exercise as many days during the week as you can and really watch what you consume.  Step it up beyond just walking around the block if you can.  If you can exercise the morning of a game, that will not only help boost your metabolism and help you burn calories more efficiently throughout the day, but it will help you to be more mindful at the tailgate. 
We all love football, and we all love food!  We can have fun and make memories without sabotaging our waistline.  Make it happen and have a fun football season, everyone! 
Mallory Cargile is the owner of Tuscaloosa Adventure Boot Camp, which now offers morning and afternoon group personal training for women.  She is a certified personal trainer, fitness nutrition coach, food psychology coach, and best-selling author of The Wellness Code.  For information on Mallory's boot camp, The Wellness Code, and how to shop healthy in the grocery store, please visit www.tuscaloosabootcamp.com and www.mallorycargile.com.
---
---
Mallory Cargile health exercise fitness
---