What Our Schools Are Getting RIGHT! Part 2

Sep 18, 2012 08:42AM, Published by Kitty, Categories: In Print, Today, Community
---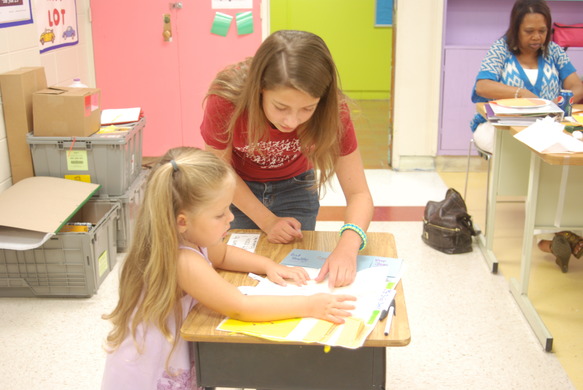 ---
---
By Kristy Jacks
This story, both Part 1 and 2, have been an enormous blessing and fun project for me!  While I could never, possibly put together a comprehensive list of things that are going "right" in our schools today and each day, the information I found for both pieces is nothing short of inspiring.  Whether you're a parent, student, or teacher, I hope that you are as encouraged as I am.  Please read on…
A Celebration Dinner honoring Alabama's AMSTI
After my last article was submitted, I was able to attend AMSTIs "Celebrating a Decade of Excellence" ceremony in Huntsville at the Davidson Center for Space Exploration.  Since the Alabama Math, Science, and Technology Initiative was born in the Rocket City with a grant from NASA in 2002, it was a fitting tribute to celebrate the program's enormous success surrounded by space exploration memorabilia. 
The keynote speaker was Mr. Leland Melvin, NASA Associate Administrator for Education.  Melvin's 20-year career and 2008 space shuttle trip are part of an impressive resume.  In his encouraging address, Melvin spoke of the legacy being created by the people in that room for the children of Alabama and the world.
"The body of people in this room are the ones that helped place the foundation for someone to place a U.S. flag on Mars one day," said Melvin.  "When we land on Mars it will be because of you people."
He also showed the celebration attendees a picture of the crew from his 2008 trip in the space shuttle.  "This picture has the first female commander, an African American, an Asian, a Russian, and a German – all working together for a common goal," Melvin said.  As a Special Education teacher and advocate for students of all races and ability levels…THAT made my entire evening!
After the ceremony, I was able to attend part of a teacher-training workshop provided by the local AMSTI facility to schools in our area. Every grade level had teachers learning how to put the AMSTI model into practice in their own classrooms this school year.
While at the workshop for pictures, I was also able to talk to some of the teachers taking part in the training.  These dedicated professionals give up two weeks of their summer break to spend each day learning, making, and DOING the plans and experiments. 
When asked what they would tell people that we are getting right in education, the responses echoed a pride in the profession that the media doesn't often let us see these days.  One teacher said that AMSTI "enables us as teachers to engage our student and make learning relevant to their lives."  Others followed that line of thought with words like hands-on, real-world, meaningful, challenging, conceptual, and higher-level thinking.
As one teacher put it, "Just fine 20 years ago is not fine today.  The work force WANTS problem solvers.  Collaborative learning encourages and explicitly teaches that." 
Think that teachers hate and run from accountability?  Quite the contrary, these teachers thrive on the idea that AMSTI holds them accountable to a standard.
So what's all the fuss about?
Not sure what all the hoopla over AMSTI is about?  Consider a few facts – 1. AMSTI has teaching professionals coming here from other states and COUNTRIES to model their programs after it.  Think the Germans have a corner on the engineering and car market?  Apparently they think we have something in Alabama because they sent people to Hoover last year to observe AMSTI in action in the classroom.
2. The U.S. Dept. of Education, in the largest study of its kind, took a long, hard look at data collected from AMSTI schools.  Schools that implemented the program saw increases in math, science, and reading…yes, you read that correctly.  Following AMSTI for math and science also gave our Alabama children better scores in reading.  As a matter of fact, schools that implement AMSTI see an almost immediate increase in testing scores.
3. Fortune 500 CEO's listed AMSTI as one of 30 "Programs that Work."  Microsoft gave it recognition for innovation and cost effectiveness in serving customers.  Out of 25 projects and companies in the U.S. (not just schools), AMSTI was 15 out of 25.
If those facts don't impress you, then nothing will.  Major companies, other states and countries, and even the U.S. Dept. of Education recognize the value of this program!
Acronyms here, there, and everywhere!
Ever heard of ARI?  If you're in the education world, you know that this acronym stands for the Alabama Reading Initiative.  Another initiative, you say??  Oh, you bet.  Thanks to ARI, teachers who are lucky enough to receive this training get not only TONS of research-based, best practices to use in their classrooms, they get hands-on, "where the rubber meets the road" examples and experience that will get any teacher, young or old, to the next level of quality education.
I was fortunate to be able to take both the Beginning Reading and Content Literacy courses over the summer, and…WOW is what I have to say!  Thanks to the Multiple Abilities Program (MAP) at UA, I was already pretty well-versed in following research and staying current with the best ways to teach and the best ways that children learn. 
The instructors with ARI know their "stuff" and their research.  Every day of professional development in these courses are jam-packed with the research that teachers need to know and the practice in actually DOING some of the activities and lesson plans to make it all work together for the best of students.
A teacher in need…with students to her rescue
This part wasn't originally on the agenda for this article; however, it shows the basic character of the generation we are currently raising.
On August 21st, I was walking into the gym at Collins-Riverside Middle School to begin my second day of "morning duty" with the 6th graders.  Walking in the door with a major migraine, I had on my sunglasses for the glare of the lights. Not watching where I was going, my foot caught the edge of the first step and slid off, causing my ankle to give and twist under me as I fell.
The sweet children walking up the steps and one unlucky student sitting near my descending elbow were my saviors from a fall that likely would have carried me all the way down the concrete stairway.  They immediately asked me if I was ok and ran for our principal Mr. Williams when I said that I wasn't. 
All the 6th graders then sat quietly while Mr. Williams, Coach Tennyson, and Mr. Stubbs (the art teacher) helped me up and out so that my mother could come and take me to the E.R.  Fortunately no broken bones were found…and the sweet medical staff got me in and out quickly so that I could get back to the students I already NEED to see each day.
These little gems, of every color, size, and ability level, cared only for my welfare in a moment of need.  THAT'S what our schools – parents, students, teachers, and administrators – are getting right, folks.  And I, for one, am ever so glad that we are!!
Kristy Jacks is a teacher at Collins-Riverside Middle School.  She and her family live in the Tuscaloosa area.  She can be contacted at kbjacks@crimson.ua.edu.
---
---
---