TCT Presents INTO THE WOODS, Jr.

Sep 22, 2012 11:05AM, Published by Kitty, Categories: Today, Community
---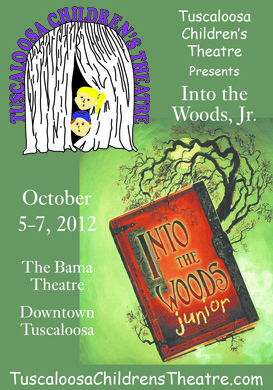 ---
Tuscaloosa Children's Theatre is proud to bring the Brothers Grimm to the stage of the Historic Bama Theatre with "Into the Woods Junior"!  This musical tells the quirky account of what happens when new and old fairy-tale characters alike cross paths on their individual journeys.  Cinderella, Jack (beanstalk-and-all), Little Red Riding hood, and the baker and his wife set out for the forest on a quest to find "happily ever after."  Along the way they meet Rapunzel, a wicked witch, a sinister wolf, and a couple of charming princes.  With an enchanting score by Stephen Sondheim and a humorous book by James Lapine, "Into the Woods Junior" is sure to delight children of all ages!
The talented cast includes Andrew Burdette (Narrator), Matthew Dunkin (Baker), Hannah Heinrich (Baker's Wife), Kynnedi Porter (Witch), Kenleigh Bennoit (Little Red), Rapunzel (Ashley Alexander Lee), Landon Turner (Rapunzel's Prince), Andrew Livingston (Wolf/Cinderella's Prince), Alex Freeman (Jack), Alexandra Smith (Jack's Mother), Cinderella's Stepmother (Gracie Avery), Kelsey Bruce (Cinderella's Mother), Mackenzie Johnson (Lucinda), Katelyn Lipscomb (Florinda), Dustin Gomez (Mysterious Man), Jake Williams (Steward), Milky White #1 (Emma Claire Patton), Milky White #2 (Avery  Jones),  Victoria Camp (Granny), Kelsey Bruce (Cinderella's Mother).
Mary Kathryn Mathews is director for this wonderful production.  Benny Russell is the musical director, Judy Holland is the costumer, Jameson Sanford is the set designer, lighting and sound designer is David Jones, and the stage manager is Kelsey Holland.
Public performances for "Into the Woods Junior" are Friday, October 5 at 7 PM, Saturday, October 6 at 2 PM & 7 PM, and Sunday, October 7 at 2 PM.
Order tickets at www.tuscaloosachildrenstheatre.com or purchase them at the box office before the show!
---
---
---