SOUTHERN WOMEN'S SHOW

Sep 25, 2012 09:24PM, Published by Kitty, Categories: In Print, Today
---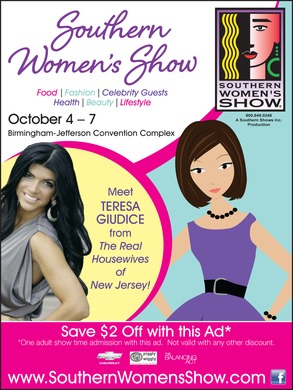 ---
---
The Southern Women's Show returns to Birmingham October 4-7, 2012 at the Birmingham-Jefferson Convention Complex.
One of the largest consumer events in Birmingham, the annual Southern Women's Show, attracts thousands of local women each year for four jam-packed days of fashion shows, cooking demonstrations, beauty tips, health screenings, decorating ideas and personal growth opportunities — all tailored especially for women — as well as celebrity appearances.
The show will also feature sassy New Jersey Housewife/cookbook author Teresa Giudice, the Next Great Baker star Jay Qualls, a series of dynamic runway shows; the popular firefighter fashion shows, makeovers and much more. The show highlights include:
Dish with New Jersey Housewife Teresa Guidice. Table flipping Real Housewives of New Jersey and cookbook author Teresa Giudice is bringing some Jersey sass and sharing behind-the-scenes secrets with guests at the Birmingham show. Want to know if she's speaking with Jaqueline, Caroline or Melissa? Wondering how she feels about how she's been portrayed this season? Teresa will answer with her trademark straight-talk delivery. As a New York Times best-selling cookbook author, "The Real Housewives of New Jersey" star is emerging as burgeoning businesswoman through her irresistible Italian-based cookbooks and other business ventures. Initially launched into the spotlight through her participation on Bravo's "The Real Housewives of New Jersey," Teresa has delivered high ratings for the series in which she stars with her friends and family – and "frenemies".
Meet The Next Great Baker. He's a magician with fondant and frosting, and he's bringing the tips and tricks showcased on Food Network's Next Great Baker to the Southern Women's Show. Jay Qualls will be at the show with demos, advice for brides, amateur bakers and more.
Balance Your Life Pavilion.  Back by popular demand, the Balance Your Life Pavilion spans more than 2,500-square-feet, with products and workshops designed to inspire those women who literally live each day as a balancing act.
Girls Night Out Returns.  Friday night at the show is designated "Girls Night Out", with $5 after 5 p.m. admission, free gifts, Firefighter Fashion Show, shopping and more.  
It's Getting Hot in Here. The Birmingham City Firefighters burn up the catwalk on the Fashion and Entertainment Stage in the ever-popular Firefighter Fashion Show on Friday at 6:30 to raise money for the American Cancer Society.
The Southern Women's Show promises more than 300 exhibitors ranging from boutiques and jewelers to gourmet foods and health care professionals -- making it the perfect one-stop shop for on-the-go women.
While attendees are welcome to window shop, the hands-on, interactive nature of the Southern Women's Show makes it the perfect opportunity to actually try out new products and services, consult with experts and register for prizes and giveaways.
Show hours are Thursday 10 a.m. – 7 p.m.; Friday, 10 a.m.-8 p.m.; Saturday 10 a.m. – 7  p.m. and Sunday 11 a.m.– 5 p.m. Admission is $10 at the door, $8 in advance online, $7 in advance at participating Piggly Wiggly's, $5 for children 6–12 years old and free for children under 6 years of age (with paying adult) and $5 after 5 p.m. For group discount tickets and more information, call (800) 849-0248 or visit www.SouthernWomensShow.com.  Show sponsors include Piggly Wiggly and Chevrolet.
---
---
---