Meet & Greet with Dylan Riley Snyder

Oct 04, 2012 01:52PM, Published by Kitty, Categories: Today, Community
---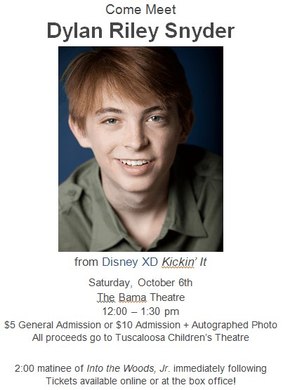 ---
Dylan Riley Snyder has gone from Tuscaloosa to New York to Hollywood, and now this fifteen-year-old star of Disney stage and tv productions is coming home to help raise money for Tuscaloosa Children's Theatre. On Saturday, October 6, Dylan will take part in a "Meet and Greet" prior to the 2:00 matinee of Tuscaloosa Children's Theatre's production of Into the Woods. Jr. The" Meet and Greet" will start at 12:00 p.m. in the Greensboro Room of the historical Bama Theatre. All proceeds from this fundraiser will be used to replace props, sets, and equipment lost when the deadly tornado on April 27, 2011 completely destroyed the TCT warehouse.
Dylan's career started while he was still attending Taylorville Primary School in Tuscaloosa. He began acting in local theatrical productions at The University of Alabama, Theatre Tuscaloosa, and Tuscaloosa Children's Theatre. Dylan has since gone on to play Young Tarzan in Disney's Broadway production of Tarzan, star in national television commercials for Univest Bank, Benedryl, and Chuck E. Cheese, and star in films including Life During War Time and Valley of the Moon. He has also made television appearances on Wonderpets as the voice of "Griffin" and "Hound Dog" and landed lead roles in Sesame Street segments of "Jet Side Story" and "Casablanca". Dylan is currently starring as Milton Krupnick on the Disney XD original comedy series, Kickin' It.
Tickets to this fundraiser can be purchased at the door the day of the event. Tickets prices are $5 for General Admission or $10 for admission and an autographed photo of Dylan.
---
---
---