Give and Receive with The Junior League of Tuscaloosa

Oct 06, 2012 05:33PM, Published by Kitty, Categories: In Print, Today, Community
---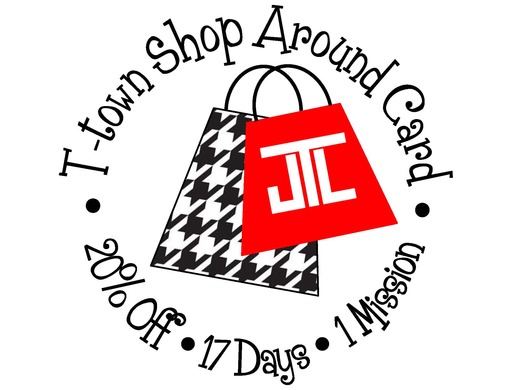 ---
---
For decades, The Junior League has maintained an educational and charitable presence here in Tuscaloosa. Through volunteerism and fundraisers the JLT continues to improve the community through our service projects.
This fall the community will have the opportunity to both give and receive by participating in the T-town Shop Around Card fundraiser sponsored by AFFLINK and Steve Richardson & Co., CPA.   With a $30 donation, Tuscaloosa's finest retailers are offering a 20% discount - October 19th through November 4, 2012.
Shopping cards can be purchased through JLT members, jltuscaloosa.org, or at the following retailers: Effie's Inc., Everyday Indulgence, Faucett's, Forget Me Not, Kyle Fine Stationery, Lily Pads & Baby Bundles, Mary Mack, and Wagner's Shoes for Kids.
For a complete list of participating retailers and details on the preview party October 18, 2012, please visit jltuscaloosa.org. or LIKE us on Facebook – T-town Shop Around Card
Thanks to our featured retailers:
Alabama Outdoors
Chloe's Cup Coffees & Teas
Desperados Steakhouse
Duet Art & Jewelry
Everyday Indulgence
Faucett's
Kyle Fine Stationery
Lily Pads & Baby Bundles
Mary Mack
JLT Community Involvement
For over 80 years, the Junior League of Tuscaloosa has focused on children's health and well-being.  They are grounded by a rich tradition of philanthropic endeavors, yet remain a dynamic organization of women, capable of adapting to the ever-changing needs of the Tuscaloosa community and their members.  Proceeds from fundraisers like the T-Town Shop Around Card, Breakfast with Santa, and the newest addition, Tuscaloosa Dragon Boat Races, are giving back to the community in accordance with their mission – to develop to potential of women and improve the community. Since 1997, the JLT has served Holt Elementary School through the Adopt-A-School program and recently received the proud distinction of "VIP Partnership" by the Chamber of Commerce.  In the past 18 months their efforts have been directed toward post-tornado relief and rebuilding.  They have provided necessities, such as medicines, clothing and school supplies, as well as summer essentials kits, containing educational and entertaining toys, games and snacks to promote an active and healthy lifestyle during summer break.  Two weeks after the April 27th tornado, the JLT hosted "heART for Holt" art therapy workshops with all Holt Elementary children, allowing them the opportunity to express their feelings and vivid memories of the devastating storm through paint and canvas.  As the school rebuilds, the JLT plans to provide continued support and volunteers to meet ever-changing needs.
Upcoming JLT Fundraisers:
T-town Shop Around Card
 October 19 – November 4, 2012
Breakfast with Santa - December 8, 2012
Bryant Denny Stadium
Dragon Boat Races – April 20, 2013
Early bird sign-up October 2012
Sips N' Stogies - Spring 2013 TBD
---
---
---