THEATRE TUSCALOOSA presents "GODSPELL"

Nov 07, 2012 04:11PM, Published by Kitty, Categories: Community
---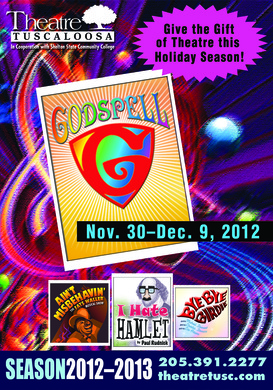 ---
---
THEATRE TUSCALOOSA'S "GODSPELL"  SHEDS NEW LIGHT ON A TIMELESS TALE

Theatre Tuscaloosa will present "Godspell" November 30-December 9 in the Bean-Brown Theatre on Shelton State's Martin Campus at 9500 Old Greensboro Road in Tuscaloosa.  
 
Conceived and originally directed by John Michael Tebelak with music and new lyrics by Stephen Schwartz, "Godspell" has touched audiences around the world for over 40 years. Featuring familiar songs such as "Day by Day," "God Save the People," and "All for the Best," the score encompasses a wide variety of musical styles and lends itself to a unique and spirited interpretation of The Gospel According to St. Matthew.
 
Theatre Tuscaloosa welcomes guest director Abe Reybold for this production of "Godspell." Reybold graduated from the nationally recognized Baltimore School of Arts and continued his studies at Cincinnati's College Conservatory of Music. Boasting several Broadway and international touring credits, including the role of Pharaoh opposite Donny Osmond in "Joseph and the Amazing Technicolor Dreamcoat," Reybold brings with him formidable musical theatre experience and a fresh approach to the timeless themes of kindness, tolerance, and love.
 
"Audiences should look forward to wonderful actors, singers, and dancers inviting them to experience stories from the Bible in a unique and heartfelt way," Reybold said. "'Godspell' is full of moments where the cast and I can create new ways to tell old stories."
 
Reybold said this production brings together a cast of diverse actors creating a 'fantastic mix of personality and talent.'
 
"Each actor has a passion for what they are doing and everyone has been highly committed since day one," he said. "Every cast member has a chance to shine in this show, but, at its core, "Godspell" is about showing love and creating community. As a whole, this cast is doing just that."
 
This sense of community extends from the cast to the production team which includes Theatre Tuscaloosa veterans Leslie Poss, musical director and Jeanette Waterman, resident costumer.
 
"It's refreshing to work with a production team that has a strong vision but also allows us to bring our own strengths to the table," Gerard Jones (John the Baptist/Judas) said.  "It takes that kind of trust between actors and production staff to really explore the blood and breadth of a show."
 
This story of Jesus and his disciples comes to life on stage with technical direction and scenic design by Wheeler Kincaid, lighting design by Erin Hisey, and sound design by Frank Duren.
 
"You don't want to miss this show," Reybold said. "There is nothing quite like live theatre, and everyone should take advantage of this gift to the community."
 
Theatre Tuscaloosa's 2012-13 Season: Rockin' & Rollin' in the Aisles is presented in cooperation with Shelton State Community College and is sponsored by Tanner Guin & Crowell LLC, Jamison Money Farmer and AL.com. Godspell is sponsored by Afflink and Totalcom Marketing. Additional sponsors include Alabama One Credit Union, Mercedes Benz, Ameriprise, Walter Energy, TownSquare Media, Left Hand Soap Co., and f8 productions.
 
"Godspell" will be presented November 30-December 9 in the Bean-Brown Theatre on Shelton State Community College's Martin Campus, 9500 Old Greensboro Road.  Performances will take place Thursdays-Saturdays at 7:30 p.m. and Sundays and Wednesday at 2 p.m.  All proceeds of a pay-what-you-can final dress rehearsal on Thursday, Nov. 29, at 7:30 p.m., will benefit the Charlie Dennis Memorial Scholarship Fund.
 
Tickets to the regular performances are $22 for adults, $18 for seniors (60+) and $14 for students and children.  Special rates are available in advance for groups of 10 or more. Flex subscriptions, which can save patrons 15 percent on single ticket purchases, are still available for a limited time.
 
For more information about the 2012-13 season or to purchase tickets visit www.theatretusc.com or call 205.391.2277.
---
---
---