Our Favorite Holiday Traditions

Nov 09, 2012 08:40AM, Published by Kitty, Categories: In Print, Community
---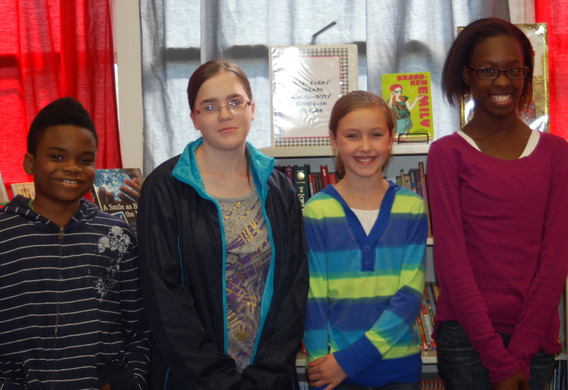 ---
Gallery: Contest participants top left to right: Alexandria McBride, Camden Stevens, Danielle Booth, Marcus Barnes, Alex Tribble, and MarKayla Hyche. Kneeling: Clifton Stacy, Kaylen Ruffin, and Hunter Price [1 Image] Click any image to expand.
---
---
Prize winners from left to right: Clifton Stacy, Alexandria McBride, Camden Stevens, and MarKayla Hyche. 
By Kristy Jacks
The holiday season is, beyond a doubt, my favorite time of year! Not only do you get a reprieve from the brutal summer weather…you also get several opportunities to spend time with friends and family at all the various events and "get togethers."
This year I am very fortunate to be working at Collins-Riverside Middle School where I teach the elective "Creative Expressions." Though my class is relatively small, the students are creative in many ways. My annual essay contest was, therefore, an easy no-brainer and MUST for the syllabus.
As with every year, I hope that you are encouraged and filled with holiday spirit by the heart-felt words in this article. Enjoy!
Grand Prize Winner – MarKayla Hyche
As Christmas arrives, Santa Claus and his elves run around making toys and packing the sleigh. My family had a LOT to say about how the holiday of joy made them feel.
Marquita Hyche (momma):  "I like to see the smiles on my children's faces when we're all together opening gifts. My favorite part of the holiday is the music, family, and food!"
Malachi Hyche (brother): "What I like about Christmas is that my whole family gets to gather around and talk about how thankful we are. My favorite part of Christmas is when we all get to sit at the table and eat my grandma and handaddy's food."
I think that Christmas is another Thanksgiving.  Not just because of the delicious food, but because you have your family with you.  I like going to the mall and seeing all of the decorations everywhere! After Christmas, I start to do the countdown for New Year's. After New Year's, I start the countdown for Christmas again to enjoy that warm feeling of love everywhere I go.
1st Runner Up – Camden Stevens
Decorating the Christmas tree is my favorite holiday tradition. My favorite part is the ornaments. I love the ornaments we have on our tree. They're sparkly and shiny with blue, red, silver, and green twinkling colors.
My next favorite part is the angel my dad puts on the top. It's so pretty when it shines in the light.
My family's jobs are with helping on different things to get ready. My mom gets the delicious food done. My dad puts up the lights outside. The kids' job is to decorate the Christmas tree.
I love seeing their faces all delighted and happy! I love doing all kinds of things at once – that's why I chose decorating the Christmas tree!
2nd Runner Up – Alexandria McBride
I have a love for Christmas. I love to decorate the Christmas tree every year. My mother and my two brothers, Justin and Chris, help put up the Christmas tree, too. We do that a couple of days before Christmas. I love to turn off all of the lights and see the tree glow with the star on top.
We also go Christmas shopping for the family. We usually go to Wal-Mart to get our Christmas presents. After we are done with the Christmas shopping, we go home and start wrapping our presents then put them under the Christmas tree to wait until Christmas Eve.
When it's time for Christmas Eve, we take all of the Christmas presents for the family to our great grandparents' and stick them under their Christmas tree. My Pawl Pawl starts making dinner and after it, we eat dessert. When we're done eating, we go into the family room and start opening presents. After we're done with the presents we stay a little bit longer and maybe watch some movies. Then we go home and wait for Christmas Day to open our own presents…or, we don't wait!
3rd-Runner Up – Clifton Stacy
Ahh! Christmas! It is nice to settle down, eat food, and open presents with your family.
Mom and I get the Christmas tree from the attic and the decorations. We put popcorn and colorful lights on the tree. Every time my sister or I make some Christmas-like thing, we hang it up on the Christmas tree. Then we put the rest of the decorations on the tree. "Fat Santa Claus" goes on the top.
Don't forget the best part about Christmas – making cookies and drinking hot chocolate! We chill out and watch Christmas shows and movies.  We go to sleep at 9:30 and wake up at 6:00 in the morning. My sister and I go to everybody's room and say, "WAKE UP, IT'S CHRISTMAS!!!" I run to the Christmas tree and look for the presents that have my name on them. I look for the thinnest ones because they are video games. After we get all done, we go play! We stay inside for the rest of the day to eat cookies and drink hot chocolate. We eat dinner and have a great Christmas!
Kristy Jacks is a teacher in the Tuscaloosa area. She can be reached at kbjacks@crimson.ua.edu.
---
---
kristy jacks holiday traditions
---