Music and Holiday Gifts Collide in 6th Annual Evening of Art & Blues

Nov 22, 2012 07:02PM, Published by Kitty, Categories: Community
---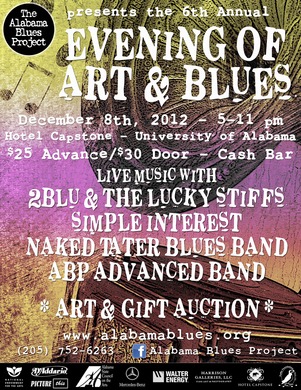 ---
---
What: 6th Annual Evening of Art & Blues
When: Saturday, December 8, 2012, 5-11 p.m.
Where: Hotel Capstone on the campus of The University of Alabama
Who: Fundraiser for the Alabama Blues Project 
This holiday season, the Alabama Blues Project (ABP) presents a unique opportunity for gift shopping and a fun night out with its 6th annual Evening of Art Blues. The event is the ABP's annual fundraiser, raising money and awareness for its award-winning after-school and summer Blues Camps. The 2012 Evening of Art  Blues will be held at Hotel Capstone on the campus of The University of Alabama on December 8th from 5 p.m. to 11 p.m.
 
Evening of Art  Blues features an amazing silent auction that includes paintings, prints, photography, jewelry, pottery, getaway packages and gift baskets. There is something for everyone, right in time for the holiday season.
 
Guests will be entertained with live blues music from some wonderful Alabama acts. Birmingham's 2BLU and the Lucky Stiffs, a 2012 International Blues Challenge contender, will headline the Evening. The entertainment will be rounded out with Tuscaloosa's very own Naked Tater Blues Band, Simple Interest and the Alabama Blues Project's spectacular advanced band.
 
Hors d'oeuvres will be complimentary and a cash bar will be on hand.
 
Tickets are $25 in advance and $30 at the door. Advance tickets may be purchased at Manna Grocery, OZ Records, Guitar Gallery, Mary's Cakes, Southeastern Music Gallery, Chloe's Cup and Cole Band Instruments. Guests can also order tickets online at http://www.alabamablues.org or by calling (205) 752-6263.
 
The Alabama Blues Project is sponsored by National Endowment for the Arts, Alabama State Council on the Arts, D'Addario, Puffin Foundation, Harrison Galleries, Mercedes-Benz, Hotel Capstone, Picture This, and many other kind organizations, businesses and individuals.
 
Over 70% of children participating in the Alabama Blues Project's Blues Camps are considered at-risk, and no child is excluded due to an inability to pay. The ABP partners with Tuscaloosa Housing Authority, YMCA and Boys  Girls Club to bring a diverse mix of children together. In 2004, the ABP was awarded the national Coming Up Taller Award by the President's Committee on the Arts and the Humanities.
---
---
---