Dickens Downtown

Nov 26, 2012 10:46AM, Published by Kitty, Categories: Community
---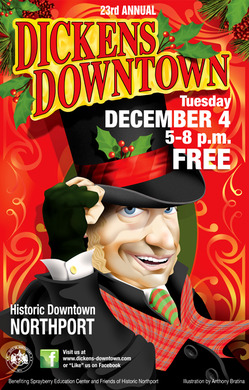 ---
23rd Annual Dickens Downtown

When: Tuesday, Dec. 4, 5 p.m. - 8 pm.
What: Dickens Downtown
Where: Historic Downtown Northport, Alabama
Presented by: The Northport Merchants Association
Admission: Free

Once again the streets and shops of historic downtown Northport will come alive with music, children's activities, holiday décor and a guaranteed snowfall at the 23rd Annual Dickens Downtown, Dec. 4, 5-8 pm.  Visitors can enjoy the sounds of the holidays with community and school choirs. Other holiday activities include the Friends of Historic Northport holiday tree lighting and Dickens carolers.
 
 

The sound of bagpipes will echo up and down Main Avenue with performances by the Alabama Pipes & Drums. The special guest of honor, Her Royal Highness Queen Victoria, will arrive at Adams Antiques, accompanied by Councilman Jay Logan, to greet guests during the evening. There will be artificial snowfall for the children to play in and complimentary hot chocolate.
 

Traditional craftspeople will be at the Kentuck Courtyard of Wonders demonstrating metal toy making, fiber arts, blacksmithing, pottery firing, and broom making. Kentuck will also feature a Holiday Market with artists selling their handmade goods. The Tuscaloosa News will be taking portraits of visitors at the Kentuck Art Center and recording their Christmas wishes for publication.
 

The shops and galleries of downtown Northport will be open and decorated for the holidays, and merchants will don traditional Victorian costumes. Visitors are encouraged to come in costume as well and to have their photo taken with Father Christmas. Visitors can buy the photos from local photographer Skip Baumhower.
 

Proceeds from hotdogs will go to Sprayberry Elementary and the Friends of Historic Northport. The City of Northport will close the intersection of 5th Street and Main Avenue and approaching cross streets at 4:45pm.  
 

For additional information call (205) 758-1257.
---
---
---