Visits with Santa this Christmas Eve

Dec 04, 2012 07:28AM, Published by Kitty, Categories: In Print, Family
---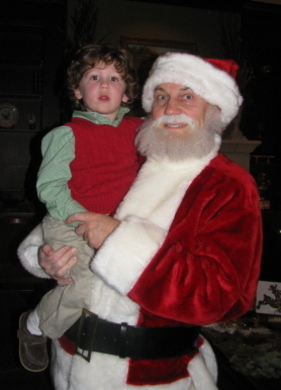 ---
---
"Santa! Santa is outside!" shrieked my brother.
I pelted to the window and peered into the darkening evening, praying for just a glimpse of the jolly man. It was Christmas Eve and I was 4 years old. I have never forgotten seeing Santa strolling by in his bright red suit, a bag of presents slung over his shoulder. Mom had no trouble putting us to bed that night! I think it was 6 p.m. when I bounded up the stairs and into my jammies.
As the owners of Twinkle Productions, my husband and I specialize in making dreams come true. With this goal in mind we have decided to offer Visits with Santa this Christmas Eve.
Our friendly Santa will come to your home and visit with your children for 10 minutes on Christmas Eve. You are invited to give him any gifts you wish for him to distribute during his visit. The price is $50.00 and visits are between 5 and 8 p.m. Your visit must be booked and paid for by December 21st. Please call Twinkle Productions at 205.556.4555.
This Christmas, let's make a forever memory together.
---
---
christmas santa twinkle productions
---