Are We There Yet? Experiencing History Part II

Dec 10, 2012 09:12AM, Published by Kitty, Categories: In Print, Travel, Today
---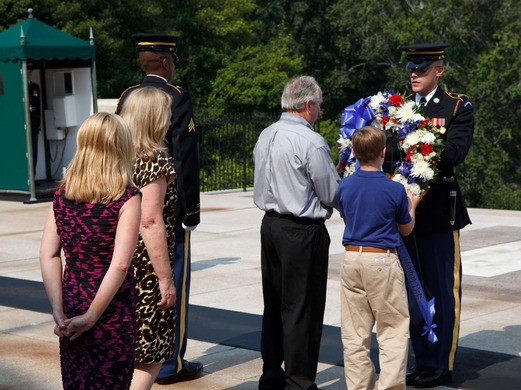 ---
---
By Linda Holloway & Ashley Sellers
Photography: www.larryhollowayphotography.com
In Part I of "Experiencing History," Larry and I managed to keep up the pace with Gunnar, our 11 year old grandson, along with his mom, Ashley, in Washington D.C.  We learned five days isn't enough time to explore the area, and I would suggest at least one week. If you missed Part I, you can visit www.kidslifemagazine.com to learn about lodging, transportation, The National Mall, White House, U.S. Capitol, and Gunnar's favorite Smithsonian Museums. Also, you will find important tips to plan your trip such as acquiring advanced reservations to visit the White House and Capitol. For more tourist information, visit http://www.washington.org.
  Washington D.C. and Beyond
As much as children enjoy learning about Washington D.C., it is always a good idea to select lodging that offers family friendly amenities. The historic Omni Shoreham Hotel sits on 11 acres overlooking Rock Creek Park and the location is in walking distance to the National Zoo and Woodley Park/Adams Morgan Metro Station, allowing easy access to downtown DC. Gunnar enjoyed the huge green space and the pool. While in DC, you will be eating on the go, but be sure to start the day with the hotel's Robert's Restaurant that features a children's menu. We started each day with the "Art of Breakfast" buffet. The contemporary American cuisine and international specialty menu is guaranteed to please everyone. For dinner, the chef kicks it up a notch with extraordinary dishes that temp the pallet. http://omnihotels.com/findahotel/washingtondcshoreham
National Zoo:The Smithsonian National Zoological Park is where the giant pandas reside. A trip to the National Zoo was my idea—I wanted to meet those lovable pandas, Mei Xiang and Tian Tian. I had enrolled for the zoo's internet "Panda Cam" months in advance. As soon as the zoo opens, head straight to the Asian Trail's Panda Indoor Habitat for a great view. The pandas are the zoo's rock stars, and I felt they should know me since I had been watching them for months. The lovable creatures didn't give me a second glance as they munched on breakfast—tasty bamboo.  The other must-see exhibit is the "Think Tank" where orangutans make their way from their habitat on the O Line where they use touch screen computers to learn. They can choose when they want to use the computers from 11:00 a.m. to 2:00 p.m. The National Zoo is free!  www.nationalzoo.si.edu
Bureau of Engraving and Printing:Gunnar really enjoyed the Bureau of Engraving and Printing, but sadly, our guide did not hand out souvenirs. We saw millions of dollars being printed during our tour that featured various steps of currency production.  We caught a glimpse of the new one hundred dollar bill design and viewed rare bills and coins.  I noticed a sign near an employee that quipped, "Just think how I feel, I just printed my entire salary in a few minutes." The gift shop is where visitors can buy bags, pens, and paperweights filled with rejected shredded money. Tours are free, but avoid waiting in line, contact your congressional representative about VIP tickets two months in advance for timed tours. www.moneyfactory.gov
Sadly, time ran out before we could visit two must-see sites. The U.S. Holocaust Memorial Museum is one of the most touching and popular sites in DC. We arrived at noon and the line was too long to make our next scheduled stop. Visit their website for information on timed passes at www.ushmm.org. The National Archives houses the original Declaration of Independence, Constitution, Bill of Rights and more than 3 billion records.
Ford's Theatre:  Ford's Theatre, the infamous theatre where John Wilkes Booth shot President Abraham Lincoln, was transferred to the National Park Service in 1933 and newly renovated in 2009--just in time for the bicentennial of Lincoln's birthday.  Along with a cosmetic "face-lift" for the theater and the addition of new artifacts to the museum, the renovation also included the new $25 million "Center for Education and Leadership" that provides new insight into this American tragedy.  The interactive exhibits, including touch-screens and video presentations, also allow students, educators, and patrons to experience and celebrate the life of President Lincoln.
To enhance your experience, ask for a timed ticket when a park ranger is making a presentation on stage. The tour leads across the street to the Petersen House--the place where Lincoln actually died and continues throughout the educational facility where you can gain a true perspective on the events that ultimately led to Lincoln's death and the capture of his notorious killer. Visitors can view Booth's derringer used to shoot the President and clothing and boots Lincoln wore the night of his assassination.
In addition to preserving the historical significance of this famous landmark, Ford's Theatre also produces plays and musicals that portray the American experience as well as the ideals of Abraham Lincoln.  Tickets to tour the facility are free at the box office on a first come basis, but in high tourist season, Ticketmaster (800-982-2787) is recommended for a nominal fee. www.fordstheatre.org
International Spy Museum: Located near the Ford's Theatre, you can go "undercover" and unleash your inner spy at the International Spy Museum.  If cracking codes and uncovering secrets sound intriguing, you should check out the 200 plus gadgets and weapons that have been used for hundreds--in rare cases, thousands--of years! Take time to examine the spy car from the James Bond thriller Goldfinger.  Kids over 12 can pay an additional fee for more of an interactive experience called "Operation Spy" where they can interrogate someone with an actual polygraph test during this role-playing adventure.  This museum has become a popular hit, and is the only one of its kind in the U.S.  You can get tickets online or at the museum, and with so much to do and see, it is worth every penny! www.spymuseum.org
Dining While Touring DC:You will want to choose your restaurants according to your touring schedule. The best option we found is to travel by Metro (subway) to Union Station. As we mentioned in the Part I of "Experiencing History," the Metro is the best mode of transportation in DC.  The Union Station building was the largest train station in the world when it was completed in 1907, and it is now the home to dozens of restaurants and shops on two levels. Included in the mix are several full service restaurants, a Starbucks, as well as the favorite "kid-picks" such as McDonalds and Johnny Rockets. Another option when visiting the U.S. Capitol is the Capitol Visitors Center Restaurant.
Virginia's Mount Vernon Estate and Gardens, George Washington Slept Here
Cross over the Potomac River and visit one of the most scenic attractions in Virginia, Mount Vernon. While not directly accessible by Metro from DC, we traveled by Metro to Huntington Station and transferred to Fairfax Connector Bus #101 to Mount Vernon. Mount Vernon was the home of George and Martha Washington from 1759 until his death in 1799. Tickets include the mansion house, more than a dozen outbuildings, four gardens and 25 galleries and theaters. Visitors can view Washington's dentures, tackle box, and the key to the Bastille. On a guided tour of the Mansion House, Gunnar got to actually see the bed where Washington slept. Downstairs, there were numerous original furnishings including a desk and chair where George Washington sat to form our nation. Take time to sit in the rocking chairs decorating the veranda and overlooking the Potomac River.
Gunnar's favorite stops were the "Pioneer Farmer" and "Blacksmith Shop."  In the outbuilding, kids can spin wool, learn slave songs, and play with period toys. Pick up a "Solve the puzzle! Free Adventure Map," available free with a child's ticket at the Ford Orientation Center. Our last stop was Washington's Tomb, where the President and Martha are interred. While you could easily spend a day here, I would at least plan on four hours. You can choose to dine at the food court or the Mount Vernon Inn where we enjoyed delicious period food and a costumed wait staff. www.mountvernon.org
Arlington National Cemetery, Arlington, Virginia
Public Wreath Laying at the Tomb of the Unknown Soldier
Accessible by Metro from DC, Arlington National Cemetery was our most memorable stop on our trip. The Tomb of the Unknowns is also known as the Tomb of the Unknown Soldier.  March 4, 1921, Congress approved the burial of an unidentified American soldier from World War I in the plaza of the Memorial Amphitheater. West of the World War I Unknown are the crypts of unknowns from World War II, Korea and Vietnam. DNA tests identified the soldier buried from the Vietnam War, and he is now buried in his hometown. Our family requested and was granted the opportunity to participate in the "Wreath Laying." Larry is a Vietnam Era veteran, and it was meaningful for him to be able to teach Gunnar the importance of this ceremony. We sent a written request two months prior to Arlington Cemetery, and we received an acceptance letter with instructions in the mail about protocol including dress code.  We were also required to purchase the wreath.  A friend had recommended York Flowers in Washington D.C. and they delivered a beautiful patriotic wreath to Arlington with banners denoting Holloway/Sellers families.
Soldiers from the Third U.S. Infantry Regiment (known as the "Old Guard") directed and assisted us in protocol. On a hot summer day, Larry and Gunnar lead the way as Ashley and I stood behind them. The guard retrieved the wreath while we were on the steps nearby and then escorted us to the tomb.  Larry and Gunnar took the wreath and placed it on the stand. Taps was played while we held our hands over our hearts. The solemn ceremony was very emotional for all of us. We will never forget the ultimate sacrifice of our service men and women, and we were humbled to be chosen to honor "The Unknowns." For information about placing a wreath, visit www.arlingtoncemetery.mil/AboutUS/WreathLaying.aspx.
---
---
Linda Holloway travel washington
---