Step Into the MAGICAL World of ABJ

Dec 16, 2012 08:09AM, Published by Kitty, Categories: In Print, Today
---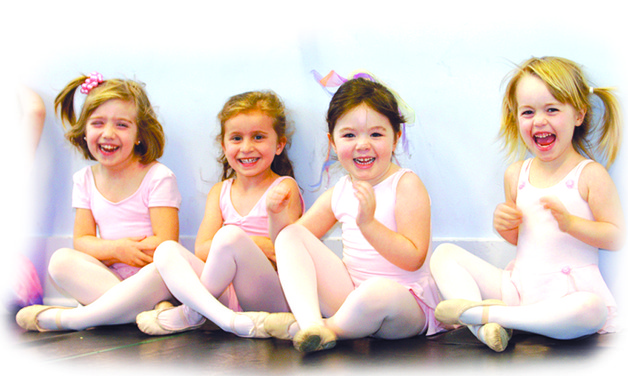 ---
---
There is much to celebrate at the Academy of Ballet & Jazz!  Enjoying its 35th anniversary season with record enrollment, ABJ has much to commemorate!  This spring, ABJ dancers will make memories to last a lifetime on the Bama Theatre stage.  After a stellar production of Mary Poppins: An ABJ Musical Ballet, the 2013 35th anniversary Spring Recitals will be a delightful treat.
You can still be a part of all the fun with the introduction of our new Saturday classes!  Future ballerinas and stars will adore ABJ's January Mommy & Me Saturday sessions with Ms. Molly Brooke Threadgill.  ABJ is proud to offer two Saturday Mommy & Me sessions for dancers 18 months to 3 years old in the Spring Semester. Each six week session has two convenient times: 9:30-10:15 & 10:15-11:00.  If available during the week, there is also a Thursday 10:30-11:15 class.  Dancer and caregiver enjoy the 45-minute class as they learn new locomotor skills and develop basic coordination and dance technique.  There are even a few places still available for the older sisters or brothers in the Saturday Creative Movement (ages 2 ½ -4), Pre-Combo (ages 4-6) and Hippity Hop (ages 5-7) classes with Ms. Emily.  ABJ is proud to offer the convenience of Saturday classes to the Tuscaloosa community, as we are able to nurture and foster a great love of dance to an even wider audience.       
The community continues to honor students and faculty of the Academy of Ballet & Jazz with various awards and accolades. Owner and Artistic Director, Susu Hale Prout, received the 2012 Lifetime Achievement Award from the Women in Business Council of the West Alabama Chamber of Commerce.   ABJ is also home to the current Distinguished Young Woman of Tuscaloosa County, Hannah Sheffield and Miss Tuscaloosa, Hannah Brown.  Also, over 35 ABJ dancers have been cast in Tuscaloosa Community Dancer's upcoming production of The Nutcracker.
The ABJ Company also has a busy year ahead!  With over 70 dancers in the elite group, the ABJ Company is divided into two groups: The ABJ Force & The ABJ Energy.  All of these dancers were chosen to be a part of the organization based on their talent, character and dedication.  The ABJ Energy is comprised of dancers 14 and under that attend two regional competitions each year while the ABJ Force has dancers ranging from 8-18 that attend four to six regional dance conventions.  Not only do the dancers perform their competition routines at these events, they also receive exemplary instruction from master teachers and choreographers from the professional dance world. 
Many ABJ dancers spent their 2012 summer studying at various intensives and summer programs including Alabama Ballet, American Ballet Theater at UA, Alabama School of Fine Arts, Interlochen in Michigan & Central Pennsylvania Youth Ballet .  ABJ is so proud these dancers were accepted into these prestigious programs that continued to build their technique, strength and artistic ability.  ABJ was thrilled to bring the professional dance scene to Tuscaloosa this past summer for our annual Dance Xplosion intensive.  Featuring many huge names in the dance world such as Judy Rice, Gregg Russell, Gina Starbuck & Barry Youngblood, ABJ dancers were treated to master classes and professional choreography.  This upcoming summer, ABJ is excited to take over 30 dancers to compete in New York City at the New York City Dance Alliance National Summer Finale.
Come join the celebration and mark your calendars for the 2013 Spring Recitals!  With six shows to choose from, the fun begins Sunday, May 5th with the ABJ Specialty Showcase.  Friday, May 10th will be the 35th Anniversary ABJ Gala Performance at 7pm and on Saturday, May 11th there will be two Creative Dance Recitals, the Stars of Tomorrow show & the ABJ Jazz Concert!  Online ticket sales begin April 1st!  Step into the magical world of dance and join us at ABJ.  We invite you to come celebrate the 35th anniversary season and many more with us!
---
---
---