University Place School Receives Grant to Rebuild Library

Dec 17, 2012 05:09PM, Published by Kitty, Categories: Today, Community
---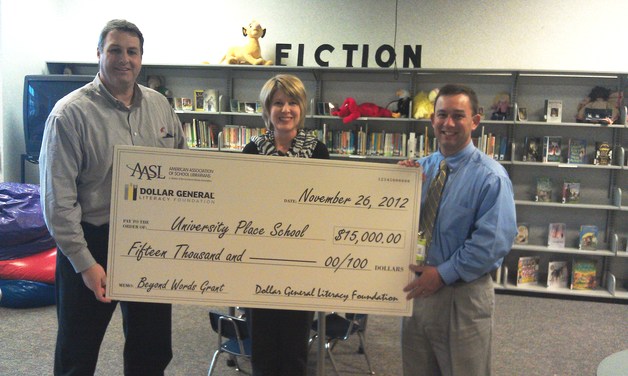 ---
---
Dollar General and the American Association of School Librarians are proud to present University Place School with a $15,000 grant from the "Beyond Words: The Dollar General School Library Relief Fund." The school will use the funding to rebuild the school library that was damaged in the tornado of April 2011.
"As part of Dollar General's commitment to education and our community, we want to ensure students have access to books," said Mark Sappington, Dollar General district manager. "Through the "Beyond Words" grant program, we're proud to help the University Place School library rebuild and restore the limitless world of reading to students."
Sappington and local Dollar General store managers joined University Place School's Librarian Alicia Hamilton and Principal Deron Cameron to celebrate at a check presentation held in the library.
"Through the Beyond Words relief program, schools have the opportunity to secure funding when they need it most," said Carl A. Harvey, AASL president. "These grants not only put resources back in schools, but they help the entire community heal from an unimaginable catastrophe. The Dollar General Literacy Foundation's commitment to school libraries in such need is truly appreciated."
The "Beyond Words" grant was established in 2006 to provide funding to schools affected by disasters to rebuild and expand library media programs.
To be eligible for a "Beyond Words" grant, applicants must be located within 20 miles of a Dollar General store, distribution center or corporate office and must represent public schools serving students in pre-kindergarten through grade 12. Eligibility requirements include the library must have either lost its building or incurred substantial damage/hardship due to a natural disaster, fire or act recognized by the federal government as terrorism. Grant applicants must meet one of these two requirements.
For more information or to apply for a Beyond Words grant, visit www.dgliteracy.org.
About the Dollar General Literacy Foundation
The Dollar General Literacy Foundation is proud to support initiatives that help others improve their lives through literacy and education. Since 1993, the Foundation has awarded more than $71.2 million in grants to nonprofit organizations, helping more than 4.1 million individuals take their first steps toward literacy, a general education diploma or English proficiency. To learn more about the Dollar General Literacy Foundation, visit www.dgliteracy.org.
---
---
university place school dollar general
---