Is Your Child Struggling in School?

Jan 03, 2013 10:29PM, Published by Kitty, Categories: In Print, Today, Community
---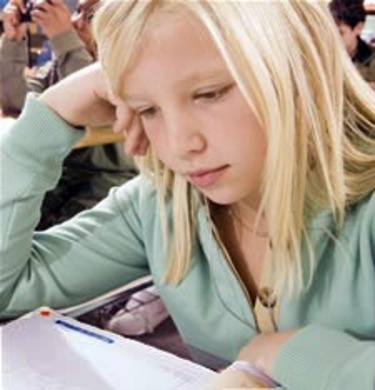 ---
---
Chris A. Zeigler Dendy, M.S. 
Five years ago, most parents and teachers of students with learning challenges including ADHD didn't have a clue that a child's academic success was contingent upon something we call "executive skills." However, today's savvy parents and educators realize that deficits in critical cognitive skills known as executive functions  (EF) are slower to mature in many children with ADHD and other learning challenges. In 2007, researchers made a startling discovery: the brains of students with ADHD mature three years more slowly than their peers. This helps explain why their executive skills are delayed. Scientists found that the part of the brain that enables students to work on "boring tasks" such as schoolwork has a reduced number of dopamine receptors and transporters. More simply stated the reduced levels of brain chemistry in this key area explains why students can play video games for hours but struggle to complete their homework in a timely manner.
Before we understood the role of executive functions, parents and teachers were often baffled when students, especially those who were intellectually gifted, teetered on the brink of school failure. Unfortunately, to the uninformed, deficits in executive skills often appeared to be a simple matter of "laziness or lack of motivation." However, that's not the case; a neurological deficit makes these tasks extremely difficult for students with attention deficits. Consequently, parents and teachers must always keep in mind that this is a neurological problem, not laziness.
According to Dr. Russell Barkley, a noted authority on ADHD, students with ADHD experience roughly a thirty percent developmental delay in some skills, such as organizational and social skills. Basically this means our children appear less mature and responsible than their peers. For example, a twelve-year-old's executive skills are often more like those of an eight-year-old. Parents and teachers must provide more supervision and monitoring than is normally expected for this age group. I refer to this as providing "developmentally appropriate supervision."
Based upon material from Barkley, Brown, and Gioia, I have outlined eight general components of executive function that impact school performance:
1.     Working memory and recall (holding facts in mind while manipulating information; accessing facts stored in long-term memory; includes an impaired sense of time.)
2.     Activation, arousal, and effort (getting started; paying attention)
3.     Controlling emotions (ability to tolerate frustration; thinking before acting or speaking)
4.   Internalizing language (using "self-talk" to control one's behavior and direct future actions)
5.   Taking an issue apart, analyzing the pieces, reconstituting and organizing it
into new ideas (complex problem solving).
6.     Shifting, inhibiting (changing activities, stopping existing activity)
7.     Organizing/planning ahead (organizing time, projects, materials, and possessions)
8.     Monitoring (self-monitoring and prompting)
I've found it helpful to view the practical impact of executive function deficits in two general categories:
1)     specific academic challenges like writing essays, comprehension, memorizing information, and completing complex math and 
2)     Essential related skills like organization, getting started on and finishing work, remembering tasks and due dates, having good time awareness and management, using weekly reports, and planning ahead for the future.
Over the years, I have identified several teaching strategies and accommodations that work well for students with ADHD.Here are just a few of my favorite tips:
·       Make the learning process as concrete and visual as possible.
Written expression  
o      Dictate information to a "scribe" or parents.
o      Use graphic organizers to provide visual prompts.
Math
o      Use a peer tutor.
o      Use paired learning (teacher explains problem, students make up their own examples, swap problems, and discuss answers).
Memory 
o      Use memory tricks, such as acronyms or acrostics, e.g., HOMES to remember names of the Great Lakes.
o      Use "visual posting" of key information on strips of poster board.
·       Modify teaching methods.  
o      Use an overhead projector to demonstrate how to write an essay. (Parents may simply use paper or computer to model this skill.)
o      Use color to highlight important information. 
·       Modify assignments – reduce written work.
o      Check time spent on homework, and reduce it if appropriate (when total homework takes longer than roughly 10 minutes per grade, e.g. 7th grader = 70 minutes).
o      Write answers only, not the questions (photocopy questions).
·       Modify testing and grading.
o      Divide long-term projects into segments with separate due dates and grades.
o      Average two grades on essays– one for content and one for grammar.
·       Modify level of support and supervision.
o      Appoint "row captains" to check to see that homework assignments are written down and later turned in to the teacher.
o      Increase the amount of supervision and monitoring for these students, if they are struggling.
·       Use technology.
o      Use a computer as often as possible.
o      Use software to help teach skills.
Clearly school is often very difficult for students with ADHD.  However, when executive function deficits are also present, the accompanying problems are often overwhelming to the student and family. Hopefully, after reading this article, teachers and parents will develop more innovative intervention strategies. When deficits in executive function and related learning problems are also present, students can try their very best and still not succeed in school!
So what should parents and teachers do with this new information? 
1) Identify the student's specific learning problems (e.g. written expression or math) and
2) Identify their EF deficits (e.g. working memory, disorganization, forgetfulness, or impaired sense of time) and
3) Provide accommodations in both areas!
I leave you with this food for thought, "Succeeding in school is one of the most therapeutic things that can happen to a child! So do whatever it takes to help the child succeed in school."
Please visit our website www.chrisdendy.com to learn more about myself, my family and how we have coped with ADHD.  Several helpful articles are also available for you to download and share with friends.   
Written by Chris A. Zeigler DendyEdited by Courtney Gilley, The University of Alabama 
---
---
---