Theatre Tuscaloosa Invites Audiences to Experience the '20s & '30s with "AIN'T MISBEHAVIN'"

Jan 20, 2013 01:46PM, Published by Kitty, Categories: Community
---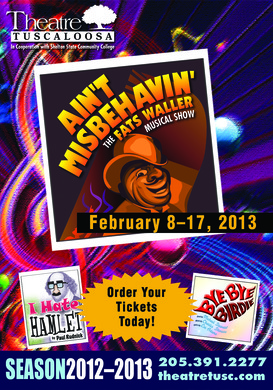 ---
---
Theatre Tuscaloosa will present "Ain't Misbehavin'" February 8‐17 in the Bean‐ Brown Theatre on Shelton State's Martin Campus. Conceived by Richard Maltby, Jr. and Murray Horwitz, with musical adaptations, orchestrations, and arrangements by Luther Henderson, "Ain't Misbehavin'" pays tribute to Harlem Renaissance musician Thomas "Fats" Waller.
Leslie Poss, musical director, said this production features a wide‐variety of musical styles including blues, swing, stride, ballad and scat. "Unlike the more traditional musical theatre productions, which rely on story line and character development, this show focuses mainly on singing, dancing, and musical accompaniment," Poss said.
Cast members Erika Evans, Alyssa Grubbs, Myiesha Duff, William Travis, and Willie Williams display a vast array of vocal talent as they perform pieces that cover a multitude of themes and emotions ranging from light to dark, amusement to seduction, and love to heartbreak. "I am proud of this cast," Poss said. "They have wonderful voices, immense energy, and engaging stage personality. Their dedication has inspired me to bring my best as a musical director."
Theatre Tuscaloosa's Executive Producer, Tina Turley, will be directing this production of "Ain't Misbehavin'." "This is one of my "bucket 'list' shows," Turley said. "During the 90s, I actually got to spend some time working with Andre' DeShields who was part of the original Broadway cast. He was so inspiring and gave me a real love for this show as he shared his experiences."
"Ain't Misbehavin'" is also a favorite of Theatre Tuscaloosa Technical Director, Wheeler Kincaid. "When Wheeler suggested we produce this show, I jumped on the idea," Turley said.
"Ain't Misbehavin'" comes to life with choreography by Nick Burroughs, a Musical Theatre major from The University of Alabama who came highly recommended by UA Professor and Director of Dance, Cornelius Carter. The sights and sounds of the jazz age are recreated with costume design by Jeanette Waterman, scenic design by Jameson Sanford, lighting design by John Hisey, and sound design by Frank Duren.
Theatre Tuscaloosa's 2012‐13 Season: Rockin' & Rollin' in the Aisles is presented in cooperation with Shelton State Community College and is sponsored by Tanner Guin & Crowell LLC, Jamison Money Farmer and AL.com. "Ain't Misbehavin,'" a part of the Martin Luther King, Jr. Realizing the Dream Series, is sponsored by The Bank of Moundville, The Arts and Humanities Council of Tuscaloosa County, The Alabama State Council on the Arts and Walter Energy. Additional sponsors include Alabama One Credit Union, Mercedes Benz, Ameriprise, TownSquare Media, Left Hand Soap Co., Afflink, Totalcom Marketing, and f8 productions.
"Ain't Misbehavin'" will be presented February 8‐17 in the Bean‐Brown Theatre on Shelton State Community College's Martin Campus, 9500 Old Greensboro Road. Performances will take place Thursdays‐Saturdays at 7:30pm and Sundays and Wednesday at 2pm. All proceeds of a pay‐what‐you‐can final dress rehearsal on Thursday, Feb. 7, at 7:30 pm, will benefit the Charlie Dennis Memorial Scholarship Fund.
Tickets cost $22 for adults, $18 for seniors (60+) and $14 for students and children. Special rates are available in advance for groups of 10 or more. Flex subscriptions, which can save patrons 15 percent, are still available for a limited time.
Tickets and additional information about "Ain't Misbehavin" are available at www.theatretusc.com or (205) 391‐2277.
---
---
---