Catholic Schools Help Raise the Standards when Raising Children

Jan 22, 2013 11:04AM, Published by Kitty, Categories: In Print, Today, Community
---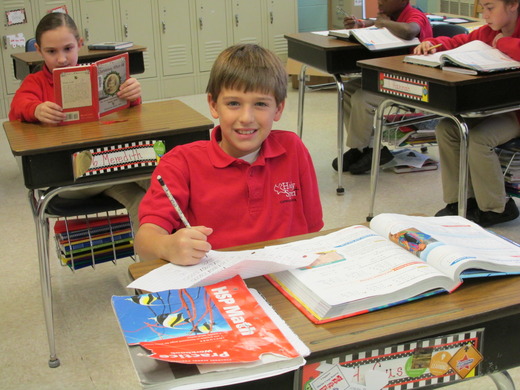 ---
---
     As many young people face the challenges of today's influential society, more and more students find it difficult to stay focused and realize the importance of self-discipline and commitment. For many years, Catholic schools have strived to help students achieve high standards. Because of the high standards that Catholic Education sets, the advantages that come from a Catholic school help to set it apart from its educational counterparts. 
The difference between a Catholic school education and a non - Catholic school education, you ask? The results speak for themselves. Research shows that, overall, Catholic school students develop more effective writing skills because of a greater emphasis on homework and study, and score significantly above the national averages on standardized testing. High academic standards are instilled in each child in a safe environment with Christian values.  Family input and involvement are encouraged, and each student is aided to realize and reach his/her full potential. Areas of education that are becoming more and more obsolete in some school systems such as the fine arts, extra-curricular activities and sports programs can still be found through the Catholic school curriculum as an essential part of the education of every young person so that they can identify their areas of interest.
The Catholic school promotes a curriculum which prepares students to become life-long learners, enabling them to become trustworthy, productive citizens. It is understood that the school and the family share the responsibility for preparing students for their life's journey.  The college preparatory curriculum and stimulating activities allow for students to become well-rounded individuals. The theme "Catholic School Raise the Standards" for this year's National Catholic Education Association's Catholic Schools Week, set for January 27 - February 2, 2013, demonstrates the commitment for Catholic Education across the country to provide the best education for students and families.
As the only Catholic school in the Tuscaloosa area, Holy Spirit Catholic School has shared over 50 years of academic excellence and makes every effort to bring to its students experiences that will carry on through high school and beyond. The early childhood program allows preschoolers the chance for spiritual, intellectual, and social growth. The elementary level forms a foundation for students to build on through the middle and high school years where the students learn to think critically, develop academically and recognize their potential. Because of the busy schedules that many parents face today, a before and after school care program is available at Holy Spirit Catholic School to ensure parents the well-being of their children in an enriching setting. A fine arts program includes art classes, music and drama productions and many athletic opportunities are available to help promote personal development. Interactive Promethean boards are used in K-12th grade classrooms to enhance daily lessons in addition to computer labs, service projects and field trips. Holy Spirit Catholic School is accredited by the Southern Association of Schools and Colleges and the Alabama State Department of Education and is a member of the NCEA and the AHSAA.
We invite you to come and see what the Catholic School Advantage is all about at the Holy Spirit Catholic School Open House on January 27, 2013 from 2:00 – 4:00 p.m. and learn how a Catholic school education can benefit your family.
---
---
---