Alabama Blues Project Welcomes Young Music Lovers for After-School Program

Jan 31, 2013 04:56PM, Published by Kitty, Categories: Community
---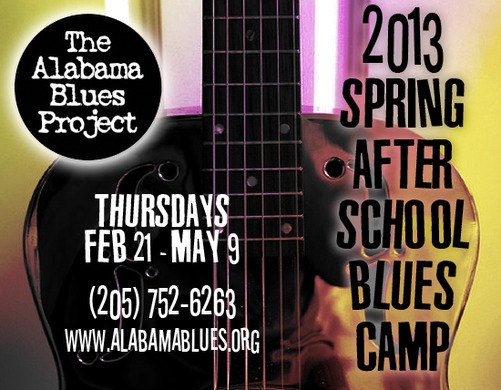 ---
---
For 15 years, children from all over Tuscaloosa County have convened with professional Blues musicians for a unique learning opportunity. Alabama Blues Project's award-winning After-School and Summer programs have reached thousands of music-loving youth, and they are now accepting registration for children ages 8-17 for the 2013 Spring After-School Blues Camp.
 
The program will be held at University Church of Christ in Tuscaloosa on Thursdays, 3:15-5:15 p.m. from February 21st through May 9th. At the end of the semester, the students of the 2013 Spring After-School Blues Camp will showcase their skills in a live performance open to family, friends and the community at-large.
 
For more information or to enroll, please visit www.alabamablues.org, email Cara Lynn Smith at smith@alabamablues.org or call (205) 752-6263.
 
Each week, students will have their choice of hands-on music instruction in vocals, drums, harmonica, guitar or bass guitar. Intermediate and advanced levels are offered for students showing ability and dedication. The program also offers a unique Blues History curriculum that integrates life skills and brings in guest artists such as Blues greats Carroline Shines and Dr. Burt.
 
"I have never been more impressed by a group focused on youth than I have been with the Alabama Blues Project," says mother of two students Carrie Shelby. "Your child is welcomed with open arms from day one, and each practice thereafter; he is immersed in all aspects of the Blues."
 
The Alabama Blues Project is sponsored by National Endowment for the Arts, Alabama State Council on the Arts, D'Addario, Puffin Foundation, and many other kind organizations, businesses and individuals.
 
Over 55% of children participating in the Alabama Blues Project's Blues Camps are considered at-risk, and no child is excluded due to an inability to pay. The ABP seeks to bring a diverse mix of children, from all walks of life, together for a positive learning experience. The ABP has been awarded the national Coming Up Taller Award by the President's Committee on the Arts and the Humanities and a Keeping the Blues Alive (KBA) award from the prestigious Blues Foundation.
---
---
---