March/April 2013 Summer Camp Issue

Mar 04, 2013 07:06PM, Published by Kitty, Categories: Health+Wellness, In Print, Today
---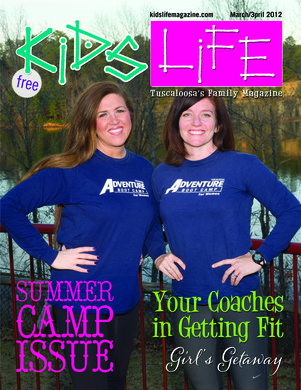 ---
---
VIEW THE DIGITAL COPY OF THE MARCH/APRIL ISSUE HERE!
Tuscaloosa Adventure Boot Camp is featured on the front cover of the March/April Summer Camp Issue. Mallory Cargile and Suzi Bunn are your coaches at Tuscaloosa Adventure Boot Camp.  There are three different class times per day to fit everyone's schedule.  Mallory and Suzi want to help you get fit and stay fit for life!  Read more about them below:
Why do women love Tuscaloosa Adventure Boot Camp?
My name is Mallory, and I own Tuscaloosa Adventure Boot Camp for Women.  We now have THREE times of day to fit anyone's schedule!  5:30 AM, 8:30 AM, and 5:30 PM.
Instead of hearing from me how great it is, I thought it may mean more to read from women JUST LIKE YOU on why they love it! 
Suzi has lost 50 lbs and is now the 5:30 PM instructor!
"When I first started Adventure Boot Camp, I planned to only do it for a few weeks.  In my wildest dreams I never thought I would end up teaching the afternoon class!  I have gained a new self confidence in myself that I haven't had in a long time.  It has been an answered prayer for me!"  -Suzi Bunn 
Heather is down several dress sizes and just ran in her first half marathon!
"Joining Tuscaloosa Adventure Boot Camp for Women is one of the best decisions I have made!  I gained a lot of weight with my pregnancies and found it really hard to get back into shape.  Mallory is an encouraging trainer, the workouts challenge my body, the environment is supportive, and I have seen real results with this program.  Since I started, I've shed over 35 pounds and lost countless inches.  I will also be running in the Mercedes Half-Marathon this month!  My goals now are to lose 25 more pounds and to continue to challenge myself physically." -Heather Humann
"Adventure Boot Camp has not been so much about the pounds and inches lost but about the self confidence I have gained. I have run multiple 5K's, completed the Warrior Dash, and can wear sleeveless apparel without fear.  It is also about the camaraderie with the other women.  We keep up with each other.  If you miss a session, we wonder where you are.  We laugh together and we moan, groan, and complain together."  -Julie Aldridge
"Adventure Boot Camp is truly one of THE best decisions I have ever made. As a mom of two boys, I could never find time to exercise and began to use this as an excuse.  I knew I had to take care of myself first if I wanted  to take care of my family.  I have been attending the 5:30 am class for 2 years now and absolutely love it!  I feel so good physically and mentally when I start my day with camp. The workouts are never boring because we do something different every day!  Everyone goes at their own pace so there is never pressure to "keep up" with anyone else.  Joining the Tuscaloosa Adventure Boot Camp family will change your life for the better and will be a decision you will never regret!"  -Debbie Mulanix
"I had tried for 15 years to incorporate exercise into my life.  Waking up early to exercise was never my thing, and my days would always slip away before I fit it in.  I had a friend who joined camp and talked about how much she loved it.  My cousin joined and also loved it.  My mother-in-law was hooked.  They all offered to come pick me up.  So I went!  The next day I signed up for the whole year!  It is not intimidating, and everyone supports each other.  I feel stronger and more mentally healthy than ever before.  Mallory is an awesome teacher.  She keeps an eye on us to make sure we are properly doing the exercises.   Adventure Boot Camp for Women is like having your own personal trainer five days a week!  There are three class times in order to fit anyone's schedule.  Before you know it, you will be hooked too!"  -Ashley Maughan
"Why do I get up at 4:45 each morning?  Because I love Tuscaloosa Adventure Boot Camp, that's why!  It is my time to push everything else out.  It is my time to shine and to do something that I thought I couldn't do. It is my time to show Mallory and myself what I am made of.  I am now stronger, better, healthier." -Michelle Beck
"I love Adventure Boot Camp. I can come and get a great workout with a wonderful group of ladies who encourage each other. It is for all ages, shapes and sizes. As a more mature woman, I find it extremely helpful to be in good shape. It has helped me physically and mentally. This is my special time of the day just for me."  -Sherry Falgout
"After attending camp almost daily for over 2 1/2 years, I still look forward to every single workout.  I never get bored, and I have made great friends at camp.  I still get sore every week!"  -Sally Reel
"I had tried and quit many exercise programs.  I dreaded every doctor's visit and the questions about my exercise and eating habits. Mallory and this wonderful group of women have changed my life.  I've exchanged my list of CAN'TS for a long list of things I CAN do!  I plan on camp being the start to my mornings for a long time!" -Melinda Wheeler
"For 25 years I tried different exercises...yoga, dance, zumba, step aerobics, walking, and tennis.  I never found anything that I particularly liked.  Adventure Boot Camp is challenging but you go at your own pace.  Each day, I have a great sense of accomplishment and pride. The early morning workout allows me to exercise and get on with my busy day.  Don't let the name scare you...just jump in with both feet!" -Kelly Fitts
"Before I started camp, it hurt my back to run or jump.  After a few short weeks my core was stronger, and I was able to run and jump without problems.  With the uncertainty of the future of healthcare, it's a great investment to take care of your body.  Adventure Boot Camp does that." -Nancy Sandy, RN
"After running for 7 years,  I became bored with it and started looking for a more social activity.... I joined gyms, tennis, crewing.... however I never stayed with anything more than 3 or 4 months.  Two summers ago, I found this program that seemed to be everything I was looking for.... 5 days a week with instruction and at a time of day that worked with my busy schedule.  Shortly after joining, I discovered that I had high blood pressure.  I had three months to get it down or I would have to start medication.  After  joining camp, my blood pressure is no longer high!" -Laura N Spurlin
"I am not coordinated or athletic.  I had struggled with my weight for nearly all of my adult life until deciding three years ago to do something about it.  After losing 127 lbs, I was thin, but still not happy with my body. I felt tired, old and just out of shape. I started Tuscaloosa Adventure Boot Camp in October, and it was one of the best things I have ever done for myself. I get excited about going!" - Leigh Anne Bedsole
These women are regular busy women just like you.  They needed a jump-start and ended up with so much more.  If you are looking for a fun way to get fit, sign up for one of our 4-week sessions.  It just might change your life!
The next outdoor fitness adventure begins soon!  To read more and to register, visit www.tuscaloosabootcamp.com or call 205-391-8588.
---
---
health exercise adventure boot camp
---