Girls Getaway - Atlanta, Georgia

Mar 11, 2013 03:56PM, Published by Kitty, Categories: In Print, Travel, Today
---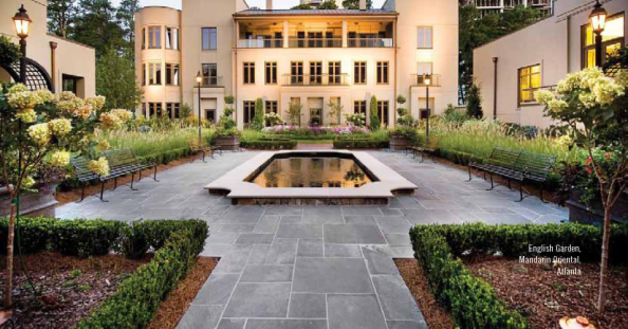 ---
---
By Linda Holloway
The first present I opened from my husband was clearly marked, Pandora, revealing three letters that spelled (MOM) for my bracelet. Mom—the sweetest sound in the world when echoed by my children. The second box revealed green folded bills—not necessarily a surprise. I had hinted for a girls getaway to Atlanta, Georgia, after a friend sent me an email about a vitamin that we all may be missing. The vitamin is F (as in friendship) and according to Dr. Oz, Vitamin F is essential to our well being.
Tending our friendships can be placed on the backburner in our busy family lives, but a short trip can glue the "girls" back together again. It is a fact that cousins are often some of our longest relationships in life. Rita and I are not only related, but we are close friends as well. From toddlers to present, we have enjoyed each other's company and most importantly, we "get" each other's humor. In less than 3.5 hours, we arrived in the prestigious Atlanta neighborhood of Buckhead at the luxury award-winning hotel brand that everyone is talking about…Mandarin Oriental. No texting or emailing, but a "look-you-in-the-eye" fun time of relaxing—spa style, with shopping and dining also.
Mandarin Oriental, Atlanta, Offers "Girls Getaway" Package
Soaring 42 stories above the Atlanta skyline, the Mandarin Oriental officially opened its doors in May 2012. The hotel is housed in an iconic building that was designed by celebrated architect Robert A.M. Stern, who designed the master plan for New York's Times Square. The exterior is only the beginning of opulence where the company has managed to blend Southern hospitality with oriental charm.
From the moment we arrived, I felt like the staff had upgraded us to "Princess Status." The impeccable employees were always attentive and ready to help. One of the most appreciated amenities was the hotel's car for guests. We valet parked Rita's car, and we did not request it again until we checked out. The hotel car, complete with a driver who insisted on opening doors, will take guests to any destination, within two miles of the hotel.
Everything we had planned for our trip was located in Buckhead, once described by Robb Report as among the "top affluent communities in the country…with some of the finest restaurants and shopping in the southeastern United States."  The driver gave us his number to call when we were ready to return from restaurants and shopping, and yes, I could get used to "Princess Status".
You will find 127 spacious guestrooms including 10 suites at Mandarin Oriental. With a stunning residential inspired décor, comfort is always the hotel's first priority. I felt like I was enveloped by a white cloud on the goose down bedding and luxurious linens by Rivolta. The sophisticated décor includes elegant artwork displayed throughout the hotel. Plush bathrobes and slippers were provided and the Bose sound system helped to ease us into "relaxation mode."
The expansive marble bathrooms with double sinks were perfect for Rita and I to share hair-styling tips and the latest make-up products—a throwback to our high school days. The bathtub was so deep; I almost took a nap until I spied the television. That's correct, you can soak while watching your favorite program. There is also a separate walk-in shower with Shanghai Tang bath amenities. Just when I thought I could not be more relaxed, it was time for my spa treatment.
The Spa at Mandarin Oriental, Atlanta is a 15,000-square-foot oasis of pure relaxation. Spa treatments are based on ancient rituals, modern treatment and proven techniques gathered from around the world.  I highly recommend the Peaches and Cream Skin Treatment that includes exfoliation and massage— unique to the Atlanta property. I don't think my skin had ever felt this good, and I suppose the therapist thought I was never going to leave. Also, take advantage of the hotel's steam room, sauna, gym, and yoga studio and 60-foot naturally-lit lap pool. On mild days, soak up some rays on the chaise lounges along the spa's outdoor terrace.
You can afford the best! Be sure and ask about the hotel's "Girls Getaway Package," available now through December 2013.  Some of the perks include accommodation for two people per night, daily breakfast, Mandarin Oriental Manicure at The Spa, and a
80-minute Oriental Essence Massage for two and more. The hotel's Café & Bar is a great place for breakfasts, lunches and elegant dinners, and Taipan is an inviting lounge with gourmet appetizers. One morning, we ordered room service and sampled the best waffle we have ever eaten.
An ideal time for an Atlanta getaway is in late spring before the kids get out of school for summer vacation. Mandarin Oriental's stunning English Garden is perfect for "girl talk" amidst spring flowers and the water feature.  When planning our trip, we made relaxation our first priority. We took full advantage of the hotel's restful sanctuary that had recharged us to pursue power shopping.
Shopping and Dining in Buckhead
Buckhead boasts two world-class shopping destinations, Lenox Square and Phipps Plaza. Lenox Square is anchored by Bloomingdale's, Macy's and Neiman Marcus, where shoppers have more than 250 store choices. Rita and I stopped in Sephora and Shonda, the store's make-up specialist, applied trendy beauty products that we simply couldn't live without. Although we looked like we were ready for the Princess Ball, our domestic side won as we explored William and Sonoma and Pottery Barn. At Phipps Plaza, we were mesmerized by the "bling" at Tiffany and dashed in Nordstrom, Saks Fifth Avenue, Gucci, and Versace. Can you say "clearance racks?"
Author Elizabeth Gilbert, of Eat, Pray, Love, journeyed all the way to Italy to self-indulge in her favorite food.   I promise you can do the same in Atlanta, Georgia, where there is a great variety to suit everyone's taste. The first night, we dined at Del Frisco's Grille— just steps from the Mandarin Oriental. The restaurant is modern, stylish, and the fashion trend setters were out in full force. The menu is a tempting mix of prime steaks, fresh seafood and twists on American comfort cuisine. We shared the Jumbo Lump Crabcake with Cajun lobster sauce…yum.  The tender prime-sliced New York Strip was cooked to perfection, and Rita enjoyed the Sole Francese with lump crab. The roasted Garlic Mashed Potatoes were the perfect side. Make sure you save room for the Lemon Doberge Cake—all 6 layers with lemon buttercream icing and lemon glaze.
If you have never eaten in an authentic Greek restaurant, Kyma is the place to start. People flock to the restaurant for the grilled Octopus, but the wood-grilled Lamb Chops with Greek fries are also amazing. Rita enjoyed Whole Prawns—Maya-wood grilled giant shrimp, and Chef Pano's Favorite, Genuine Red Snapper, pan roasted to perfection is a favorite. One of the best salads I have ever eaten was the Baby Beet Salad—oven roasted beets, butter roasted walnuts, warm manouri cheese with beet sorbet. The dessert menu has a variety of delights, but you would think Kyma invented Baklava. The culinary star at Kyma is Chef Pano I. Karatassos—internationally known for his modern take on the Greek cuisine. The restaurant has won numerous awards featuring contemporary and traditional Greek food, with special emphasis on seafood from the Aegean Sea.
Before leaving Atlanta, we dined at Cook Hall for brunch. The menu focuses on shareable small-plates, which encourage groups to socialize in a convivial atmosphere—perfect for "the girls." In fact, each table has a wooden holder for eating utensils. I believe we went through all the forks in the box with our sharing extravaganza. I started with the Eggs Benedict and Rita raved about her omelet with goat cheese, spinach and ham—every item we sampled was delicious. We finished our meal with the strawberry cake…layered with cheesecake. Bama fans will want to say hello to Tiffany—our friendly waitress. Tiffany's dad, Billy Gallaher, played football for Bear Bryant with teammate Joe Namath.
Around Atlanta
Spring is a great season to visit the Atlanta Botanical Garden with more than 30 acres of gardens and a 10,000 square foot Fuqua Orchid Center. Also, the Canopy Walk creates a treetop walking trail—the only one of its kind in the U.S. Spend an entire day exploring the World of Coca-Cola and the CNN Center. For evening entertainment, Midtown has the Fox Theatre, a venue that will host Celtic Women in April, and visit the High Museum of Art that boasts more than 13,000 art pieces.
Fast Facts
For Mandarin Oriental Reservations: 404-995-7500, moatl-reservations@mohg.com www.MandarinOriental.com/atlanta
For tourist information, contact the Atlanta CVB: 1-800-285-2682, www.atlanta.net.
---
---
---