Athletic Mouthguards: Are They Necessary?

Mar 21, 2013 04:24PM, Published by Kitty, Categories: Health+Wellness, Today
---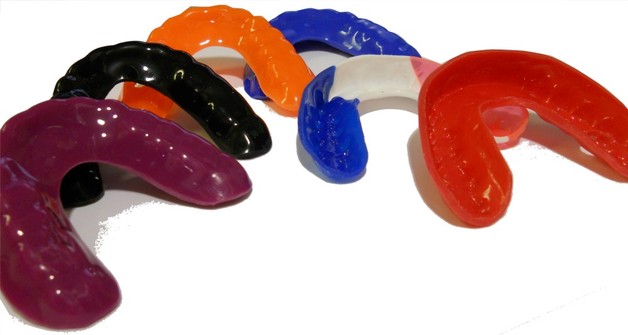 ---
---
With late winter, spring and summer comes the excitement of playing basketball, soccer, baseball, softball and many other contact sports.  With these sports comes the increased risk and incidence of orofacial trauma largely affecting the teeth and gums.  Across the nation, each year there are millions of teeth that are broken or avulsed (knocked out) due to sport related injuries.  Also, broken jaws and concussions are not uncommon to these activities.
A properly fitted mouthguard has proven to greatly reduce the incidence and severity of orofacial trauma by providing a "cushion" between the top and bottom teeth and the teeth and lips/cheeks.  Most mouthguards are designed to fit on the top teeth since these teeth are more likely to be affected by a frontal blow.  In situations where the lower jaw may protrude further than the upper jaw, a mouthguard for the lower may be more beneficial.  Participants with braces will find that a mouthguard which extends over the top and bottom teeth/braces will protect the lips and cheeks and can reduce the occurrence of painful cuts and abrasions.  Another important feature of an effective mouthguard is having the proper thickness of the material between the teeth to reduce the risk of a vertical blow to the jaw resulting in fractured teeth or even a concussion.
Three types of sports mouthguards are commonly available today:
1.     Stock – These mouthguards are purchased off-the-shelf and are not designed to be modified for custom fit.  They are held in place by biting the teeth together.  These types of mouthquards are less retentive and can interfere with talking and/or breathing more than the other types.  Stock mouthguards are frequently used with someone wearing braces or with a child that is transitioning from their baby to their permanent teeth.
2.     "Boil-and-Bite" – These mouthguards are made from a thermoplastic material that can be formed to the teeth with the fingers after softening in hot water.  These are commercially available at most sporting goods stores and are the most commonly used type of mouthguard.
3.     Custom Formed – Custom mouthguards are made on a dental cast using either a vacuum-forming or heat-pressure technique.  A dental impression is taken by a dental care provider, which is then poured with dental plaster to make a replication of the athlete's teeth.  A mouthguard then can be fabricated to meet the individual needs of the athlete.  These mouthguards can vary in thickness, depending on the nature of the sport being played, designed with better retention and customized to fit the dental needs of the individual.  These mouthguards are frequently more comfortable to the athlete because of better retention, which interferes less with breathing and speech.  Custom fabricated mouthguards can also be made with various colors and integrated decals and designs to show support for the team!
In summary, the use of a properly fitted athletic mouthguard for individuals who participate in any contact sport, regardless of age, has proved to be effective in reducing traumatic orofacial injuries.  When dental injuries occur, thousands of dollars are typically spent to correct an injury that could have been prevented.  Moreover, if a broken jaw or concussion occurs, a more permanent neurological concern could occur.  As the old saying goes, "an ounce of prevention is worth a pound of cure".  As an aside, a protective facemask developed for use with many contact sports is also a great adjunct to a properly fitted mouthguard to reduce the chances of nasal, eye and facial bone injuries.
For more information on which type of athletic mouthguard may be right for you or your child, contact your family dentist, pediatric dentist or orthodontist.  You can contact us at (205) 752-4343, via email at info@rivervieworthodontics.com or find us on Facebook at Riverview Orthodontics, PC if you have any questions or would like to discuss the option of a custom fabricated mouthguard.
P. Mike Upton, DMD, MS
Riverview Orthodontics, PCmouthguards
---
---
---