You don't have to LIKE SHAKESPEARE to LOVE "I HATE HAMLET"

Mar 23, 2013 11:10AM, Published by Kitty, Categories: Today, Community
---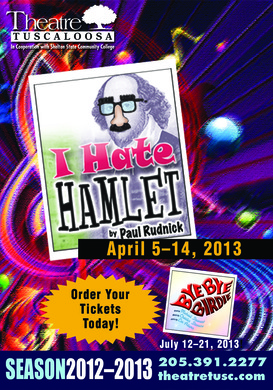 ---
---
Theatre Tuscaloosa will present I Hate Hamlet by Paul Rudnick April 5-14 in the Bean-Brown Theatre on Shelton State's Martin Campus.  With this production, audiences are invited to witness this fast-paced comedy The New York Times has called "unapologetically silly" and "affectionately amusing."
Andrew Rally, a successful television star who seems to have it all: a starring role in a hit television series, a rich and beautiful girlfriend, a glamorous agent; the perfect New York apartment and the chance to play the role of Hamlet in Central Park. However, things are not always as they seem. Andrew's series has been cancelled; his girlfriend is clinging to her virtue with unyielding conviction; and, to make matters worse, he hates Hamlet. The dilemma deepens with the entrance of John Barrymore's ghost, who returns, intoxicated and in full Shakespearean costume, to his old home – Andrew's "perfect" New York apartment.
Under the direction of Theatre Tuscaloosa's Artistic Director Emeritus Paul K. Looney, this production of I Hate Hamlet brings together a cast of Theatre Tuscaloosa favorites including Gary Wise, Eryn Davis, Lindsey Jones, Russell Stephens, Tina Turley and Justin Barnett.
"The script is funny in itself, and everyone in this cast has a dynamic personality," Looney said. "When you combine great talent and comedic timing with good writing, you have the recipe for a really fantastic show."
"I'm very excited to be working with Paul Looney again," Wise said. "The last time we worked together was 1992 when we did Noises Off at the Bama Theatre. This production will be the first time that we've been able to get our schedules in sync and work on a show together since then."
Wise will be playing the ghost of John Barrymore, the turn-of-the-century American actor well-known for his ground breaking performances in Hamlet and Richard III.
"Playing the ghost of John Barrymore should be great fun; he's Barrymore, and he's a ghost -- imagine the possibilities that an actor is afforded by that pairing. My mind is already racing with ideas, so I can't wait to start rehearsals," Wise said.
Theatre Tuscaloosa's I Hate Hamlet brings together a top-notch production staff with set design by Brad Caleb Lee, costumes by Jeanette Waterman, lighting design by Erin Hisey and stage combat choreography by Matthew von Redlich.
Theatre Tuscaloosa's 2012-13 Season: Rockin' & Rollin' in the Aisles is presented in cooperation with Shelton State Community College with support from the City of Tuscaloosa and corporate sponsorships by Tanner & Guin, LLC, Jamison Money Farmer and AL.com. Play It Forward sponsorship for I Hate Hamlet is provided by The Left Hand Soap Company; additional sponsorship provided by TownSquare Media.
I Hate Hamlet will be presented April 5-14 in the Bean-Brown Theatre on Shelton State Community College's Martin Campus, 9500 Old Greensboro Road.  Performances will take place Thursdays-Saturdays at 7:30pm and Sundays and Wednesday at 2pm.  All proceeds of a pay-what-you-can final dress rehearsal on Thursday, April 4, at 7:30 pm, will benefit the Charlie Dennis Memorial Scholarship Fund. A special high school matinee performance is also available for school field trips.
Tickets to I Hate Hamlet are $17 for adults, $15 for seniors (60+), and $12 for students and children.  Special rates are available for groups of 10 or more. Tickets are available for purchase in person, online or by phone. For more information or to purchase tickets visit theatretusc.com or call the ticket office at (205) 391.2277.
---
---
---